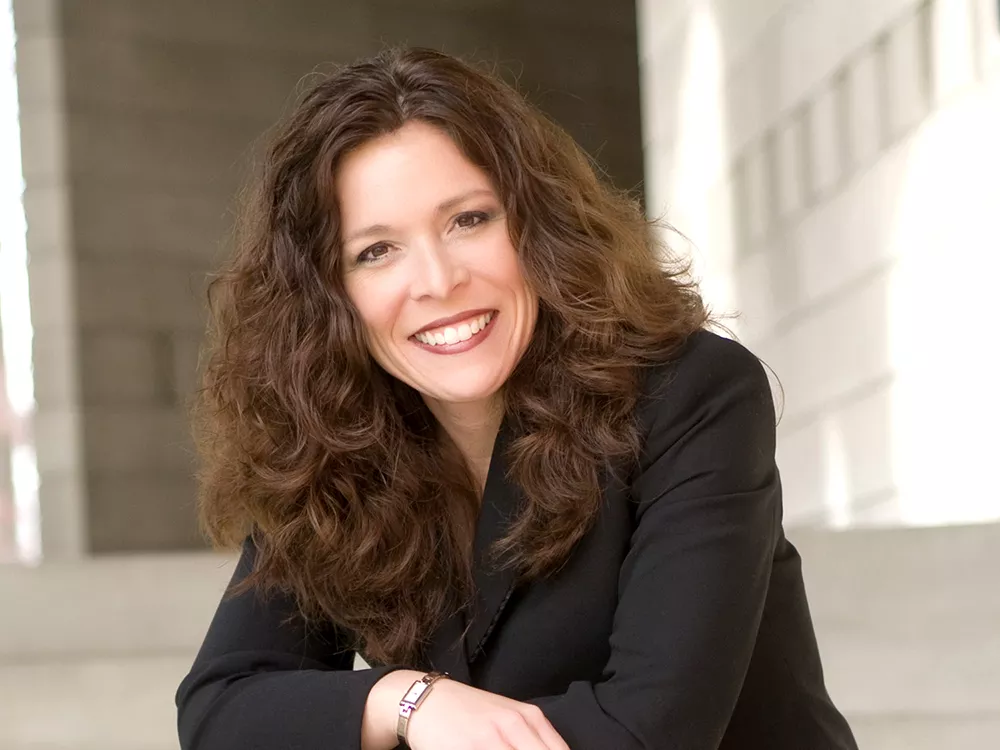 The voice mail firing Yvonne A. K. Johnson, executive artistic director of the Spokane Civic Theatre, came Friday morning. "I'm calling to inform you that your position as an employee at Spokane Civic Theatre has terminated, effective today," said Civic board president Larry Wooley, slowly reading from a script, informing Johnson she had from between noon to 2 pm to be escorted by a board member to pick up her personal belongings from the theater.
"… if you are found on the premises at any other time, the Spokane Police Department will be contacted to effect your removal," he continues.
Johnson says she felt shocked and betrayed. "Everyone's upset. Everyone's confused. No one saw this coming," she says. "I don't even know why I was terminated."
But others saw it coming. Johnson has enemies. In fact, she just lost a lawsuit in which she was trying to sue one of them for defamation. For those who love her, she's a "blunt" and "demanding" director who rescued the Civic from financial disaster. But to many of her critics, she's a bully whose uncompromising direction created a toxic atmosphere and cost the theater some of its greatest talent.
A Playhouse Divided
At her South Hill home two days after her firing, wearing a pink Grease T-shirt, Johnson is talking about her job in the present tense. She doesn't believe she was legally terminated. In fact, she's certain the votes actually came down in her favor.
Johnson knew the board had been in upheaval. Wooley only became president of the board a few weeks ago, right about when two board members who had supported Johnson stepped down. Two other board members say attempts had been made to strip them of their voting ability.
Johnson says she and Wooley had been having communication problems, and on July 9, despite an exemplary performance review, the board decided to find a mediator to help resolve a few issues. But a few days later, Wooley demanded the board vote on Johnson's termination via email. While Wooley has shied away from commenting, Johnson's supporters on the board have been vocal.
"I'm embarrassed and humiliated to be a part of it," says Deena Caruso, whose young daughter Sophia was mentored by Johnson and now performs in New York City.
Regardless, the Civic is moving on. Instead of Johnson, the Civic announced Monday that this fall's production of Les Misérables will be directed by Broadway veteran Douglas Webster.
When Johnson first took charge of the Civic Theatre in January 2005, she was taking the helm of a sinking ship. Taxes hadn't been paid, finances were a mess, the building desperately needed repairs, and the executive director had recently been fired.
"The theater was over $200,000 in debt," Civic board member Michael Muzatko says. "She was given an ultimatum to turn around the theater within one year, or they would close it. It would be a parking lot."
And she did it. She overhauled the budget, the marketing strategy and the fundraising philosophy. She started the Spokane Civic Theatre Academy, a theater camp that today attracts 700 registrations a year.
There was no question about who was in charge. Thanks to raises over the past eight years, she says she earns a salary of approximately $90,000. Every document had to be approved by her. The play reading committee was eliminated, and she took control of the show selection herself, focusing specifically on what would draw a crowd.
"I make over 100 decisions a day for the Civic," Johnson says. "I couldn't run everything by everybody. I didn't have time."
Measured by the numbers — filled seats, ticket sales and balance sheets — Johnson's tenure has been a smash hit. Muzatko says she has the rare gift of being extraordinarily talented in both the artistic and business aspects of her job. It's easy to find a host of testimonials from people who find her positive, inspiring and brilliant.
Yet it's equally easy to find a list of detractors — former staffers, actors, directors and board members who say Johnson's intractable style has driven them away from the Civic. They allege mind games, inflexibility and favoritism. Johnson brushes aside the criticism as jealousy, bitterness over casting decisions, even sexism.
"There are not a lot of female artistic directors in the entire country," Johnson says. "If I was a man, I don't think this would be happening right now."
Her detractors include many prominent community members.
George Green, once Johnson's defender, says he abruptly resigned as development director of the Civic in 2010 because he was sick of unwarranted reprimands. "I was made to feel small," Green says. "By the time I'd left I felt deflated."
Until her final performance in 2009, Abbey Crawford had performed at the Civic for 20 years. "There's no reason to do something you love in the face of somebody who doesn't love you," Crawford says. Johnson would scream and yell at actors, Crawford says.
Johnson has clashed with her board before. In 2007, the board asked Johnson to report finances in terms of show-to-show, instead of just month-to-month, says Ben Stuckart, city council president and former Civic board vice-chair.
"She flat-out refused," Stuckart says, "and said either [board chair Ron Rector should] resign or she would be leaving." Rector resigned. In the span of two weeks, Stuckart, Rector, and at least six other board members resigned.
Johnson says recent events feel like a rerun. "I feel like it's a power and control issue," she says.
Call of Doody
But none of Johnson's many critics compare to Jim Ryan.
In 2010, Ryan moved from Pittsburgh to become the Civic's music director. He didn't last long.
It all came down to a Craigslist post. Ryan and his wife had posted anonymously to the Casual Encounters page, seeking sex with a like-minded couple. Instead, a stranger used the post to forward pieces of their email correspondence — and nude photographs — to the Civic, threatening to go to the media.
Johnson told Ryan he could either resign or be fired. Ryan chose the latter. The decision opened a fissure in the theater community. Many signed a petition expressing "disdain, disappointment and disgust" with his termination. Some Civic veterans said his termination made them feel unsafe over their personal life: "When is it going to be me next?" Tom Heppler, a gay 56-year-old actor, remembers asking Johnson during one rehearsal. "I got very emotional about it."
Ryan had to fight to get unemployment benefits. He unsuccessfully petitioned the Washington State Human Rights Commission, and attempted to sue the Civic for breach of contract.
Nearly three years later, Ryan sounds more amused than bitter.
"One of the big errors that Yvonne Johnson made in firing me: She brought somebody across the country with nothing better to do than fight what she had done to him," Ryan says.
Even while working at other local theaters, Ryan played the unrestful spirit, haunting Johnson. Today, SpokaneCivicTheatre.com leads to the Spokane Civic Theatre website. But SpokaneCivicTheatre.org calls up a blog titled "Civic Doody" run by Ryan. There, Ryan has posted more than 50,000 words over the course of two years and nearly all of it, in exhaustive detail, savages Johnson and the Civic board. Johnson, he writes, is a "reviled" "narcissistic maniac" with a "black heart."
The Civic unsuccessfully petitioned the National Arbitration Forum to force Ryan to hand over his SpokaneCivicTheatre domain names, and Johnson filed a defamation lawsuit against Ryan. She says Wooley encouraged her to file it. But defamation is notoriously difficult to prove, especially against a "public figure" like Johnson. Johnson not only lost, she — or the Civic, or its insurance company — is on the hook to pay Ryan a $10,000 penalty, plus his legal expenses.
It's difficult to measure how much Ryan's activism is responsible for Johnson's termination, but Ryan is celebrating. "I am happy that she will not hurt anybody any more," Ryan says.
On a summer evening this past Friday, Ryan gathered with a group of actors on the front porch of a South Hill home. Many of the 30 or so attendees — at one time ardent supporters of the Civic — lamented what it had become.
"It's nice to know that I can maybe go home again," Jone Campbell Bryan, a former Civic staff member, said to ex-Civic actress Jackie Davis.
But Johnson wants to go home again as well. She wants to be rehired. Then, she says, healing the community may require professional arbitration. Amid all the backstage backbiting surrounding the Civic, she maintains no one has ever confronted her.
"No one," Johnson says, "has come in to say, 'Here are some issues we have been having.'"
UPDATE: Yvonne Johnson has announced she is retaining famed local wrongful-termination attorney Bob Dunn, and has been advised to no longer speak about the issue.