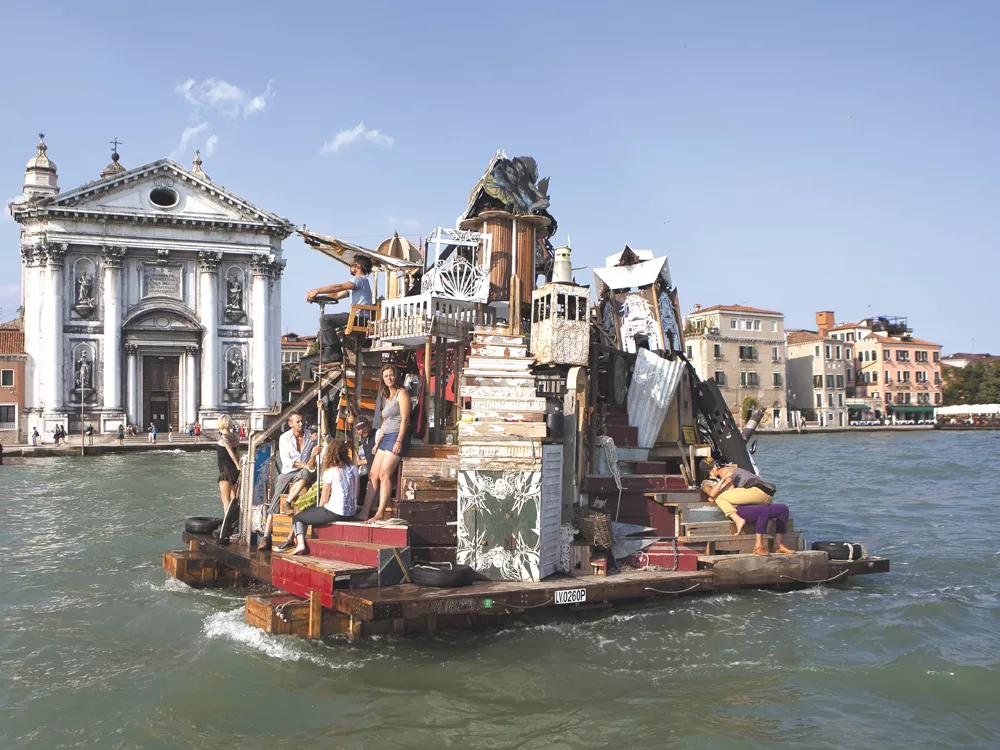 Caledonia Curry floats around an island of lost toys. Curry, most commonly known as the artist Swoon, has navigated the Mississippi River on a hodgepodge raft assembled of salvaged wood, cadged Styrofoam and two Volkswagen Rabbit engines that run on vegetable oil.
She's drifted along the Hudson River in a steam-powered paddleboat and a series of rafts made from old two-by-fours, packing plastic foam, and a motor from a 1968 Mercedes.
And she's sailed through Venice's glorious thoroughfare, uninvited, to crash the Venice Biennale — a major contemporary art exhibit that takes place once every two years.
The Brooklyn-based street and installation artist is a pirate. Thrice have she and a troupe of conscientious performers, artists, musicians and various rabble-rousers taken to the water in collective projects titled the "Miss Rockaway Armada," "Swimming Cities of Switchback Sea" and "Swimming Cities of Serenissima."
These giant floating tree houses of sorts set sail for the Utopian world of Neverland, where Rufio and Peter Pan's Lost Boys reside.
While Peter searches for never-ending childhood, Swoon and her carnival caravan search for artistic expression, a vagabond lifestyle, and uncharted artistic waters.
"I like the idea that there is this fantastical city perched on the water," she said in an interview with the New York Times. "I wanted to make something which really had the freedom of artistic expression — sculptural and aesthetic and all that stuff."
For several years, Spokane Falls Community College has approached the elusive artist who, perhaps not surprisingly, was unable to be reached for comment by The Inlander. This summer — at least for now — she isn't gallivanting across the globe on a homemade barge. Spokane's artistic and academic community is taking advantage of the lull in her schedule.
Swoon will speak on May 22 at 11:30 am at Spokane Falls Community College as part of the visiting artist lecture series. On May 23, she will host a workshop for Spokane Falls Community College and Eastern Washington University students, followed by a lecture and beer-and-wine reception at the Northwest Museum of Arts and Culture.


The moniker "Swoon" came from an ex-boyfriend. She was raised in Daytona Beach, Fla. She knew at age 10 that she wanted to be an artist and went on to study painting at the Pratt Institute in New York City.
In 1999, just two years before her graduation, she got a taste for the guerilla artwork and avant-garde lifestyle that would define her career. That year, Swoon made life-size prints — elaborate linoleum prints and constructions, part drawing, print and sculpture — of construction workers, listless teenagers and kids on bikes and plastered them on the abandoned, graffiti-laden walls of New York City.
"It seemed like the street was the only place where real beauty was occurring," Swoon said in an interview with ARTnews. "As an illegal site for art, it's naturally unregulated. There was a lot of space for anger, for cutting out your own place in the world — like new plants breaking through soil."
But the streets of New York could not keep Swoon grounded. She took to the waters with trapeze artists, silkscreen artists, thespians and punk rockers on the floating collective art projects in 2006, 2008 and 2009.
Most recently, Swoon has been working abroad on socially conscious pieces in Cuba, Mexico and Palestine, where her work highlights the murder of young women, and in Haiti, where she builds sustainable houses with the Konbit Shelter Project.
She continues to sell and exhibit editions of her work through several galleries, including Deitch Projects in New York, New Image Art in Los Angeles and Black Rat Projects in London, with prints and drawings priced from $100 up to $30,000.
Swoon's pursuit of artist expression, whether in a white-box gallery, on the back of a crumbing warehouse, or drifting out to sea is simple, she told ARTnews.
Her goal is "to make things that navigate the world in a different way."

Swoon • Wed, May 23, 6:30 pm • Free • Northwest Museum of Arts and Culture • 2316 W. First Ave. • northwestmuseum.org (456-3931)