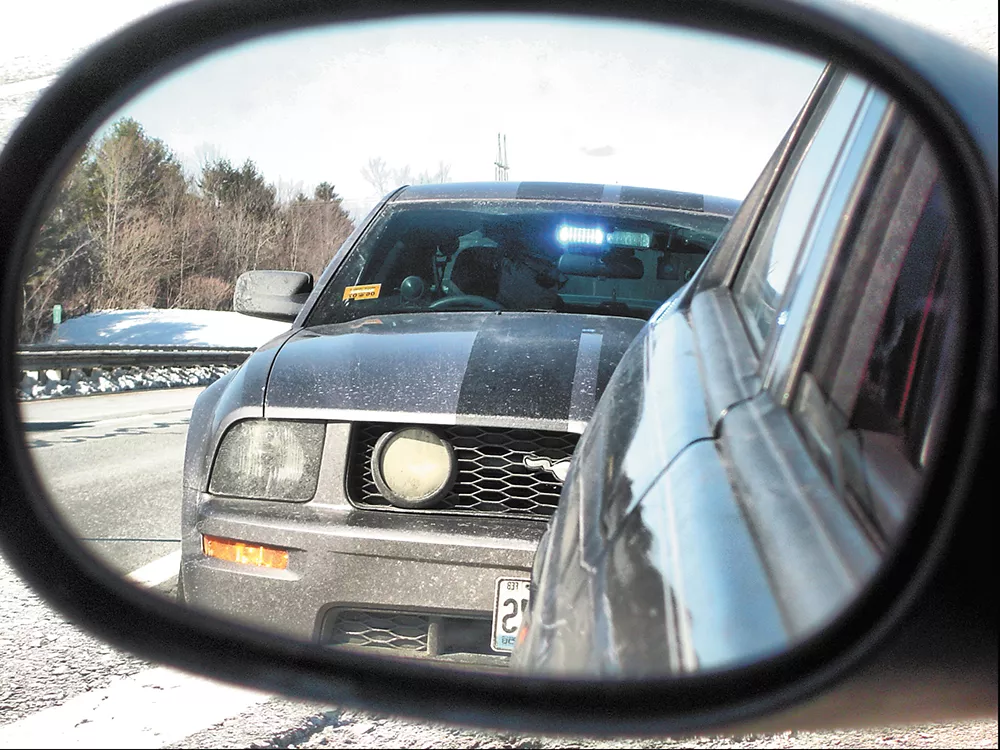 In his viral video encounter with a Grant County Sheriff's deputy, Ephrata resident Gavin Seim plays up the irony in his sudden role reversal as much as possible. Seim, an outspoken conservative activist and self-described "liberty speaker," flags down a passing unmarked patrol vehicle in order to lecture the deputy on following the law.
"Afternoon, sir," Seim tells the deputy in the video. "The reason I stopped you today is because I saw this car is unmarked."
Seim, 29, "pulled over" the deputy earlier this month, citing a vague Washington law mandating visible markings and identification for all law enforcement vehicles. When he confronts the deputy, Seim asks for ID and registration before issuing the deputy a "warning."
"You've admitted that you are in violation of Washington state law," Seim tells the deputy. "I'm not going to write you up today. What I'm going to encourage you to do is take this car back [and talk to your supervisor]."
With the help of conservative news outlets, video of the encounter has racked up more than 3 million views and renewed some regional debate over the use of unmarked police vehicles. Law enforcement officials tend to support broad discretion on vehicle markings, while opponents argue that unmarked cars cause unnecessary confusion or safety risks.
Grant County Sheriff Tom Jones has praised his deputy's "tact and diplomacy" in responding to Seim's interrogation while also acknowledging the advantages of maintaining a readily identifiable patrol fleet. He says the vehicle in question was awaiting new decals at the time.
"We embrace the value of having our vehicles marked," Jones writes in a statement. "Marked vehicles are a visible deterrent to crime, and a visible, reassuring presence for our citizens."
The proper identification of state-owned vehicles falls under the Revised Code of Washington, with an ambiguously worded exemption for local law enforcement agencies: "This section shall not apply to vehicles of a sheriff's office, local police department, or any vehicles used by local peace officers under public authority for special undercover or confidential purposes."
Police officials often interpret the exemption as including all agency vehicles, while critics contend such exemptions only apply to undercover assignments, not regular patrol duties like traffic enforcement.
In Spokane, the issue most recently drew controversy in the wake of the fatal deputy-involved shooting of Rev. Wayne Scott Creach outside his Spokane Valley home in 2010. The Creach family says the deputy's unmarked vehicle, parked on private property, caused a tragic misunderstanding. When Creach went out to check the suspicious car, he brought along a handgun and was killed during the resulting interaction with the deputy.
"It contributes to a lot of confusion," Creach's son Alan says of such vehicles. "I'm confident that if that [deputy's] car was marked, my dad would be alive today."
The family says the Sheriff's Office has not responded to requests to change its policies on unmarked vehicles. The department's posted policy requires a supervisor's approval to use an unmarked vehicle, but little else.
In the wake of the Creach shooting, the now-defunct Freedom Restoration Project lobbied for changes to state law on unmarked vehicles. The director filed a court brief citing 1975 legislative reports reinforcing the more limited interpretation of the exemption.
"A vehicle marking exemption for vehicles used by sheriffs, local police, and local peace officers is continued," the report states, "but is limited to vehicles used for undercover or confidential investigative purposes."
The project also emphasized concerns about how imposters could use unmarked vehicles to pull over unsuspecting victims. The report includes a 2009 photo of an unmarked Seattle police Ford Crown Victoria parked next to an identical Crown Victoria belonging to cop killer Christopher Monfort.
State Reps. Matt Shea and Larry Crouse, both R-Spokane Valley, introduced a bill in 2011 to limit law enforcement agency use of unmarked vehicles on private property, but the legislation failed to pass.
Officials at the time argued such restrictions created unnecessary obstacles that would only hamstring effective crime fighting. Sheriff Jones likewise argues he felt it was more important to have his new vehicles out on patrol, even if they didn't have decals yet.
Seim has seemingly enjoyed his new online notoriety despite many commenters accusing him of needlessly harassing officers. He has since cornered and confronted a second officer, this time with the Ephrata Police Department, over another unmarked vehicle.
"Some people may say, 'This is petty. Leave the officers alone, Gavin,'" Seim says in his video. "It's not petty to hold our officers accountable. ... We, the people, are the sentinels of our liberty." ♦