R
yan Murphy's miniseries Hollywood,
a revisionist historical drama that imagines 1940s Tinseltown with more racial diversity and queer representation, has been one of Netflix's more divisive and buzzed-about shows of the year. If you've already burned through all seven episodes but are still jonesing for stories of sex and scandal in old-timey Tinseltown, here are three overlooked and undervalued movies about a similar time and place that you can stream right now.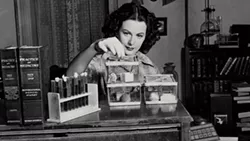 On Netflix
Bombshell: The Hedy Lamarr Story (2017)
Hedy Lamarr's incandescent beauty made her one of the world's biggest movie stars of the '30s and '40s, but the Austrian-born actress was more than just a pin-up: She was an independent film producer, a memoirist, a prolific seller of war bonds and the co-inventor
of a telecommunication system that prevented German fleets from jamming American frequencies during World War II. B
elieve it or not, you can partially thank Hedy Lamarr for WiFi. The documentary Bombshell seeks to recontextualize Lamarr's legacy, and illustrates how little room Hollywood makes for multi-faceted women.


Also available on Netflix: The Coen brothers'
Hail, Caesar!
(2016), which takes us on a guided tour of a particularly kooky 1950s studio backlot, and
Dolemite Is My Name
(2019), which isn't about
classic
Hollywood — or, for that matter, Hollywood — but is nonetheless an entertaining look at the making of a '70s blaxploitation classic.
On Hulu
Gods & Monsters (1998)
Lord of the Rings
fans will no doubt disagree, but for my money, the best Ian McKellen performance is his Oscar-nominated turn in Bill Condon's historical drama
Gods & Monsters
. He plays legendary filmmaker James Whale, who was best known for directing classic Universal monster movies like
Frankenstein
and
The Invisible Man
, and who was openly gay at a time when few public figures were. The film is set in the '50s, a decade after Whale retired from Hollywood, and dramatizes his unusual relationships with his live-in maid (Lynn Redgrave) and a much younger gardener (Brendan Fraser) who becomes his closest confidante. It's a dark story about depression and unfulfilled career goals, but it's enlivened by a trio of rich performances and touches of tenderness and humanity.
On Amazon Prime
The Cat's Meow (2001)
In 1924, influential film producer Tom Ince fell ill on a yacht owned by publishing magnate William Randolph Hearst, and died two days later from reported heart failure. But odd details that surfaced in later decades led some folks to believe that maybe it was... murder? This sly dramatization of that urban legend comes courtesy of director Peter Bogdanovich (
The Last Picture Show
,
Paper Moon
), who claims his longtime friend and mentor Orson Welles once told him that Ince was, indeed, shot aboard Hearst's ship. So it must be true... right? This swingin', screwball-adjacent film is probably too inside-baseball for anyone not already interested in Hollywood lore, but Bogdanovich scores playful performances from his cast — Edward Herrmann as Hearst, Carey Elwes as Ince, Kirsten Dunst as actress Marion Davies, Jennifer Tilly as gossip columnist Louella Parsons and Eddie Izzard as Charlie Chaplin.