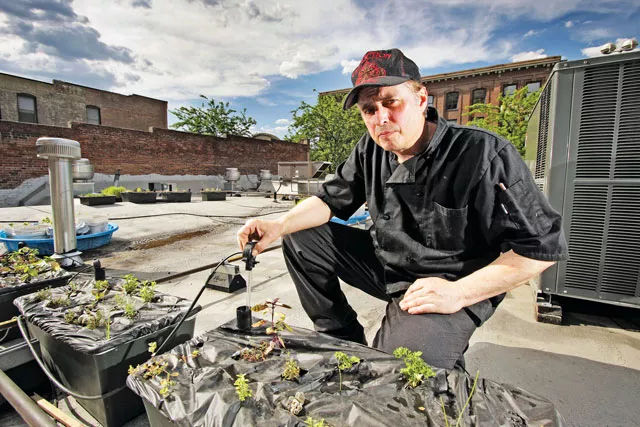 Chef Dave Hill was in the back of the house kneading homemade focaccia bread on the day I visited Hills' Restaurant and Lounge. His eyes twinkled when I arrived, and then he stepped aside mischievously to show me one of several small greenhouses behind his workstation. "Wait until you see the ones on the roof!" he added.
Hills' Someplace Else was a fixture in downtown Spokane for more than 10 years, but it was sold and demolished in 1994. Dave, his brother Steve, and their mother, Betty, decided to carry on the family business — but it took three years before its new home was found, planned and constructed.
I last visited when Hill was still remodeling the kitchen. Just as he enjoys the artistry of food, he also enjoys creating things with tile, wood and photography. The backsplash behind the grill is interwoven with historical items discovered in the remodel and even a Culinary Industry of America-New York tile from Hill's alma mater.
Mounted above the plating station is a long horseshoe stoker. "We found a ton of old horseshoes under the floors here. I believe that stoker was used to fire the horseshoes," he says. But the highlight of my tour involved climbing up the 12-foot ladder and arriving at Hill's rooftop garden. I have never seen such wise usage of pickle buckets, blue kiddie pools and roof support beams. Throughout the summer season, heirloom tomatoes, romaine lettuce and a variety of herbs grow atop Hills' roof.
"This is called 'epazota,'" says Hill, pointing at a young green shoot of a traditional Mexican herb. "It is known for decreasing the flatulence in beans… only the best for my diners."
The rooftop garden initially arose because Hill didn't have time to garden at home, something he'd been doing for years. His grandfather, who worked at the Spokesman-Review as a typesetter starting in 1924, inspired his passion for gardening.
"Grandpa's compost pile was 50 years old," Hill says. Food waste from Hills' Restaurant is transported back to Hill's compost pile at home. "Someday I'd love to have the barrel-style compost on the roof," he laughs and continues, "but I might need to do a roof weight study first." He's encouraged that even with the heavy snow last year, the restaurant's roof held fast.
Hill passes my good health and nutrition test. He even has a "complete protein" black bean burger on the menu combining grains (rice) and legumes (black beans) for his vegan diners. And competing in the final round of Battle of the Chefs, with hundreds of people watching, Hill aced the challenge of making a healthy entrée in 30 minutes.
Try this recipe from Hill with ingredients from your own garden or drop into Hills' Restaurant and Lounge and try it there. Who knows? On a slow night, Hill might even give you a peek at the garden.
Saffron-Masa Tamales with Grilled Chicken, Brown Rice and Black Beans, with Heirloom Tomato Salsa
1/2 gram saffron
1 cup water
pinch salt
1 cup masa flour
In small bowl, add saffron to water. Pinch between fingers lightly, so as not to powder but to create coarsely ground texture. Allow mixture to sit 10 minutes. Add salt followed by masa flour to form a moist but not sticky dough. Set aside.
1 cup black beans
(1 teaspoon ground epazote, optional)*
2 bay leaves
1 sprig fresh thyme
Place black beans in large pot, submerged in water. Add epazote to bean cooking water, plus bay leaves and fresh thyme. Cook till beans are soft but not mushy; drain and chill. Set aside.
2 pounds grilled diced chicken breast
1 cup cooked brown rice
2 bell peppers, grilled, skinned, sliced
1 large onion, diced, caramelized
1 Tablespoon pureed garlic
1 teaspoon ground cumin
1 teaspoon Hills' House Spice*
Sauté together chicken, rice, black beans, peppers, onions, garlic, cumin and Hills' House Spice. Set aside.
12 corn husks
Assemble tamale by placing a spoonful of the dough onto the inside of a cornhusk. Place small spoonful of chicken mixture onto the center of the masa mixture, then fold cornhusk over length-wise. Seal ends by folding over top. Place tamale in a steamer and cook over boiling water until dough becomes firm.
Heirloom Tomato Salsa
1 Tablespoon cilantro, chopped
1 small onion, diced fine
1 jalapeno seeded, finely diced
2 cups heirloom cherry tomatoes,quartered
1 lime, juiced
Combine and chill.
12 Romaine leaves
Place cooked tamales on a romaine leaf and serve with salsa. Makes 12, 4-ounce tamales.
* Chef Hill grows epazote in his rooftop garden, but it may be hard to find in stores. You can buy his House Spice at the restuarant.
Nutrition Notes (per serving): 258 calories, 27g carbohydrate, 29g protein, 3.5g fat, 5g fiber