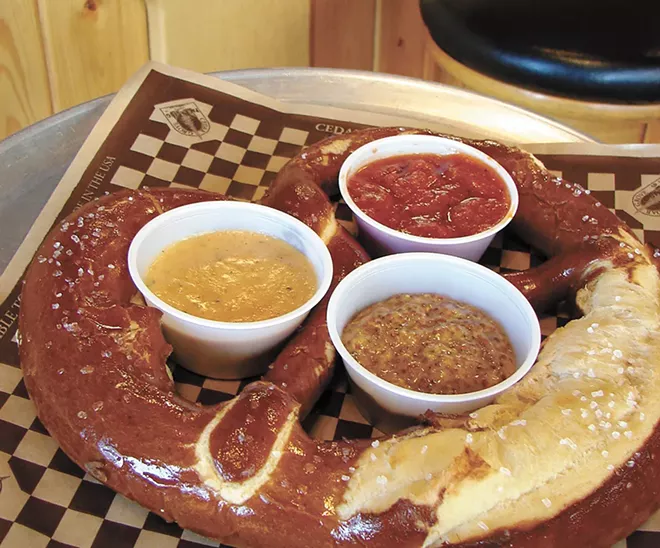 Back when they first opened in 2005 just north of Sandpoint, Laughing Dog Brewery served cute little dog bowls full of "kibble," actually an addictive snack mix of jumbo Cheetos, pretzels, and other salty, crunchy bits that paired beautifully with beer. Two expansions and more than a decade later, Laughing Dog has ditched the puppy chow for big dog food like the Big Dog Wood Fired Pretzel, served on a pizza platter with choice of mustard, cheese sauce or housemade marinara ($8.95).
Minus a built-in kitchen, the brewery has been improvising with a shed-like structure, which houses a wood-fire oven from a former Sandpoint pizza place. That means wood-fired sandwiches like the Black Lab — a bacon-y BLT with brewer's BBQ sauce ($11.95) — and wood-fired flatbreads like the Good Dog, slathered with veggies, tomato basil pesto and a tangy curry cream sauce ($6.95/$10.95). Also look for salads and an ale house beer cheddar soup made from their Oatmeal Stout ($3.95).
The only downside to Laughing Dog's new menu? Dogs, which were formerly welcome inside and added a certain canine charm, are now only allowed on the patio.
LAUGHING DOG BREWING 1109 Fontaine Dr. | Ponderay, Idaho | 208-263-9222