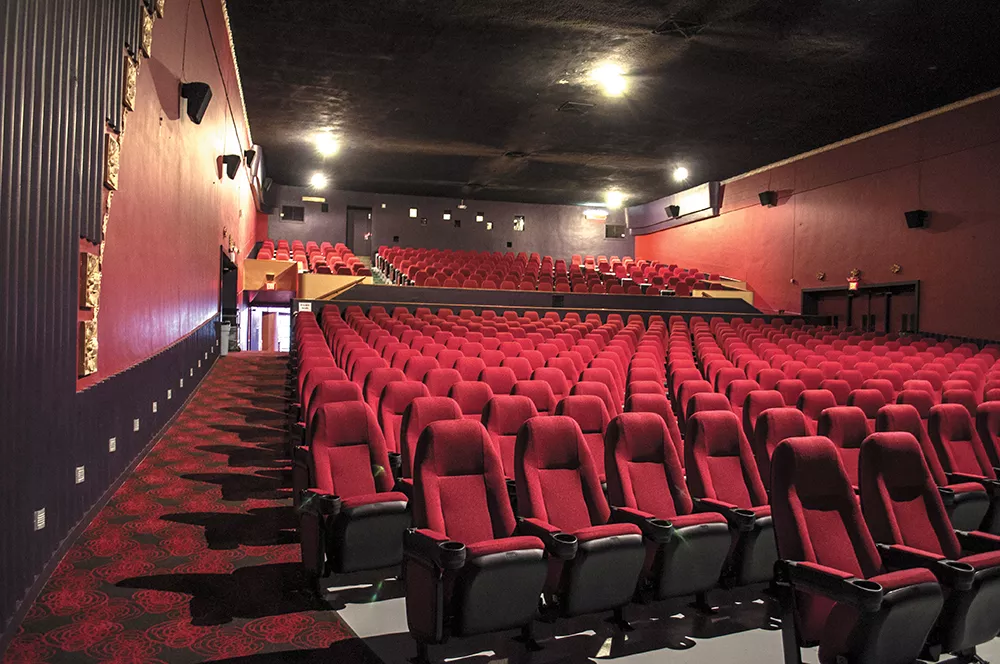 The brand-new carpet with a swirling, circular pattern of burgundy on a background of charcoal grey is littered with trampled popcorn pieces long before the lights dim.
On a blustery Friday night, moviegoers form a jumbled line inside the 68-year-old Garland Theater's lobby, waiting to order the famously overflowing brown paper bags of bottomless popcorn and sides of soda and candy. A bespectacled teenage employee in a black T-shirt leans over the new, yet vintage-inspired, concessions counter to hear orders above the crowd's din and begins to furiously shovel the feather-light kernels into bags.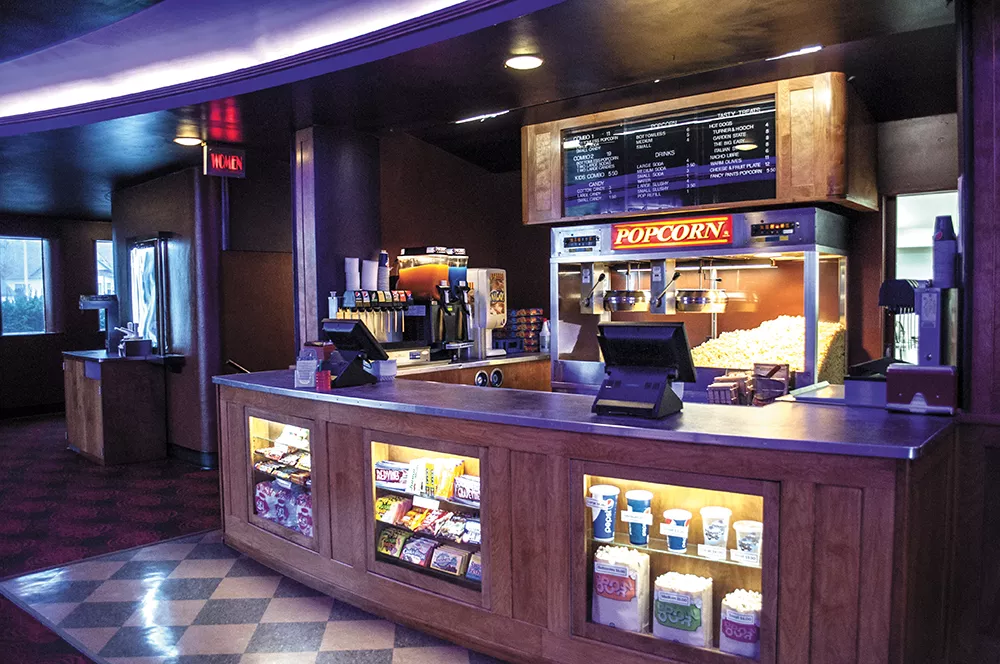 Though most of the couples and families go for the classic indulgence of movie theater popcorn, a few pick from items on a small menu displayed in a stand on the counter. The card features the Garland's new food offerings, launched in late October, along with the option to enjoy a glass of beer or wine during a flick.
Most of the menu entries — hot dogs, nachos and flavored popcorn — are what you'd find at a big multiplex chain, but none come prepackaged or kept in a rotating food warmer all night.
Theater owner Katherine Fritchie — a petite woman with short, pixie-style hair and a loud, hearty laugh — points out that it's closer to bar food than anything else. She says the intent was to offer a variety of higher-quality snacks at an affordable price, and in portions that could easily be shared or serve as a meal.
"We're not trying to gouge consumers, just trying to make enough of a profit to keep the business going," Fritchie says.
The new snack menu was mostly developed by local chef Joshua Martin, formerly head chef at South Perry's Casper Fry restaurant before leaving to teach at the Inland Northwest Culinary Academy at Spokane Community College.
Highlights of Martin's Garland menu include a fresh fruit and cheese plate ($12), a warm olive platter with hummus ($11) and the "Nacho Libre" ($6) which comes drizzled with cilantro sour cream and loaded with traditional toppings. Rounding it out are three specialty hot dogs ($8 each), including a vegan dog.
Back in 2010 when Fritchie opened Bon Bon, the cozy, hip bar adjacent to the Garland, she hoped serving drinks to customers inside the theater would eventually become a reality, too.
Fritchie expected that reality had arrived when the Washington state Legislature passed a measure earlier this year allowing some movie theaters to serve alcohol to of-age patrons. That new law, however, prevented theaters with more than 120 seats per screen from being able to do so. The Garland has 565.
Fritchie and her staff went back to the drawing board and discovered that the Garland was eligible to apply for the liquor license for already existing sports and entertainment facilities.
Though it was more than a little disheartening to find out the theater was eligible for the pre-existing liquor license all along, Fritchie says it made implementation a little easier. Like at a sporting event, alcoholic beverages can be consumed inside the auditorium and in the presence of minors, as long as the of-age imbibers are properly identified and wear visible wristbands, bestowed by Bon Bon's bartenders. In this case, the Garland's are neon yellow, allowing staff to easily identify them in the dimly lit theater.
Customers who wish to have a drink or two during a film can choose from beer or wine offered at Bon Bon, but the theater's new liquor license restricts spirits or cocktails from being served.
Food and booze aren't all that's new at the iconic, single-screen theater, which for decades has been the go-to spot to see films that have already opened on multiplex screens. Shows are still offered at an affordable $4.50, with special screenings of older classics for $1 on "Totally Tubular Tuesdays."
In early October the Garland closed for several days while new, red-upholstered seats were installed. At the same time, new carpet and a handcrafted wood concessions counter that complements the theater's mid-century origins were installed.
Along with the purchase of a digital projector this past spring, the Garland has come full circle in its modern updates, all while maintaining a retro charm reminiscent of its debut on Thanksgiving Day 1945.
Fritchie, who bought the Garland in 1999 and the building it's housed in a few years later, sees the recent upgrades as necessary to sustain the theater in the long term. She hopes that the investments pay for themselves by keeping customers coming back.
"I don't think that just because we have a lower ticket price that there should be a lower expectation for what you're getting," she says. ♦
Garland Theater • All shows $4.50; except Tuesdays shows $1 • 924 W. Garland Ave. • garlandtheater.com • 327-2509