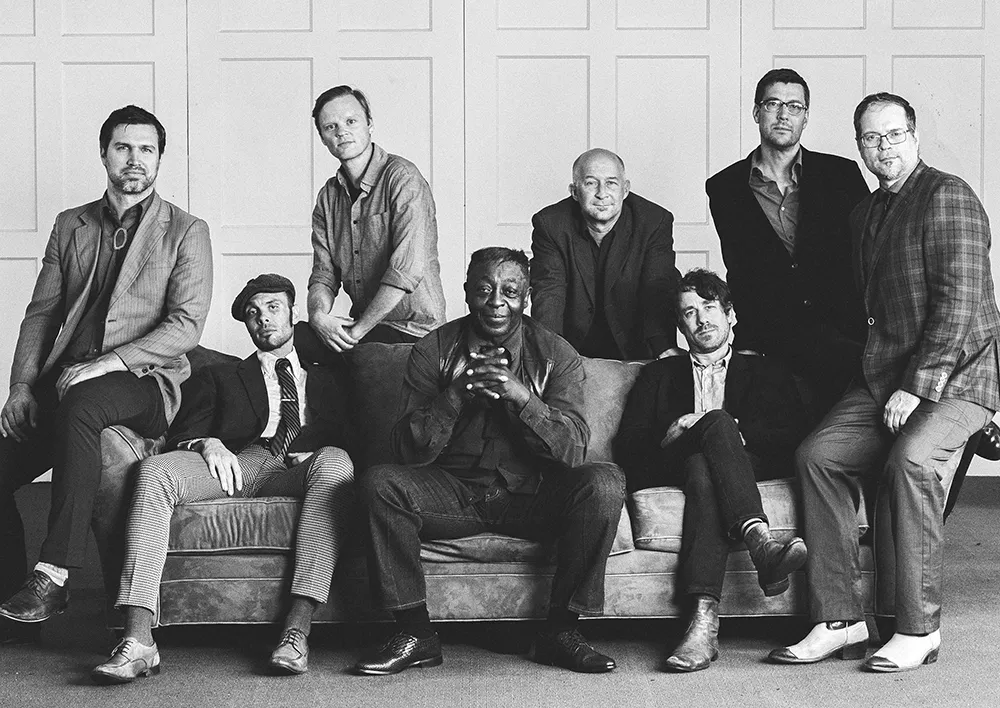 At 78, Ural Thomas has seen some things.
A conversation with the Portland-based soul singer about his storied career plays out like a roll call of the music industry legends Thomas recalls opening for or working with. Otis Redding, James Brown, Mick Jagger, Stevie Wonder — they all get name-checked. He's signed one or two bum record deals. He's performed at the Apollo. He hosts musical workshops for at-risk kids.
He's done it all.
But Thomas is a legend in his own right, even if you don't immediately recognize his name. Having made music for most of his life, Thomas recently rejuvenated his career with a seven-piece backing band dubbed the Pain, which gets its name from a song Thomas recorded some 50 years ago.
Thomas was born into a large family in Meraux, Louisiana, and he recalls a childhood filled with music. His father was a minister whose sermons were heavy on gospel, and his mother often played guitar around the house. The family relocated to Portland in the early '40s, and Thomas has — barring a few short sojourns to Los Angeles and New York — never left.
Asked when he realized that he could turn being a musician into an honest-to-god job, Thomas says he's never considered it a career. It's just what he does.
"Ever since I can remember I've been in music. It's just a part of me," Thomas says. "You know how you get that feeling when whatever you're doing in life, that's where you belong? That's what I feel, especially when I'm performing for people that are having a good time with me."
He began his career in the late 1950s, when doo-wop was the biggest thing going. He was most notably a member of an R&B vocal quintet called the Monterays, and Thomas remembers the early days of touring, five guys all crowded in the same car and bouncing around the Northwest supporting the Kingsmen and the Vikings.
Thomas later branched out as a solo artist, cutting singles with titles like "Deep Soul," "Can You Dig It?" and "Pain Is the Name of Your Game." None of them stormed the charts at the time, but they should be considered classics of the genre, the kinds of songs that'll have you asking yourself, "Why is it I've never heard this until now?"
Before the Pain came together in 2012, Thomas was performing the occasional one-off show, typically called in to play with an already-established group. But then he struck up a friendship with Eric Isaacson, the owner of Portland vinyl shop and retro label Mississippi Records, who re-released a handful of Thomas' long out-of-print singles from the '60s. Isaacson introduced Thomas to local drummer Scott Magee, who loved Thomas' stuff and worked with the singer to assemble a 10-piece band for a showcase of Mississippi's catalog of overlooked R&B and blues.
And with that, the Pain was born.
"The plan was just to do a one-night show, and the next thing we know ... this is going to be our sixth year," Thomas says. "It was like it was meant to happen. I can't explain it any other way than that. We got along so well. ... Everybody in the band loves different music and different ideas. We've got little pinches of music from all over the world in all of us."
The Pain aims to replicate the look, sound and feel of the bands that Thomas himself performed with back in the '60s; it's solid, old-school R&B, complete with horn section, but it has a knowing contemporary edge to it. An album released in 2016 by Seattle's rarities label Light in the Attic features new recordings alongside songs from Thomas' back catalog, and it all sounds of a piece.
"We really cared about each other, and we really cared about how the audience accepted us," Thomas says of his band. "It really made a difference when we found out they cared about what we were doing as much as we did."
Watching Thomas live, it's obvious that the audience is important to him, and even though the stage is crowded, your eyes never leave him. He's in the mold of all the great showmen from the heyday of Motown and Stax, a ball of unflagging energy. It's hard to believe he's pushing 80. It's really something to see.
"I look forward to being able to give to people what I've been blessed with," Thomas says. "If there's 10 people out there, I'm going to work like it was 10,000. There's too much negativity in the world; we don't need anymore. My purpose is to always bring positive music, bring positive thoughts, and be a positive person.
"It never gets old. It just keeps on being wonderful." ♦
Ural Thomas and the Pain • Sat, Aug. 4 at 8 pm • All ages • $10 • The Bartlett • 228 W. Sprague • thebartlettspokane.com • 747-2174