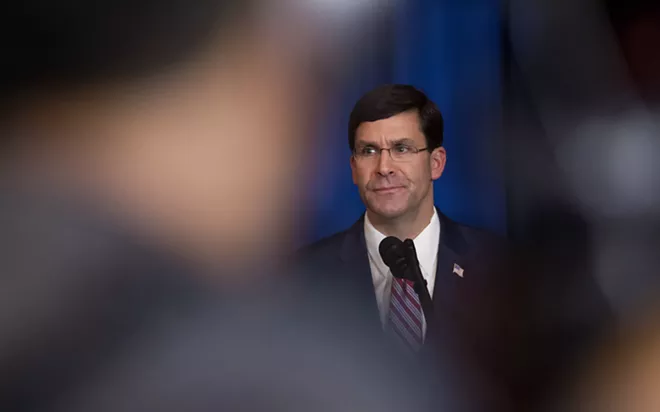 By Eric Schmitt and Thomas Gibbons-Neff
The New York Times Company

W
ASHINGTON —
U.S. warplanes struck five targets in southern Iraq on Thursday night, hitting back at an Iraqi militia with ties to Iran that is believed to have been part of a rocket attack on Wednesday that killed two Americans and a British soldier, U.S.officials said.
The airstrikes, supported by the British military, targeted facilities that were believed to store the type of rockets used in the Wednesday attack. It is not known how many militia members were killed, if any, a military official said.
Earlier Thursday, Defense Secretary Mark T. Esper attributed the attack on Wednesday to Iranian-backed militias and said that "all options are on the table" when it came to retaliatory strikes.
"Let me be clear: The United States will not tolerate attacks against our people, our interests or our allies," Esper said.
Esper's warning, followed hours later by airstrikes, falls in line with a now familiar pattern as Washington moves to curb malign efforts from Tehran and its proxies across the region.
But, ultimately, the effort has translated into a violent tit-for-tat exchange with an outcome that is anything but clear.
A Defense Department official said the strikes were specifically designed to be punishing and retaliatory — but not to escalate into a conflict with Iran.
In December, an Iraqi militia with ties to Iran, called Kataib Hezbollah, was accused of a rocket strike that killed an American contractor, setting off a series of events that led the United States to the brink of war with Iran.
Gen. Mark A. Milley, the chairman of the Joint Chiefs of Staff, spoke alongside Esper and said he had "good confidence" who was behind the attack.
The two Americans killed Wednesday were with the Army and the Air Force, according to one U.S. official, and more than a dozen members of the U.S.-led military coalition, including those from Poland and civilian contractors, were wounded.
Roughly 30 rockets were fired from a homemade mobile launcher miles outside the base, Camp Taji, and more than a dozen hit the sprawling installation roughly 15 miles north of Baghdad, officials said. [embed-1]