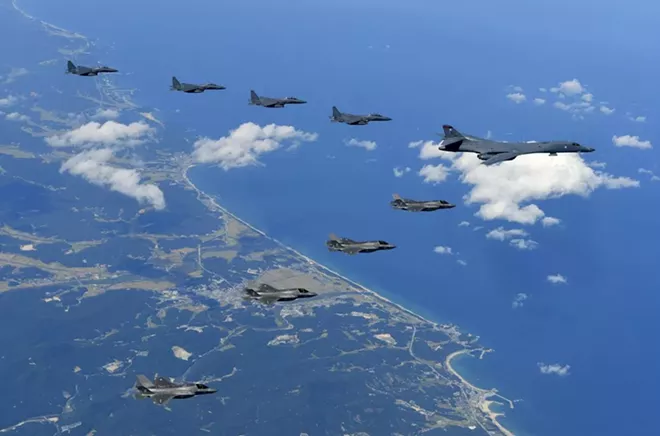 By CHOE SANG-HUN
© 2017 New York Times News Service
SEOUL, South Korea — The U.S. military said Monday that it would practice evacuating noncombatant Americans out of South Korea in the event of war and other emergencies, as the two allies began a joint naval exercise amid heightened tensions with North Korea.

The evacuation drill, known as Courageous Channel, is scheduled from next Monday through Friday and is aimed at preparing U.S. "service members and their families to respond to a wide range of crisis management events such as noncombatant evacuation and natural or man-made disasters," the U.S. military said in a statement.
It has been conducting similar noncombatant evacuation exercises for decades, along with other joint military exercises with South Korea. But when tensions escalate with North Korea, as they have recently, such drills draw outsize attention and ignite fear among South Koreans, some of whom take them as a sign that the United States might be preparing for military action against the North.
The South Korean government of President Moon Jae-in has repeatedly warned that it opposes a military solution to the North Korean nuclear crisis because it could quickly escalate into a full-blown war in which Koreans would suffer the most.
U.S. officials said they were hoping for a diplomatic end to the crisis but would not rule out military action. And in recent months, as North Korea has accelerated its nuclear and missile programs, President Donald Trump has issued a series of comments that have helped stoke fears among South Koreans of possible war on the Korean Peninsula.
North Korea has matched Trump's tough talk and threatened to launch missiles around Guam, a U.S. territory in the Western Pacific, and shoot down long-range bombers taking off from the island for exercises near Korea.
With fears of possible U.S. military action persisting among South Koreans, the U.S. military issued a rare news release Monday stressing that the noncombatant evacuation exercise was a "routinely scheduled" drill.
Participants in the exercise receive briefings on evacuation procedures and "limited rehearsals," it said.
It did not disclose how many people would participate in the evacuation drill. But it said the scale and focus this year would not vary from past versions.