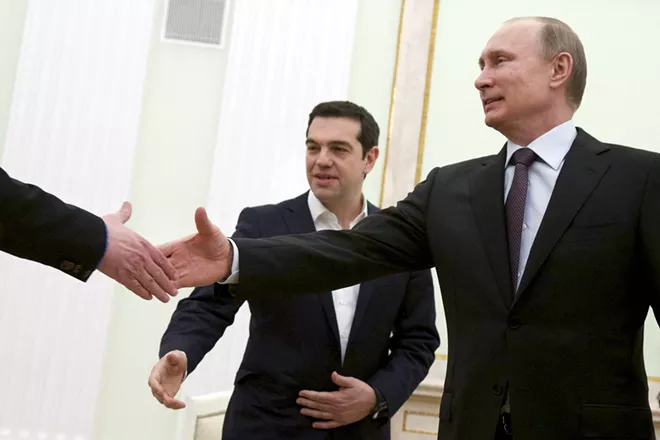 By NEIL MacFARQUHAR
© 2017 New York Times News Service
MOSCOW — President Vladimir Putin announced Sunday that the U.S. diplomatic mission in Russia must reduce its staff by 755 employees, an aggressive response to new U.S. sanctions that seemed ripped right from the Cold War playbook and sure to increase tensions between the two capitals.

In making the announcement, Putin said Russia had run out of patience waiting for relations with the United States to improve.
"We waited for quite a long time that, perhaps, something will change for the better, we held out hope that the situation would somehow change," Putin said in an interview on state-run Rossiya 1 television, which published a Russian-language transcript on its website.
Putin said the staff reduction was meant to cause real discomfort for Washington.
"Over 1,000 employees — diplomats and technical workers — worked and continue to work today in Russia; 755 will have to stop this activity," he said.
The measures were the harshest such move since a similar rupture in 1986, in the waning days of the Soviet Union.
It was also a major shift in tone from the beginning of this month, when Putin first met with President Donald Trump at the G-20 summit meeting in Hamburg, Germany. Trump had talked during his campaign of improving ties with Russia, praising Putin, and the Kremlin had anticipated that the face-to-face meeting of two presidents would be the start of a new era.
But then, in quick succession, came the expanded sanctions passed by Congress, Trump's indication that he would sign them into law and Moscow's forceful retaliation.
Washington's response on Sunday was muted. "This is a regrettable and uncalled-for act," the State Department said in a statement. "We are assessing the impact of such a limitation and how we will respond to it."
Congress passed the new sanctions to punish Russia for interfering in the 2016 election. Congress is also investigating the possibility of collusion between the Trump campaign and the Russian government, with Trump's eldest son, Donald J. Trump Jr.
Putin has denied any Russian interference in the U.S. election, saying that anti-Russian sentiment in the United States was being used to drive an internal political battle.