Less than 48 hours after Officer Chris Conrath responded to a woman's report of domestic violence, he was hooking up with her in an out-of-the-way hotel room at 3 am.
The woman, whose name has not been made public, had been arguing with her husband on Sept. 7 when he spat on her and abandoned her downtown, according to Spokane police records. Conrath responded to her 911 call and found no probable cause for an arrest. He gave the woman a card with resources for victims of domestic violence and his department email, records show.
Five hours later, she emailed him a thank-you, adding: "I have to tell you, I can't stop thinking about you."
Conrath resisted the woman's flirtatious emails at first, saying "any interaction outside my professional capacity would be inappropriate." But he eventually caved.
Over the next 24 hours, the woman and Conrath continued to text, call and email, according to an Internal Affairs report. Around 1 am, during Conrath's shift on Sept. 9, the two met at the Japanese Gardens in Manito Park. It was there that they kissed before agreeing to meet at the Mirabeau Hotel in Spokane Valley after Conrath's shift.
The violations — conduct unbecoming of an officer, nepotism and conflicting relationships — mark the third time in a seven-month period that the Spokane Police Department's name has been attached to sexual misconduct, alleged or sustained.
The first was accusations of unwanted "advances" from former chief Frank Straub; the second was a "respected" sergeant now charged with raping a female officer at a drunken cop party.
"These incidents make clear there is an unhealthy culture in our police department around the use and abuse of power," says Deb Conklin, chairwoman of the police ombudsman commission. "When people engage in these kinds of behaviors, it is because they have been given reason to believe that such behavior is acceptable within their system. ... These behaviors will only stop when we as a city, and our city government as an organization, make it very clear that such abuse will not be tolerated, and will be met with the strongest possible sanctions."
The three incidents revealed in the past year each have their own set of questionable circumstances. Each one implicates a different branch within the department. One reaches into City Hall.
In September, Mayor David Condon gave his hand-picked police chief the boot. When asked directly if any complaints alleging sexual harassment had been made against Straub leading up to his resignation, Condon said "No."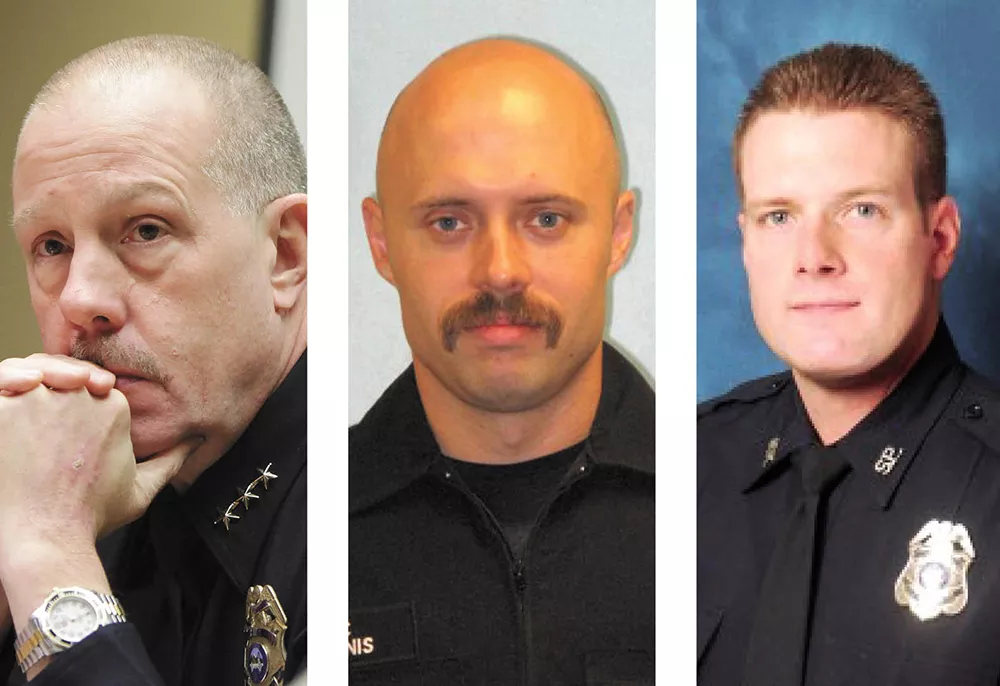 Public records released after the election in November revealed that Monique Cotton, the former police spokeswoman, had accused Straub of sexual harassment in April. Two members of the police brass later told the Inlander that there had been other issues and that Straub referred to another former female executive using the c-word.
"I absolutely believe the culture of a police department comes right from the top," says Penny Harrington, former chief of the Portland Police Bureau and founding director of the National Center for Women and Policing. "If the person at the top has that kind of attitude, you can bet people underneath are going to also. If you're going to thrive in that department, you have to adopt that attitude."
Then there was news of a drunken cop party one weekend last October. A young female officer told investigators that she drank too much Fireball whiskey. She eventually passed out in a guest room and awoke to a sergeant, Gordon Ennis, with his hand down her pants, according to court documents.
Then union president Sgt. John Gately, upon learning of the reported rape the next day, Oct. 25, called Ennis and continued to provide him updates as Spokane County Sheriff's deputies prepared a search warrant for Ennis' DNA, according to court records.
Phone records indicate that Gately called Ennis at 11:40 am on Oct. 26. Ennis then made several calls looking for an attorney. At 12:16 pm that day, Ennis' attorney called the Sheriff's Office, saying they could serve the warrant for Ennis' DNA at his office. At 2:09 pm, Ennis texted his wife that deputies were getting a warrant for his DNA. The warrant was not approved by a judge until 2:28 pm.
Ennis has been charged with second-degree rape, and Gately faces charges of rendering criminal assistance and obstructing a law enforcement officer. Both have pleaded not guilty and are on "unpaid layoff" status.
Conrath, for his part, was allowed to continue working pending the results of the internal investigation. Ultimately, interim Chief Rick Dobrow decided on a 30-day suspension.
"What stood out to me is there's not any sort of corrective measure for Conrath," says Liz Moore, director of the Peace and Justice Action League of Spokane. "It would seem to me there would need to be some kind of a sexism training or professional remediation, because he knew the policies and what was expected of him."
Conrath admitted to superiors that he was "flirting with disaster" but continued the relationship anyway.
Moore questions why he wasn't fired. So does Spokane County Sheriff Ozzie Knezovich. In August 2013, Knezovich fired Deputy Scott Kenoyer for having sex while on duty. An arbitrator forced the sheriff's office to hire him back less than a year later, citing the deputy's clean record and truthfulness when confronted.
Knezovich says a decision to fire a cop is not easy, but even with the looming possibility that the unions will fight the termination, not doing so can set a low standard.
"If you don't send a very clear message that this type of behavior is not acceptable — that you will not wear a badge if this happens — then it's a leadership failing," Knezovich says.
Referring to Conrath's situation, he adds: "I would have terminated him based on the importance of the public trust. I have to be able to trust my officers not to exploit people in that mental state."
Dobrow says his decision not to fire Conrath was not taken lightly, and the 30 days without pay is going to cost the young officer more than $10,000.
"The reason I didn't [fire him] is because he has a stellar background and record up until now," he says. "I want to send a very strong message to Officer Conrath and to the organization that those things will not be tolerated, and I made it quite clear to Officer Conrath that any lapse in judgment is going to result in his termination."
The thread of sexual harassment and misconduct from male law enforcement officers in Spokane does not begin and end with these three examples. It's connected to a spool that's been unwinding for decades. In 1981, for example, the captain leading the hunt for the South Hill rapist advised a female reporter that to keep from being raped, women should "just lay back and enjoy it," according to news reports at the time. The captain, Richard Olberding, later said his comment was meant as a joke.
In 1993, Spokane cop William Gentry was convicted of raping a developmentally disabled deaf woman who he met on the job. He was sentenced to four years in state prison.
In 2014, SPD Sgt. Chet Gilmore resigned after his bosses found out he had sex with a married woman on duty — once in a police vehicle in a Hobby Lobby parking lot. And last year, Officer John Yen was charged with domestic violence and armed burglary for forcing his way into his girlfriend's home after an argument. Yen, 25, pleaded guilty to a misdemeanor trespassing charge and is back at work while an internal investigation is underway.
After pleading guilty, Judge Sam Cozza said to Yen: "You're getting a huge break. This could have been a real bad situation," the Spokesman-Review reports.
Spokane police are certainly not alone. An Associated Press investigation in 2015 revealed approximately 1,000 officers who had lost their badges over a six-year period for sex crimes, including rape, assault and pornography. The AP report says that number is "unquestionably an undercount" because some states don't decommission officers for such crimes.
Philip Stinson, a criminal justice researcher at Bowling Green State University, analyzed news articles detailing arrested officers from 2005 to 2011. He found that sex-related crimes were the third most common.
For Erin Williams Hueter, the director of advocacy and prevention at Lutheran Community Services in Spokane, though the recent incidents are "shameful," she's pleased with the level of professionalism from most officers. Moore agrees, pointing to SPD's Crisis Intervention Training as one marker of improvement. But she echoes Conklin's call for an audit of the department's internal culture.
"We won't know where to focus until we start assessing and measuring," Moore says. "It's clear the culture audit needs to be comprehensive and look at attitudes around race and gender."
Spokane police are collecting input from community members on the logistics of a culture audit, but no definite timeline has been set.
For Harrington, of the National Center for Women and Policing, an in-depth look at a department's internal attitudes is crucial, but training and gender diversity are critical components of change as well.
"Training on gender-based issues is essential," she says. "And you can't just do it once and think you've solved it. Every year you have to reinforce what you stand for, and what you believe in that organization." ♦