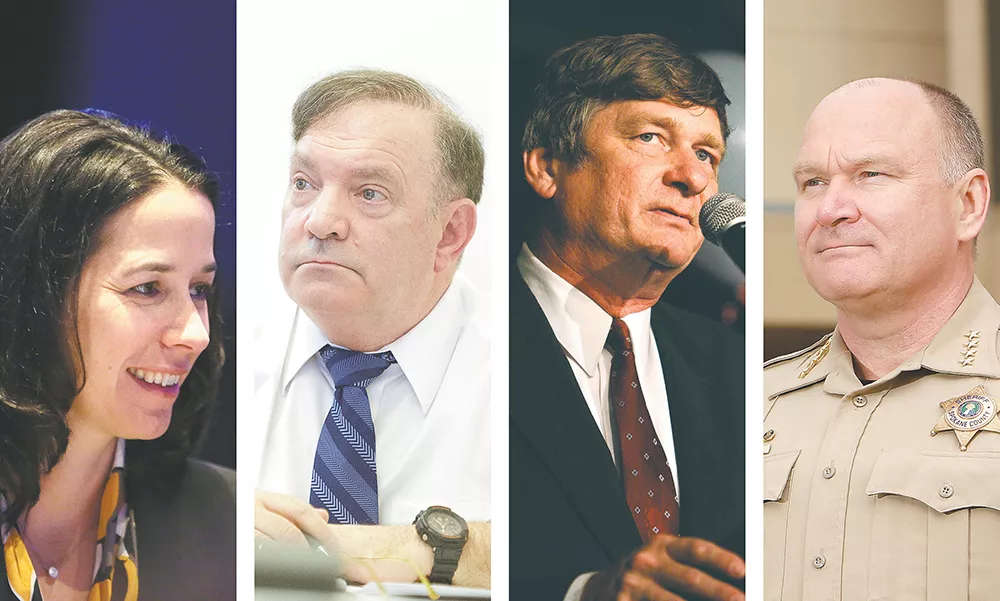 If you're a local Republican looking to move on up, these are heady times. Opportunities abound. There's an opening for U.S. Attorney, and a soon-to-be-open seat on the Spokane County Board of Commissioners. And depending on who snatches up those jobs, a whole series of other positions could open up in what promises to be a political round of musical chairs.
It all starts with Donald J. Trump.
In March, once he had settled into the White House, Trump ordered a purge of the 46 remaining U.S. Attorneys appointed under President Barack Obama. Not an unusual move, but one that was criticized, given the lack of ready replacements.
That night, U.S. Attorney Michael Ormsby was out of a job. Now, nearly two months later, at least three local legal minds have submitted their names for consideration; so far, Trump has had other things on his mind (for example, Syria, health care and taxes) and hasn't made any final decisions.
The three men jockeying for control of federal law enforcement in Eastern Washington are Spokane County Prosecutor Larry Haskell, Spokane County District Court Judge Vance Peterson and Bill Hyslop, a former U.S. Attorney appointed under George H.W. Bush who is currently working in private practice in Spokane.
Meanwhile, local partisan players are also eyeing the Spokane County Board of Commissioners. Shelly O'Quinn, who has served on the three-person elected board since 2012, will abandon her seat in June, just six months into her second term. She announced in April that she had accepted the gig as chief executive officer for the Inland Northwest Community Foundation.
So far, four people have sent word to the local Republican Party of their interest in the seat:
• Rob Chase is the current Spokane County Treasurer, and a staunch Ron Paul libertarian.
• Mary Kuney is a certified public accountant who ran for treasurer against Chase in 2014. She is the county's current chief deputy auditor and is the former Washington State Auditor.
• John Guarisco is a longtime local businessman and marketing consultant who has been heavily involved with the Spokane Valley Chamber of Commerce.
Local Republicans will vote to determine the top three candidates for the vacant commission seat, and send them to Commissioners Josh Kerns and Al French for the ultimate decision.
For Stephanie Cates, chairwoman of the Spokane County Republican Party and one of the voting members, this process represents the purest form of grassroots politics.
"It's a time that underscores the importance of what our [precinct committee officers] do to keep that continuity with Republicans in office," Cates says. "Getting good, strong Republicans in office who are capable of holding that seat when the election rolls around."
Haskell, an early Trump supporter, confirmed in March that he'd applied to be the top federal prosecutor in Eastern Washington. Although he has since declined to elaborate publicly on his application, some local lawyers believe that Haskell is doing whatever he can to land the job — going so far, they say, as to needle one of his competitors: District Court Judge Vance Peterson.
At the end of February — shortly before Haskell's public announcement — prosecutors in Spokane began filing motions known as "affidavits of prejudice" for all DUI cases in Peterson's courtroom. The motions allow attorneys from either side to change judges without giving a reason; essentially, these motions send a message that the judge in question cannot be fair and impartial.
Peterson announced as early as January that he might be interested in the federal position, and officially applied in March, he says. Although he declines to say whether he believes the affidavits are politically motivated, their "massive application" concerns him.
"To my knowledge, in over 26 years on the bench I have never had an affidavit of prejudice filed by the prosecutor's office until the recent batch," he says by email. "I am aware of only a handful filed by various defense attorneys over those same years."
Haskell and the deputy prosecuting attorney who oversees prosecutors in District Court will not articulate specific reasons for the affidavits. Ethics rules prohibit attorneys from publicly criticizing judges, they say. But any allegations that Haskell is smearing the judge for political gain are "simply false," he says.
"My decision was grounded in law and facts brought to me by my District Court supervisor," Haskell says. "Nothing more."
Jim McDevitt, a former U.S. Attorney for the Eastern District, doesn't believe that the affidavits will impact Peterson's shot at the job, though he says that leading up to his own appointment by President George W. Bush, applicants endured a rigorous background check.
Still, some local attorneys wonder.
"The timing seems suspect to me," says Spokane defense attorney Frank Cikutovich. "As far as I know, no affidavits were being filed before the U.S. Attorney position became available."
There is no indication that the Trump administration is moving quickly in appointing a new federal prosecutor in Eastern Washington.
Typically, candidates go through extensive, months-long vetting by the FBI. Then the U.S. Senate Judiciary Committee works with a state's U.S. senators to narrow the field.
Traditionally, those senators have held an informal veto power over the president's nominees for U.S. Attorneys and federal judgeships, known as the "blue slip" policy. As early as 1917, the Senate Judiciary Committee started sending letters to senators (on blue paper, typically) in their home states, asking for approval or disapproval.
Recent Judiciary Committee chairs have refused to hold hearings unless both senators return the blue slips, though other committee leaders have used the slips more like guidelines.
"We're unsure of how much that will be followed," says Bryan Watt, a spokesman for Washington Sen. Maria Cantwell, a Democrat. "I don't believe they've named a candidate. In the past we have taken part in that, and it's always been done in a collaborative way. At this point, it's unclear how Trump will proceed for U.S. Attorney vacancies."
McDevitt and Ormsby, the two men who held the job most recently, attest that the U.S. Attorney wields great power regarding how the U.S. Attorney General's priorities are carried out.
"The one thing that I saw that was very illuminating was the amount of discretion the U.S. Attorney has in directing law enforcement priorities in his or her district," McDevitt says. "It was a lot more than I thought. It's a big responsibility."
He adds that during his own confirmation process, he was reminded that if "race, creed, religion or politics" enter into his actions, "then you're gone."
If Haskell ultimately lands the position, political insiders have begun to consider who might replace him as the county's elected prosecutor. One name has been circulating: Sen. Mike Padden (R-Spokane Valley), who currently chairs the Senate Law and Justice Committee and as such, acts as a gatekeeper for criminal justice reform. The former Spokane County District Court judge did not respond to requests for comment.
"I do hope that whoever takes that job can do it impartially," Andrew Biviano, chair of the Spokane County Democrats, says of the county prosecutor position. "As a legislator, [Padden] has been very open with his predilections and political views, so he would have to convince people he can do it in a fair-minded way."
And what about Spokane County Sheriff Ozzie Knezovich? In December, Knezovich revealed that he had aspirations for higher office — in this case, Congress — when it appeared that Congresswoman Cathy McMorris Rodgers might join the Trump administration. McMorris Rodgers stayed put, and it appears Knezovich will, too.
"I'm running for sheriff again," he says, scoffing at the idea of joining the county board of commissioners. "It's hard to get people interested in running for elected office. I've talked to some really, really good people, and their answer is, 'Why would I want to do that?'" ♦