A
s more communities try to figure
out how they can prepare for climate change impacts, it can be difficult to take large regional climate data and drill down to show the possible effects on particular streams, rivers and forests.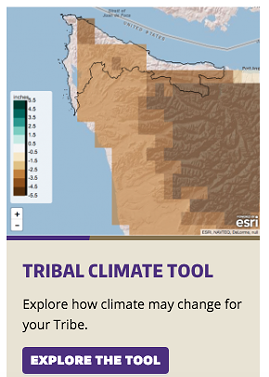 And for some small governments, such as those of regional sovereign tribes, working with a university to look at specific local changes can be expensive.
That's partly why the University of Washington's Climate Impacts Group was asked to help develop localized tools that can help 84 Northwest and Great Basin tribes plan for the future as they develop climate change vulnerability assessments, explains Meade Krosby, project lead and Climate Impacts Group senior scientist.
"
If you're a coastal tribe you might want to know something about local sea level rise," she says. "
If you're a tribe, and almost all of our northwest tribes are, for which salmon is important, you might want to know how stream temperatures might change and how stream flows might change."
Information on how the impacts of fire might change over time will be important for virtually any tribe in the West, she says.
To help, the impacts group recently
published a suite of resources
and guides online, offering data specific to geographic areas of interest for different tribes, accessible via user-friendly tools.
The work was started more than two years ago, after surveys with regional tribes showed that technical information was a large barrier to planning for the future, Krosby says.
"We were approached to do this in response to a survey the Affiliated Tribes of Northwest Indians had done, asking what the barriers were that they were encountering in assessing and responding to climate risks," Krosby says. "If you want to use western science, you need pretty specific local data that can be hard to get ahold of if you're not at a university."
The effort was paid for in partnership with the Northwest Climate Adaptation Science Center and the Great Basin Landscape Conservation Cooperative, Krosby says.
The tools are really just a jumping off point, Krosby says, with more technical work required to look at things like the specific impacts to a species of fish, or a watershed or traditional territory. They can be used to create vulnerability assessments that help tribes and communities plan where resources should be prioritized, and how to prepare.
"Northwest tribes in particular, they've really been leading the way, not just for tribal communities, but for any community" in preparing Krosby says. "There have been many assessments done already by Northwest tribes, but many haven't started yet."
In particular, that planning work can be important for tribes, many of whom "are deeply tied to the natural environment for culturally significant practices and traditions, health and livelihoods," an announcement of the climate tools' release notes. "Most tribes have reservations and treaty rights that are connected to specific places and resources, making it a challenge to go elsewhere in response to future changes in climate."