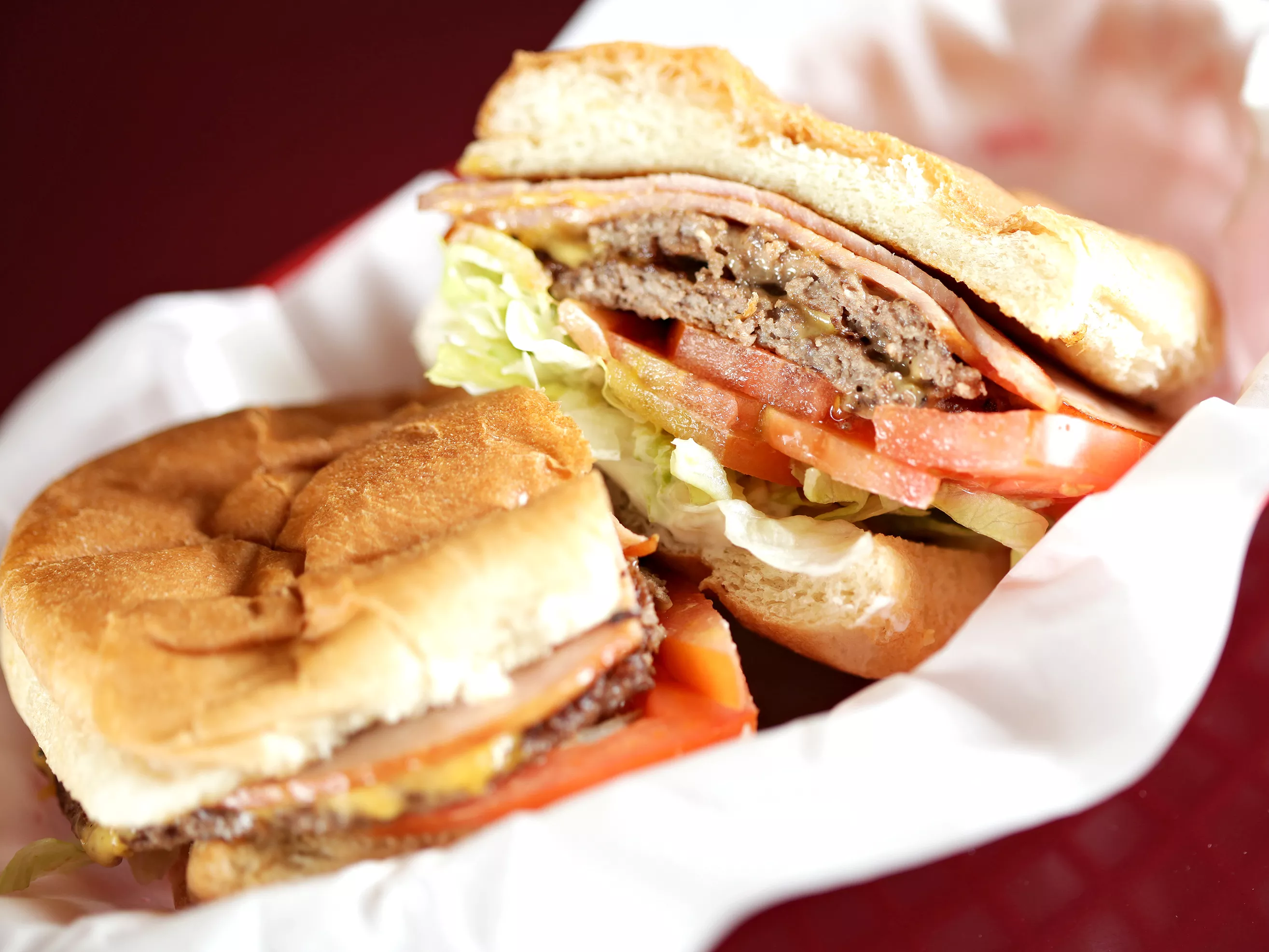 Normally, I'd pinch my pennies over the course of a week and enjoy three delish dishes out and about over the course of that week. But there are a lot of abnormal things happening here, not the least of which is the fact that the challenge is to spend only 20 bucks, while eating three, hopefully tasty, square meals in one day.
When I first moved to Spokane, I had more than $20. That said, I still found comfort, not to mention free wireless Internet access and a jolt or two of java at Rocket Bakery down on Argonne Road in Millwood. If the "rocket" represents the coffee, then, you know, the "bakery" represents the bakery. And it's the bakery that brought me here the day of this dare.
I hadn't been to this locale (one of seven in the area) for several months, and I knew this experiment was as good an excuse as any to have breakfast there. There are many choices here for "carbohydrated" grub, my preferred kind of food before noon. As you walk into the store, you're face-to-glass with the display of pastries, muffins, breads and cookies. You won't miss it, thank goodness, because this is where the magic of your morning can happen. Everything edible here is sold on the cheap, and I went with the Turkish Tea Cake ($1.85, $2.01 after tax).
The cake, which is a kind of coffee-cake/cake-bread, is inspired. Sweet, but not too sweet. There is something exotic about how the cake is spiced, and the sugary crumble on the top of the bread gave my palate a surprising wake-up and a wonderful contrasting texture. I could have eaten another piece, or had a cup of joe, or at least taken one or the other to go, but, determined to save a lot of cash for lunch and dinner, I forged on.
Two hours later, famished, I headed out east on Sprague until I spotted Conley's Place, an Irish pub with diner elements, where I knew I could get a hearty breakfast-for-lunch at a steal. The restaurant is decorated tastefully, celebrating an Irish heritage (nothing gaudy here), and this befits the cuisine, which includes many traditional Irish offerings. One of the beauties of Conley's is this: More than two-thirds of the items on the menu are less than $10.
Intent on not splurging for any kind of flavored drink, I stuck with water. I had an Order of Eggs ($6.99, $8.80 after tax and tip). I went with scrambled eggs. The meal comes with hash browns and a choice of toast, three pancakes, an English muffin, a large biscuit with gravy or one of several different kinds of muffins, and I couldn't resist the idea of pancakes.
My eggs were hot and plentiful, neither overcooked nor squishy and viscid. The hash browns had a great crunch to the exterior, and were seasoned so well that I added nothing to them, simply enjoying the flavor of the potatoes. The pancakes at Conley's are fluffy, and offered a sweet counterbalance to the rest of my salty and savory meal. My guest, not hampered by my cash limit, ordered a cheese omelet filled, at no extra charge, with four different cheeses. I would have drooled over the decadence of her meal, but I cleared my plate quite content, incredibly pleased to have good, warm, affordable food.
I must admit this: At this point, as a caffeine-deprived caffeine addict, I was already getting a headache. I eyeballed the sugar on the table as my best bet for a pick-me-up that would cost me nothing. Don't worry: It didn't come to that. I plodded through.
I rarely finish a meal at a restaurant, but out of fear I'd have to hold off longer than I'd hope, coupled with a fear that I wouldn't be able to afford dinner, I gobbled all the grub in front of my face.
$9.19 REMAINING
For dinner, I stayed on Sprague, and soon found myself inside the Thrifty Scotsman, an unassuming drive-in that redefines "thrifty." There are only two things on the menu that cost more than $7: an order of double fish and fries; and an order of double chicken and fries. Let me tell you, though: You are doing a disservice to yourself if you don't first try, like I did, the Super Ham Burger ($3.79, $4.12 after tax). There's no typo there: This hamburger has divine, salty, slightly-grilled slices of ham on it, along with two pieces of cheese, two beefy patties, lettuce, tomato and mayo on a po' boy bun. This sandwich is a revelation. I felt myself flashing back on a lifetime of burgers, for good and for ill, and I have come to this decision: I haven't had a burger that is, pound-for-pound based on price, this good in years. The sandwich is salty, juicy, cheesy, beefy, meaty, gluttonous goodness.
With some money to spare, I plunked down just a wee bit more of my cash reserves and ordered a large peanut butter shake ($2.99, $3.25 after tax), made with real crunchy peanut butter. Not only did the drink take me back to my youth, it also filled me to the brim with a perfect closing to a meal and a day I can't find a thing to complain about and only things to glow about.
$1.82 LEFT OVER
---
MORE SPOKANE VALLEY CHEAP EATS
COTTAGE CAFÉ
6902 East Appleway Blvd. • 928-8888
You absolutely can't go wrong with the Cottage Café. Their French Toast Special doesn't belong in the same sentence as the French toast served at most restaurants, let alone at one that will charge a scant $5.25 for four decadent wedges served with warmed maple syrup. If you like a true dessert for breakfast, go for the "Piccadilly" Waffle ($7.95): a pecan Belgian waffle with banana slices, ice cream and whipped cream. Then find the nearest treadmill.
SWAGAT
14414 East Sprague Ave. • 315-8785
If you find yourself in the Valley, pining for Indian food, then hustle over to Swagat, where you'll find a menu of 108 items, 65 of which cost less than $10. My advice? Go for the Saag Paneer ($9.99), which is an amazing concoction of spinach, homemade cheese and a delectable sauce. Or, if you're up for something more interesting than fast food for a midday meal, head there for their seven-days-each-week all-you-can-eat lunch buffet ($9.99).
CASEY'S PLACE
13817 East Sprague Ave. • 921-6545
You like you, right? So please do yourself a favor and have lunch at, or delivered by, Casey's Place. This joint puts many other delis to shame. They have umpteen permutations of a build-your-own sandwich, but they also have many standards to choose from. The tantalizing Hawaiian sandwich is built with ham, pineapple and Swiss cheese on a French bread foundation ($6.50 small, $7.50 large).
DAVE'S BAR AND GRILL
12124 East Sprague Ave. • 926-9640
Here's yet another great choice for breakfast and lunch on the cheap. Dave's name belies something wonderful about this place: Dave's is actually a foodie must. There are few other places in this region (dare I say none) where you can try out liver and onions ($9) and gizzards ($9), and wash them down with a Shirley Temple for ironic teetotalers ($2).
THAI BAMBOO
12722 East Sprague Ave. • 444-8424
While much of Thai Bamboo's menu includes dishes that cost more than $10, there is an important caveat: This is a marvelous place to eat unique, satisfying and light lunches. There are eight lunch combo plates ($9 each). I recommend Combo D: Phad Thai Noodles and Chicken Cashew Nut. It'll please your palate and take your taste buds on a trip to Thailand.
— MATT ZAMBITO