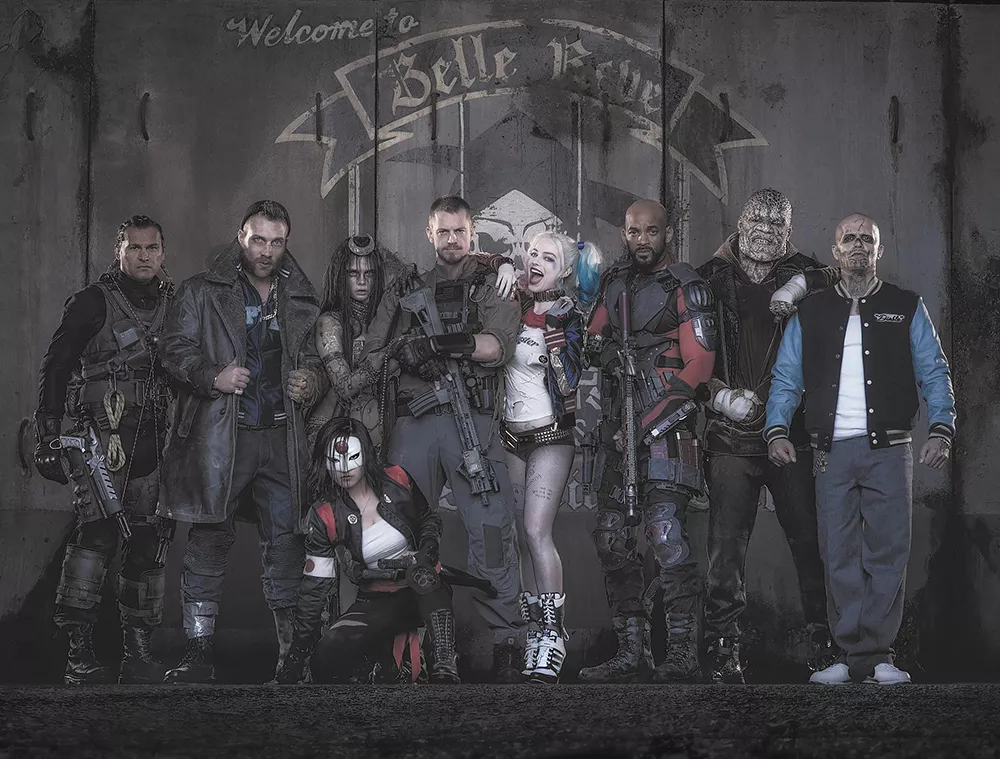 At the Hollywood premiere for Suicide Squad, writer/director David Ayer took up the rallying cry suggested by a fan in the audience, and let loose with a hearty, "F--- Marvel!" For the benefit of those not caught up in silly fandom turf wars, enthusiasts of the Big Two comic-book publishers — DC (which includes Suicide Squad) and Marvel — have turned the movies based on their respective costumed characters into the latest battlefield in a grueling campaign over who rules and who sucks. The success of these movies, both financial and critical, matters insanely to these people as a kind of "scoreboard" taunt — and for the past several years, that scoreboard has belonged rather decisively to Marvel.
While Ayer later apologized for getting caught up in the moment with his profane outburst, the notion that DC is playing catch-up is real. The Marvel cinematic universe launched by Iron Man in 2008 has become a powerhouse; this year's Batman v Superman: Dawn of Justice marked DC's first real attempt at building a similar interconnected film franchise. Suicide Squad continues that effort in a manner that suggests imitation is the sincerest — and possibly most desperate — form of flattery.
The premise is kind of a nifty spin on the concept of antiheroes, building a team of incarcerated "meta-humans" who have to be threatened, blackmailed and cajoled by a shadowy government operative (Viola Davis) into forming a team of disposable villain/heroes for particularly dangerous missions. They include Deadshot (Will Smith), an assassin who never misses; Harley Quinn (Margot Robbie), the mentally unstable girlfriend of the Joker (Jared Leto); the mutated, sewer-dwelling Killer Croc (Adewale Akinnuoye-Agbaje); and flame-throwing ex-gangbanger El Diablo (Jay Hernandez).
Every one of those characters then requires some kind of "origin" information, to a greater or lesser degree, along with the stories of the team's military leader, Rick Flag (Joel Kinnaman), and Katana (Karen Fukuhara), Flag's personal bodyguard with a soul-eating sword. We learn about Deadshot's relationship with his daughter, Harley Quinn's transition from the Joker's psychiatrist to his willing thrall, El Diablo's haunted past, and Flag's connection to the ancient, powerful Enchantress (Cara Delevingne) who will become the team's first opponent. That makes for one cumbersome, stuffed-to-the-gills narrative, so uncertain about all the information it's trying to convey that Ayer actually uses two different back-to-back scenes for the purpose of introducing the concept and characters.
That kind of throat-clearing has been typical of most 21st-century superhero blockbusters, of course, but Suicide Squad seems particularly determined to do all the things that seemed to work in the Marvel films. There's a need to set up links with the other DC films, so we get a cameo appearance by Ben Affleck's Batman and additional setup for the upcoming Justice League film. Guardians of the Galaxy got the kids humming along to classic-rock chestnuts, so Ayer cranks up a playlist that includes "Sympathy for the Devil," "Super Freak," "Bohemian Rhapsody," etc. etc. And because a threat isn't a threat unless it includes potential apocalypse, the climactic battle must include a mission to destroy a Giant World-Ending Machine.
The distinctive personality of Suicide Squad is left almost entirely to its characters, which becomes a hit-and-miss proposition. Robbie is satisfyingly unhinged as the scene-stealing Harley Quinn, and it's great to see Will Smith back in charismatic, quip-slinging mode; the less said about Leto's Joker, whose brand of "look at me, I'm mercurial" nuttiness gets blessedly little screen time, the better. But the individual character arcs mostly become a jumble, leaving the primary question — just as it was in the first Avengers movie — "Will this disparate group pull together when the chips are down?" And if they do, will we buy that it's more than a writer's contrivance?
It's not surprising — given Ayer's background in police dramas (End of Watch, Sabotage) and war movies (Fury) — that the action here is almost entirely street-level military, which does provide some unique visual style. But most of Suicide Squad feels like something that's been given almost no room to breathe, as Warner Bros. races to establish the DC cinematic universe. There may be nominally more fun here than in the brutal Batman v Superman, but it still feels like the bigger battle in this movie is the one that's taking place outside the frame, in corporate boardrooms. ♦