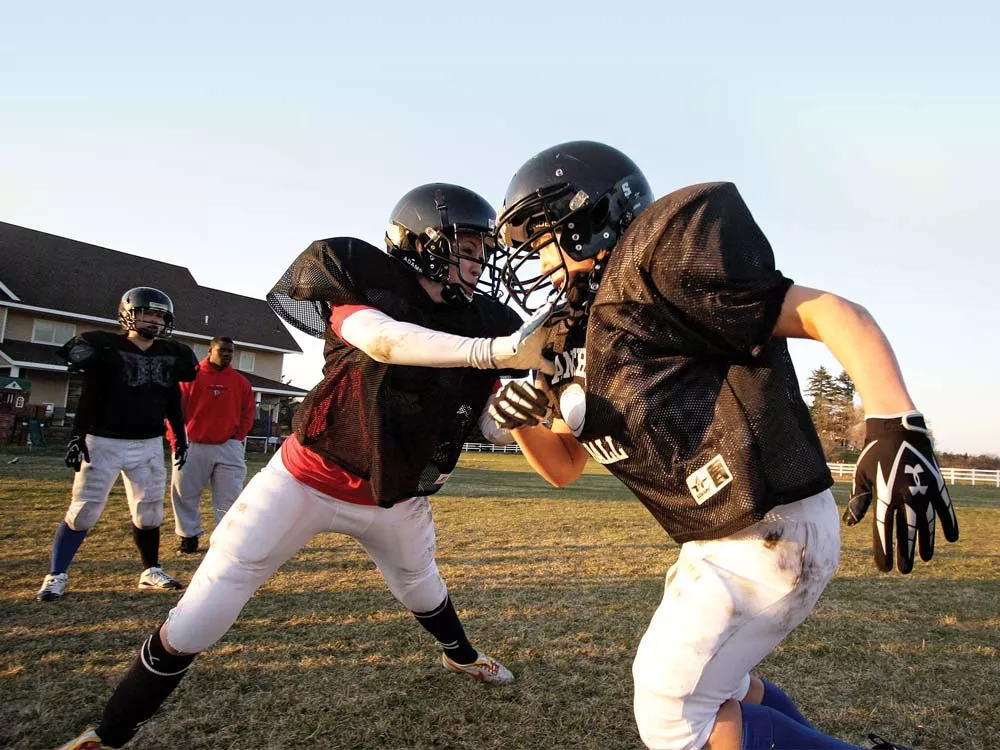 Four bulky figures waddle shoulder-to-shoulder in a forward-leaning squat, as if they're carrying a significant weight on their backs. They've been practicing this configuration — a move called "the Wedge" in which the players act like a snowplow — endlessly in the backyard of their coach's house in Otis Orchards.
The practices these women have held there — as members of the female tackle football team, the Spokane Scorn — have changed a lot in the last four months. Back in January, they were just trying to learn the game. Now they're running plays and honing in on the minutia of each player's position. Sweatpants have been replaced with pads and uniforms.
Despite their bulky armor, it's clear that these football players are female. Ponytails swish at the base of their helmets. Thin arms look even smaller when protruding from underneath mammoth shoulder pads. One woman removes her helmet, revealing eye makeup smeared from sweat.
These women aren't blind to the dichotomy they represent as female tackle football players. They revel in it.
"We've had a lot of husbands, parents, spouses say, 'You're crazy, you can't do this, you're a girl,'" Sara Dobson, 27, says. "But obviously we can."
But playing for the Scorn isn't just taking on gender norms. They are nurses, CEOs, students and mothers, all learning to hone in and develop aggression. Most of them haven't ever been presented with the opportunity to play a hardcore contact sport like football before.
"I've always been told, 'Don't hurt your teammates, don't hurt your teammates'" says Meri Landgraver, 20, who has a background in soccer. "I get out here and coach is like, 'Knock the piss out of your teammates,' and I'm just like, 'F--- yeah!'"
The Spokane Scorn is one of 62 teams in the Women's Football Alliance across the United States and Mexico. These women play full-contact football: no flags, no tagging. The 20 or so women on the Scorn are led by coach Jim Puryear, a seasoned football player and leader, currently an assistant football coach at Whitworth. He's been training these women for months, and right now they are preparing for their first home game.
But it's been a long road to get to this point.


If you want to start a football team from scratch, be prepared to start writing some checks. $40,000 worth.
According to Puryear, you'll need $500 per player for helmets, pads and game uniforms. Add another $2,000 for field equipment for games, and $1,000 per home game to cover the cost of the field, referees and EMTs. Tag on another $1,000 per game for hotels for visitors, or vans and gas for travel. Athletic training supplies will set you back another $1,000. Tack on even more to cover any staff who aren't volunteering. Then there's the insurance.
"I'd say $40,000 [total] for 20 gals is pretty minimum," Puryear says.
The Scorn has done some fundraising and is set up to accept sponsors, and Puryear says they are lucky enough to be able to borrow much of the equipment. But being financially stable is only part of their battle to become a complete, functioning team. Most of them had to start with the basics.
This isn't the first time Puryear has built a team from scratch. He began a men's football team at Valley Christian School, and within three years, they had a city championship under their belt.
But coaching a women's team wasn't something he expected to do.
"My wife kinda was the one who talked me into it," Puryear says.
But when his program at Valley Christian was forced to close due to low enrollment, his schedule was suddenly more open.
"I was missing football," he says, "and my wife knew I was missing it, so she encouraged me."
While starting from Square One is a challenge, being a male coach who has only previously been involved with men's teams is another. The two just aren't the same, and the women know it, too.
"With [coaching] guys, you just yell and they do what you say," says Amber Carter, the Scorn's team captain. "While he's talking to us, we're not just going out and doing it, we're actually thinking about it and seeing in our mind what's going to happen."
Carter explains that with a men's team, Puryear has more of a license to be physical — which isn't the same for a women's team.
"With the girls, I'm very, very, very clear that 'I'm going to touch you' and 'I'm going to move you' because I don't want there to be any misunderstandings," he says.
Carter notes Puryear's deferential demeanor, which extends beyond his attentiveness to boundaries during practice.
"He's very respectful. … He's seeing that we do want to do this, and he's all for supporting us out in the community, letting people know this is not a lingerie league. These girls are serious, they're out there working their butts off," says Carter.


During a recent practice, the four girls take a break from the wedge and huddle together, laughing.
They're reminiscing about breaking a girl's leg.
It was a few weeks ago at their first official game against the Utah Blitz. They took a girl out with the wedge. And they were surprised — the girls on the other team initially appeared to be much bigger and tougher.
"When we were playing the Utah team, there was this heavy-set big chick, like she looks like she's a big hitter, and she was lined up against me and every time we'd go, she'd hit me and it felt like a big pillow was hitting me," says Meri Landgraver. "I would just go RAM! and I'd knock her down and I'd wait for her to stand up again and I'd go RAM! and hit her down again."
In return, the Blitz took out a couple of Scorn's best players and beat them 40-0.
For their next game, they've decided things are going to be different.
The girls have been working endlessly on plays and studying video footage both of themselves and the other team in preparation for the game.
And for women who never imagined themselves as football players, it's clear they've had no problems taking on this new identity — one of a ferocious, invincible women.
It's not that it wasn't there before, but the women say it's just not something they felt comfortable letting out. This time, though, they don't want anyone to go soft on them — especially their coach.
"They keep telling me they want me to coach them like boys, but I dunno," he says. "It's not my nature to yell at women."

The Spokane Scorn plays the Portland Fighting Fillies • Sat, April 30 at 5 pm • Valley Christian School playfield • 10212 E. 9th Ave., Spokane Valley • $5 • spokanescorn.com • info@spokanescorn.com