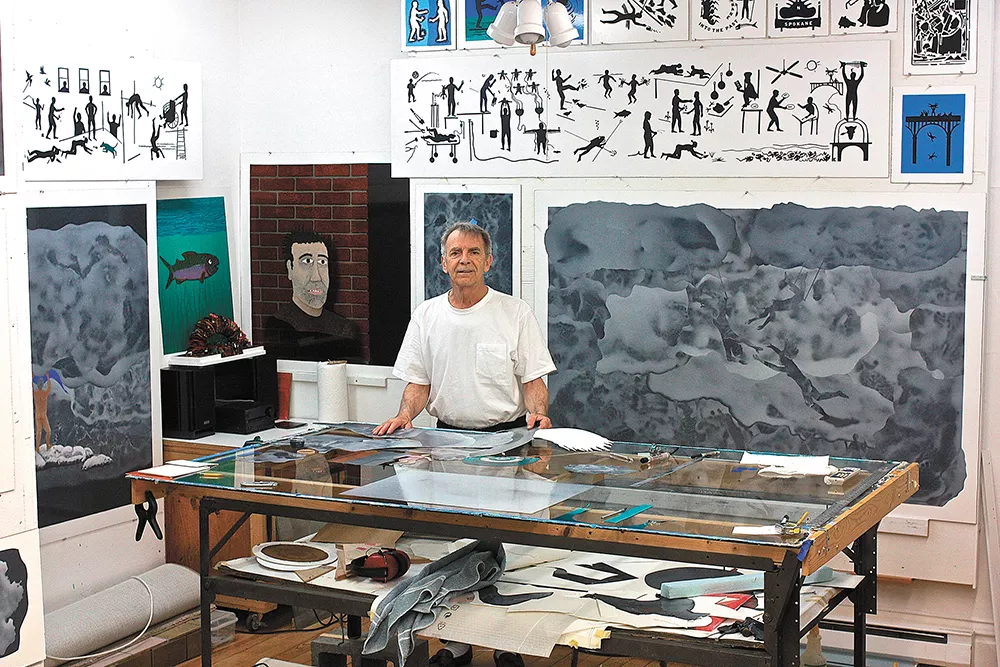 Spokane artist Robert Kraut's latest show, containing more than 30 new works created over the past two years, strays from the artist's familiar use of bright and vivid color palettes. Titled "Revolting Developments," Kraut uses the collection to explore some darker philosophical elements: "This work conveys something beyond illusion, deception or beauty... Life is not just all wonderful and glorious!" Kraut muses in his artist statement. Far from serving as aesthetically pleasing art for the sake of beauty, this collection instead seeks to find a balance between the offensive and introspective, perhaps despite the subjects some of Kraut's pieces explore: child abuse, frustration with aging, and caring for his own aging parents. Through these emotions of anger, frustration and repression, Kraut asks his audience to ponder the universal question: what is this art about?
Robert Kraut: Revolting Developments • April 7-28: Opening reception Fri, April 7 from 5-9 pm; closing reception April 28, 5-8 pm • Kolva-Sullivan Gallery • 115 S. Adams
---
Receptions on Friday, April 7, from 5-8 pm, unless otherwise noted. For additional information, visit downtownspokane.org.
Avenue West Gallery, 907 W. Boone
"Musings" by Cheryl Halverson.
Auntie's Bookstore, 402 W. Main
"3 Minute Mic" feat. Tim Greenup; 8-9:30 pm.
Barrister Winery, 1213 W. Railroad
Mixed media by Valerie Ann Lindberg; 5-10 pm.
Bellwether Brewing, 2019 N. Monroe
A mother-daughter show by Jacqueline Brewer and Elle Brown.
ben GALLERY, 1024 W. Railroad Alley
New art by Ben Joyce.
Bistango, 108 N. Post
Music by Ray Vasques, 6-9 pm.
Bloem, 808 W. Main
Cityscapes by artist Tracy Dupuis.
Bozzi Gallery, 221 N. Wall
Steel sculptures by Rick Davis.
Chase Gallery, 808 W. Spokane Falls
"Explorations XV" feat. thesis work of graduating seniors from Whitworth, EWU, GU, SFCC, NIC.
Chosen Vintage, 7 W. Main
Art by Missy Narrance and Ryan Dean Tucker; 10 am-8 pm.
Community Building, 35 W. Main
The Spokane Watercolor Society's annual show.
Core Pilates & Wellness, 1230 W. Summit Pkwy.
Watercolors by Ginny Brennan.
Craftsman Cellars, 1194 W. Summit
Paintings by Tom Quinn. Music by the Brad Keeler Trio, 6:30-8:30 pm.
Dodson's Jewelers, 516 W. Riverside
"Palouse Yearning" by Vicki Broeckel.
Express Employment, 331 W. Main
"Blooming Artists;" art by kids at the Vanessa Behan Crisis Nursery.
Free People, 865 W. Main
"In Bloom;" drawings and paintings by floral design artist Oana.
Gina's Design Center, 811 W. Second
A showcase of SFCC interior design students' work.
Indaba Coffee, 210 N. Howard
Art by Jon Deviny.
Iron Goat Brewing, 1302 W. Second
Art by Travis Chapman.
Keith Powell Gallery, 123 E. Second
Art by Keith Powell, David McMillin and Lisa Waddle; 5-10 pm.
Kress Gallery, 808 W. Main
"Art of the Brush;" sumi-e and calligraphy by Northwest artists.
LeftBank Wine Bar, 108 N. Washington
Watercolors by Stan Miller.
Liberty Ciderworks, 164 S. Washington
Portraits by Hannah Koeske.
Lucky Leaf Co., 1111 W. First
Multimedia art by Jordan Lemm.
Marmot Art Space, 1206 W. Summit
"Show (And Tell)," a photography-based showcase.
McCarthy Art Co., 120 N. Wall
Art by Theresa Rocha.
Missing Piece Tattoo, 410 W. Sprague
Art by Gabby Graham.
Nectar Catering, 120 N. Stevens
Art by Nanci Wolfe.
New Moon Gallery, 1326 E. Sprague
"A Grimm Night at the Moon" group show; 5-10 pm.
Object Space, 1818½ E. Sprague
La Resistance's "Carnival Extravaganza" group show.
The Observatory, 15 S. Howard
Salik Seville and Denny Carmen.
Orlison Taproom, 1017 W. First
Artist Brandon Sparks is featured.
Overbluff Cellars, 304 W. Pacific
Art by Jamey Cunningham.
Patit Creek Cellars, 822 W. Sprague
Music by Shauer with Friends, art by Roch Fautch; 4-9 pm.
Philanthropy Center, 1020 N. Riverside
"Warrior Spirit Native Art Show."
Pottery Place Plus, 203 N. Washington
Batiks by Toni Spencer.
Richmond Gallery, 228 W. Sprague
Art by Gonzaga University Art Department's graduating seniors.
River City Brewing Co., 121 S. Cedar
Art by Megan Lange and tapping of the First Friday Firkin; 3-9 pm.
Robert Karl Cellars, 115 W. Pacific
Paintings by Richy Sharshan.
Saranac Art Projects, 25 W. Main
"Displace," feat. Lisa Nappa, Chris Tyllia, and others.
Saranac Commons, 19 W. Main
Paintings by Audreana Camm.
Solace Mead & Cider, 1198 W. Summit
Paintings by Ryan James Herring.
Spokane Art School, 809 W. Garland
"Cleave, Stick & Split."
Spokane Public Library, 906 W. Main
Music by Boat Race Weekend; 6:30-8 pm.
Stage Left Theater, 108 W. Third
"35mm: A Musical Exhibition."
Steelhead Bar & Grille, 218 N. Howard
Landscapes by Gary Johnson.
Terrain Gallery, 304 W. Pacific
"Oracular Rooftops" by Heather Hart; April 7-8, from 4-7 pm.
Trackside Studio, 115 S. Adams
Ceramics by Otis Bardwell.
Urban Nirvana, 108 N. Washington
Art by Josef Senesac.
V du V Wines, 12 S. Scott
Fiber art by Christina Rothe, music by Crushpad; 5-9:30 pm.
West Second Pop-Up, 307 W. Second
Art by Elliott Kolbe, Joe Kimmel, Jake Headlee, Emerlynn Terrell.
William Grant Gallery & Framing, 1188 W. Summit Pkwy.
Photos by Mike Busby.
Window Dressing Pop-Up Shop, 159 S. Lincoln
Grand opening, feat. 15+ local artists and artisans. ♦