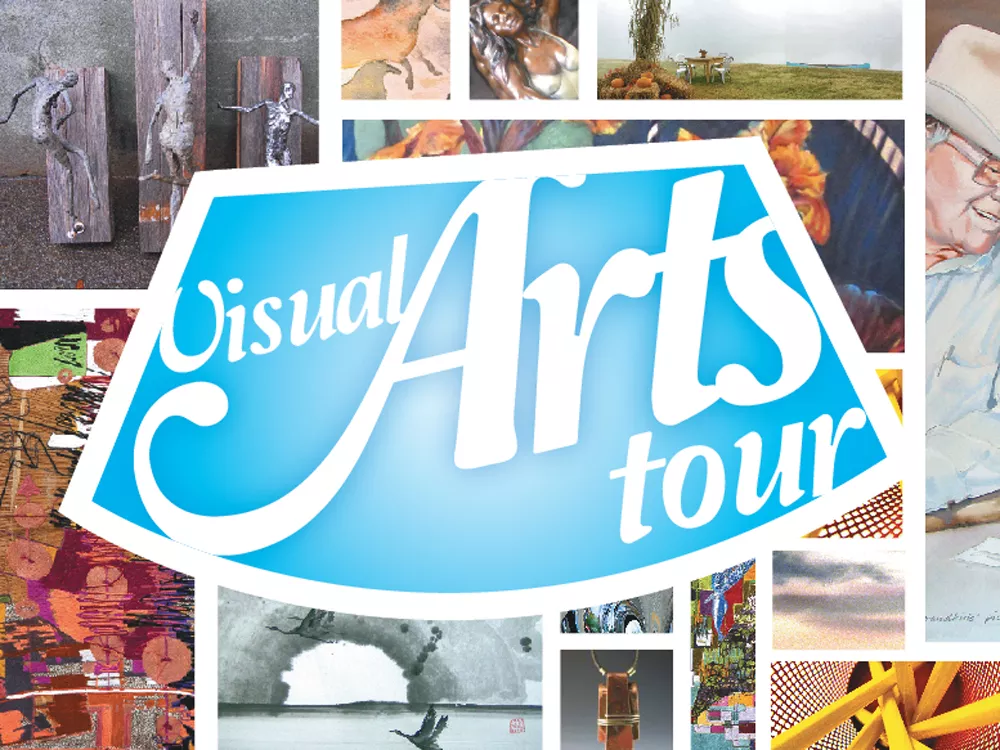 Each October and February, Spokane's monthly First Friday art walk takes on a much larger form as it morphs into a massive creative undertaking called the Visual Arts Tour. This fall's event, taking place on Friday and Saturday, Oct. 5-6, features a total of 38 venues playing host to an array of different artistic exhibits, ranging from paintings and sculptures to acrobatics. Friday night will also see Terrain, Spokane's grassroots art celebration, head into its fifth year as the city's downtown (and areas throughout the city) showcase some of the best art our region has to offer.
1. 1900
114 W. Pacific Ave.
METALS AND PRINTS | Robert Sevilla Naudon is a designer and fabricator of architectural metals and Alicia Wimmer is a designer and printmaker. Robert will exhibit metal sculptures and Alicia will show her embroidered drypoint prints and monotypes. Exhibit Oct 5-13.
2. ANEMONE: HANDMADE PAPER FLOWERS
309 W. 2nd Ave., Ste. 102
ILLUSTRATIONS | Oana Barac-Matei layers original black and white drawings with paper collage to create a fresh take on both of these mediums. Final works are simple, elegant and versatile for a variety of spaces. Opening reception Friday, 10:30 am-9 pm with reception; Saturday, 10:30 am-5 pm. Exhibit Oct 5-31.
3. AVENUE WEST GALLERY
707 W. Main Ave. Skywalk Level of Crescent Court
DRAWINGS | "Ink Play" shows how a doodle drawing can become a serious painting. Keiko Von Holt is a sumi-e painter, using black ink on rice paper or watercolor paper. She is a member of both the Puget Sound Sumi-e Artists and Avenue West and renowned in North America in Asian painting. Friday, 11 am-8 pm; Saturday, 11 am-6 pm.
4. BABY BAR
827 W. First St.
MIXED MEDIA | Local artist/musician Ocean makes collages from found images — digital prints on canvas and hand collages. Some work is inspired by Twin Peaks and the show, featuring live music, is dedicated to Tammy Faye. Friday, 5 pm-2 am. Exhibit runs through Oct 28.
5. BARILI CELLARS
608 W Second Ave.
PAINTINGS | Debbie McCulley brings her whimsical and colorful paintings to the Barili Cellars tasting room. Debbie works with pastels, watercolor, oils, acrylics and mixed media to create her playful pieces featuring animals, wine and flowers. Reception 4-9 pm.
6. BARRISTER WINERY
1213 W Railroad Ave.
PAINTINGS | Featuring the works of Ben Joyce and Fr. Bruno, along with the Barrister's award-winning wine. Friday, noon-10 pm; Saturday, noon-5 pm. Exhibit Oct. 5-30.
7. BERNARDO/WILLS ARCHITECTS
153 S. Jefferson St.
PAINTINGS | Kathy Gale's "Painting Through the Seasons" features impressionistic oil paintings produced throughout the year. Landscapes are followed by still lifes during the winter months. Reception Friday, 5-9 pm. Exhibit through Oct 29.
8. BRICK WALL PHOTOGRAPHIC GALLERY
530 W Main/skywalk
PHOTOGRAPHY | Stewart Harvey uses landscape photography to capture a revealing moment about a particular place. He says he's attracted, for example, to those situations that challenge his intuitive senses. Live music by Blue Ribbon Tea Company. Reception, Friday 3-9 pm. Exhibit through Oct. 31.
9. CHASE GALLERY AT CITY HALL
808 W Spokane Falls Blvd.
MIXED MEDIA | The show "My Pet" features 11 artists from around the region, working in a myriad of media, who will exhibit their art works about their animals — real or imaginary. Includes works by Megan Martens, Mari Anne Figgins, Todd Benson, Kit Jagoda and others. Friday, 5-9 pm. Exhibit runs through Oct 26.
10. COMMUNITY-MINDED ENTERPRISES
25 West Main Ave. Ste 310
VIDEO | Community Minded Television showcases video productions from local creators and opens its new virtual studio to the public, which allows for virtual sets, changing backgrounds and creating TV programs with ease. Also, Healthy Teens Project shows its PSA series. Friday, 4-9 pm reception.
11.DESIGN COLLABORATIVE
204 N Division St. Suite E
MIXED MEDIA | David Wang, a professor of architecture at Washington State University, uses oil pastels and mixed media to express nature, the scriptures and the dirt and saliva of his own life experiences. Exhibit runs through Oct. 29.
12. DODSON'S JEWELERS
516 W Riverside Ave
THREAD WORKS | The pieces in Christina Rothe's "Threads of Life Being in the Heart Mind" look like oil paintings, but are actually compositions of fine thread painstakingly glued individually to a board. Christina was born in Nigeria and studied art in Germany, and now lives in Spokane.
13.GRANDE RONDE CELLARS
906 W. 2nd St.
PAINTINGS | Melissa Cole has written more than 30 children's natural history books and recently completed a public works commissioned art project in Lewiston entitled "Electric Kokanee." Her art works are full of vivid colors, heavy textures and patterned acrylic paintings. Reception Friday, 5-9 pm. Exhibit runs through Oct.31.
14. KIZURI
35 W Main, Ste. 100
JEWELRY | McKenna Hallett is visiting from Maui with her collection "Currents: Low Impact Jewelry," showing at Kizuri to benefit Spokane's Women and Children's Free Restaurant. Hallett finds her metals on beaches, in Dumpsters and demolition sites and then creates jewelry without power or fossil fuels. Friday, 10 am-9 pm.
15. KOLVA-SULLIVAN GALLERY
115 S. Adams St., Ste. A
MIXED MEDIA | The 24 or so Archie Bray residents in this exhibition represent some of the best of the emerging talents in American studio ceramics. Work ranges from functional coffee cups and bowls to non-representational sculpture and multi-media. Reception Friday, 5-9 pm. Exhibit runs through Oct 27.
16. LOFTS AT RIVER PARK SQUARE
809 W Main #307
POP ART | Nathan McKenzie-O'Neill's exhibit features his latest pop-art series which includes passionate, iconic figures with soul. He hopes the observer feels the "fire" within these pieces and the complex duality that resides in all of us.
17. NECTAR TASTING ROOM
120 N. Stevens
PHOTOGRAPHY | "Urban Discoveries" features the photography of Kris Ogren of KCO Photography and live music by Son of Brad. Reception: Friday, 2-10 pm; Saturday, noon-10 pm. Exhibit runs through Oct 31.
18. POTTERY PLACE PLUS
203 N Washington
MIXED MEDIA | Jan Kruger has been producing calligraphy for more than 30 years. Her work consists of multi-dimensional pieces decorated with handmade papers, stamps and charms. Hank Chiappetta uses a mallet and chisel to create one-of-a-kind walking staffs, wine totems, life size sculptures and more. Friday, 10 am-9 pm; Saturday, 10 am-9 pm. Exhibit runs through Oct 29.
19. RIVER PARK SQUARE, KRESS GALLERY
PHOTOGRAPHY | Art in the Family features the works of Jim and Phillip Dhillon. Through their remarkable photographic images they give the viewer a memorable experience.
RIVER PARK SQUARE, MAIN LEVEL
ACROBATICS | Enjoy the talents of local aerial artists as they perform acrobatics, silk climbs, wraps and drops. Also featuring live tunes from Canned Music. Friday 6-8 pm.
20. SARANAC ART PROJECTS
27 West Main Ave
MIXED MEDIA | Dark Light features the work of Dan McCann and Garric Simonsen. McCann's uses mixed media to create a theme of "organic machinery," while Simonsen shows paintings that materialize temporal moments, language, fractured realities and the curious imagination. Friday, 5-9 pm; Saturday, noon-8 pm. Exhibit runs through Oct. 28.
21. SARANAC PUBLIC HOUSE
21 West Main Ave
PAINTINGS | Joy Tagliavia-Mizzoni's "You Haven't Met Me Yet" was motivated by the belief that hope remains alive in a world of chaos, and features acrylic paintings a gamut of emotions through swirling color. Friday-Saturday, 11 am-11 pm; Saturday, 11 am-11 pm.
22. SPOKANE PUBLIC LIBRARY GALLERY
906 W Main Ave.
WATER COLORS | Jan Hough Taylor paints often delicate, sometimes whimsical florals, landscapes and animals. Shirley Bird Wright's sensitive interpretation of nature show in her landscapes and florals. Features classical guitarist Paul Grove. Friday, 10 am-8 pm; Saturday 10 am-6 pm. Exhibit runs through Oct. 27.
23. SPOKANE SYMPHONY AT MARTIN WOLDSON THEATER
1001 W Sprague
CLASSICAL | Experience the new "Symphony with a Splash," complete with happy hour and a band, as part of the fifth anniversary celebration of the opening of the renovated Fox Theater. See historic photos of the theater shown along with the music of popular local band, Terrible Buttons. Theater tours will be available. Friday, 5-9 pm.
24. STEAM PLANT
159 S Lincoln St
MIXED MEDIA | Artistic Expression of Steampunk features local artists, photographers and jewelers displaying works that feature elements created in the Steampunk genre. Friday-Saturday, 5-9 pm.
25. Terrain
1011 W First Old Music City Building
Terrain 5

The secret is out about Terrain, Spokane's single-night art and culture exposition. Now in its fifth year, the grassroots nonprofit organization is expecting as many as 5,000 people to come through the doors of the old Music City Building for this free event. This year's exhibit features more than 100 artists showing off 200-plus pieces of art, which are subject to the Terrain jury.
Nothing is out of bounds at Terrain and the subject matter and artistic mediums are as varied as the vast cross-section of young artists and volunteers involved. You'll see everything from paintings and sculptures to photography, graffiti and installation pieces that are anything but run-of-the-mill. For example, Kim Oxford's kinetic sculpture actually makes coffee. Creative and useful.
You'll also find an array of live performances, including emerging local music acts (see this week's music section for a rundown), poets, dancers and more. There's a little bit of everything at Terrain, but remember it's one night only, so don't miss out — this is one of the biggest, most adventurous parties you'll see in this region all year. Friday, 5 pm – 2 am.
26. TRACKSIDE STUDIO CERAMIC ART GALLERY
115 South Adams St
SCULPTURE | Chris Kelsey's work was fired in a wood kiln for five days and consists of vases, sake cups and sculptural work. Mark Moore's work explores our industrial heritage and its consequences with his "toxic legacy project" that features platters and trivets composed of clay, sand and trash from regional rivers. Friday, 4-9 pm.
27. VINTAGE HILL CELLARS
319 West 2nd Ave
MIXED MEDIA | "A Passion For Art From Two Perspectives" features the work of father-daughter duo Brett and Callie Sobosky. From pen and ink drawings to taking simple objects and completely transforming them into ceramic pieces, Brett's work features acute attention to detail while Callie uses photography to show the world how she sees it. Friday, 1:30-9 pm; Saturday, 1:30-5:30 pm. Exhibit runs through Oct. 26.
---
ALSO AROUND TOWN:
BRYAN OLIVER GALLERY/LIED ARTS CENTER, WHITWORTH UNIVERSITY
300 W Hawthorne Rd
PAINTINGS | Ben Frank Moss, a nationally known artist, Dartmouth professor and Whitworth alumnus ('59) presents a series of landscape paintings in the exhibit. As a landscape painter, he seeks to establish a sense of "place" in his work. Friday, 8 am-8 pm; Saturday, 10 am-2 pm. Exhibit runs through Nov. 2.
CLEARSTORY GALLERY
1202 S Government Way
MIXED MEDIA | Karen Mobley's "Water of Life" exhibition includes mixed media drawings, charcoal drawings and oil paintings with images that represent the movement and symbolism of water. Mobley is best known as the director of the Spokane Arts Commission. Exhibit runs through Jan. 15, 2013.
GOLDBAY ART AND GOLD
1505 N Ash
MIXED MEDIA | Local artists Randy Mitchell, Gregg Perrenoud, Gail Mangum, Sam White and Lisa Maddox show paintings, Western art sculptures, leather, Indian masks and more. Friday, 9 am-9 pm.
HAMILTON STUDIO
1427 W Dean
PAINTINGS | Robert Morrison's colorful oil paintings of Spokane and its environs capture the light, color and playful loose brushstrokes of the master Impressionists. Friday, 5-9 pm. Exhibit runs through Oct. 31.
ITALIA TRATTORIA
144 S Cannon
PAINTING | E.L. Stewart's acrylic on canvas show is entitled, "Meeksta," the phonetic of the Italian word for "mix." Stewart is exploring how abstraction and realism combine in life and on the canvas.
JUNDT ART MUSEUM
502 E Boone
MIXED MEDIA | The Arcade Gallery's exhibition, "Damn Everything But The Circus…", features works with the themes of carnivals, circuses and carousels. The Jundt Gallery's "Gift of the Artist" shows highlights works that artists have given the university, while "Ignatius of Loyola" consists of prints taken from the original copper-plate engravings prepared at the time of Ignatius' beatification. Walk-through of "Gift of The Artist" on Friday at 5 pm.
LILLIAN CONN ART AND ANTIQUES
1007 W. Augusta Ave.
SCULPTURE | Figurative sculptor Dinah Carlson's primary influence of animals and children is uniquely represented in her art. Friday, 10 am-9 pm; Saturday, 10 am-5 pm.
PETUNIAS MARKETPLACE
2010 N Madison
PAINTINGS | Vicky Cavin's exhibition, "Wild Life and Whimsical," features stirring images brought to life in bold colorful pastels. Friday, 11 am-9 pm; Saturday 11 am-5 pm.
MANIC MOON AND MORE
1007 W. Augusta
MIXED MEDIA | The exhibition "Myths and Legends" features local and regional paintings, prints, cards, jewelry, art to wear, artisan crafts and more. Friday, 10 am-8 pm; Saturday, 10 am-5 pm. Exhibit runs through Oct. 15.
SPOKANE ART SCHOOL
809 W. Garland Ave.
KIDS | Tresia Oosting leads children in a fun multi-media project involving drawing, painting and collage. Friday, 5-8 pm.
TINMAN GALLERY
811 W Garland Ave,
MOSAIC | Take in the detailed work of Ken Spiering, who will also conduct a live demonstration. Friday, 5-8 pm; Saturday, 10 am-4 pm.
MURRAY'S WAREHOUSE GALLERY
715 E Sprague Ave, Ste. 30
PHOTOGRAPHY | This show features the award-winning photography of Marilyn Bashore and Lynn Nordhagen. Friday, 5-9 pm; Saturday, 11 am-6 pm.