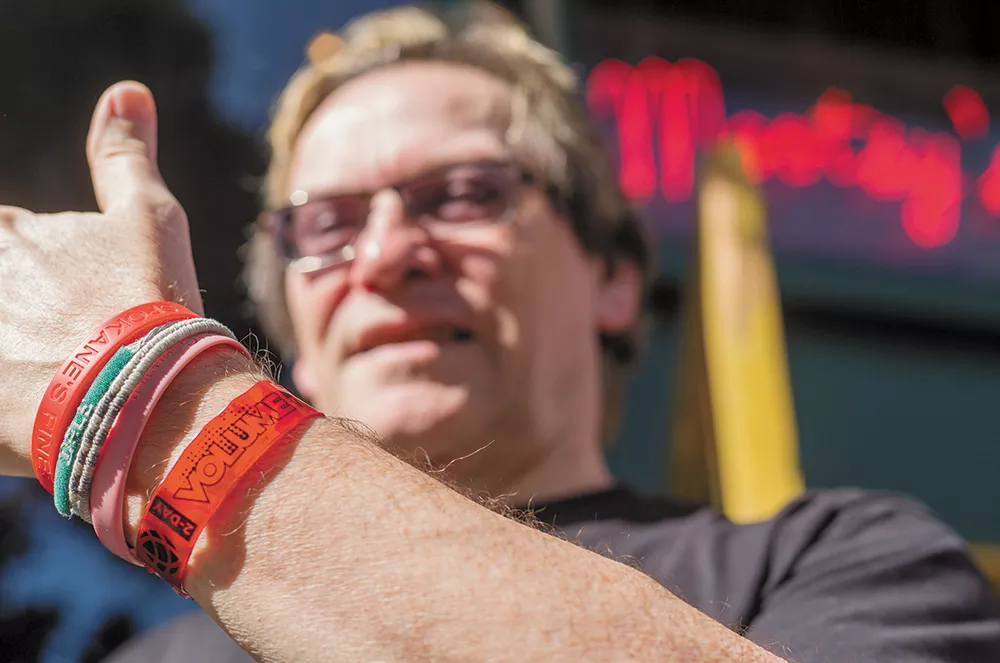 A retired city planner and music promoter, Dale Strom's favorite pastime is going out and seeing live music. Not music from his generation — "People my age are still into the Eagles; why can't they try something new?" he says — but music from the local Spokane scene. After missing the first Volume, Strom says he was blown away by last year's event. So much that he decided to leave the red, plastic, two-day wristband around his arm for an entire year. We had to know why.
INLANDER: The big question: What possessed you to wear a Volume wristband all year?
STROM: Well, it's really high quality, and I love that blood-red color. If it started to look like crap, I wouldn't wear it. Volume is a great event, and so through this I have something that's attractive and people can ask about it, and I can talk to them about Volume. In my mind, Volume is the top of the pack of the music festivals in town.
So you swear it's not broken — no tape or glue or anything?
It's almost in pristine condition. It has little dimples on the edges because it gets showered on and slept on. But otherwise it looks great.
When do you plan on taking it off?
I don't know. How long will I live?
Have you had a time you should have taken it off — say, a wedding?
No. If it's a fancy event, you can wear a long-sleeved shirt. I've got a few other things along with this band on my wrist. It's part of the décor. I don't have tattoos. I love other people's, but I wanted something that helped me look more contemporary in appearance without being so permanent.
Do you recommend other folks doing this?
Absolutely, I highly recommend it. People just assume it will look bad if they keep it on. It gives someone else an opportunity to say something to you, to ask about Volume.
What are you most excited to see at this year's Volume?
Rose Windows is my favorite, but I've seen them twice already. But Volume has really captured the local bands that are worthy, fresh and primarily doing original, creative stuff. I think it's really well organized, but if I want to see all the stuff I haven't seen before, I'll have to hustle. ♦
Volume takes place Fri, May 30 and Sat, May 31 in downtown Spokane. Two-day wristbands can still be purchased at volume.inlander.com.