"T
hat one had a lot of thought
and aggression in it," 26-year-old Sierra Duran says as she points to a canvas she painted depicting three scenes.
In one, a woman paints the word "beautiful" on a brick meant to complete her body, while ignoring hateful words others around her are trying to label her with, Duran explains. Another scene says, "When a flower doesn't bloom you change the environment, not the flower." The third scene shows a woman with a spiny back surrounded by red balloons.
"This is somebody who doesn't like anybody getting too close," she says.
Duran was homeless for eight years before getting an apartment about two years ago at the Marilee, housing-first apartments built in partnership by Volunteers of America (VOA) and Catholic Charities. The units provide immediate stable housing to people who've been homeless so they can get individualized case management and hopefully have an easier time working through other issues contributing to their instability.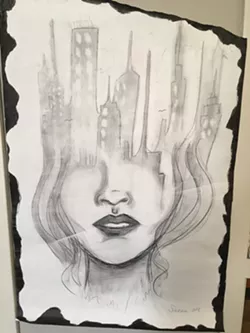 For Duran, art helps when she gets depressed or wants to work through things. She's one of many formerly homeless or currently homeless artists whose artwork will be featured in an upcoming
VOA fundraiser, Eye Contact: A Homeless Art Exhibit, on Sept. 13
.
Much of the artwork that will be displayed during the event will come from decades of archived pieces from Crosswalk, the youth shelter VOA operates on Second. Duran once stayed there herself, and it was through an employee she got to know that she was eventually able to apply for an apartment.
In another piece of her artwork up on a wall in the Marilee, buildings inspired by downtown fade into a woman's face, in part, she says, a comment on the struggles of falling in with the wrong crowd downtown.
"Some people do get really stuck down here if you get mixed up with the wrong people," she says. "There's a lot of drug abuse. That's the main reason I was stuck."
Getting out from living under a bridge and into an apartment was a major part of what has helped her, she says.
"Having your own place, something you could call your own," she says, "it can give people hope if you want to change."
She recently got a housing voucher, so she'll soon be able to move out and find her own place.
"The journey Sierra is talking about, I'd love to show that in a way," says Alyssa Agee as she digs through other pieces of artwork at the VOA offices.
Agee, the communications director for the Spokane VOA programs, is helping pick art from about 30 years' worth of projects, most of which were done over the years with teens who stayed at Crosswalk.
The one-night-only art show fundraiser will last from
6-9 pm Thursday, Sept. 13
, and doesn't cost anything to attend, though tickets can be reserved online to get a complimentary beer or wine ticket, Agee says. There will be appetizers and dessert, as well as a silent auction, performances and live art at the event, which will take place at the
Washington Cracker Co. Building
.
Part of the goal of the event is to showcase the many different programs that VOA helps run in the community, Agee says.
In addition to Hope House women's shelter and Crosswalk, the shelter for youth, the organization also has a program for veterans, a home for teen moms and other housing for vulnerable populations.
Find more about VOA at
voaspokane.org
.