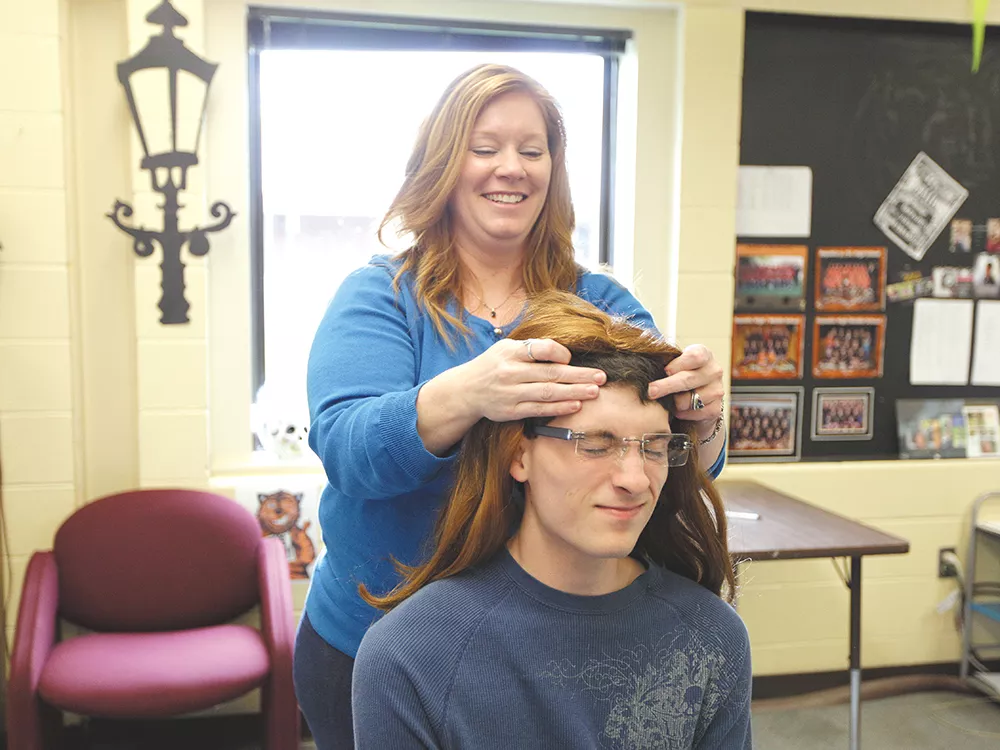 The closest Tyler Weyer has been to Sarah Palin was dressing as her — red blouse, auburn wig, rimless glasses and all.
About a month ago, before his classmates, teachers, principal and mother, the 17-year-old senior wobbled on high heels, purchased from the "11 plus" shelf at Value Village in Spokane. He towered over a blonde eighth-grade girl in a pantsuit on the Republic High School stage as they discussed the role of sexism in the 2008 presidential campaign.
"So please," implored Tyler to the audience, "Stop photoshopping my head on sexy bikini photos."
"Stop saying I have cankles," the eighth-grader deadpanned.
Their spoof was a hit, even though everyone knew Tyler would do Sarah Palin. Last year, for the debate team's annual "Interp Night," he read the first paragraph of Palin's book Going Rogue and nailed her distinctive Wasilla accent. He can still recite the opening lines — "It was the Alaska State Fair, August 2008. With the gray Talkeetna Mountains in the distance..." — from memory.
Tyler, the senior class president, is known around school for his fascination with the former Alaskan governor, but for the first time this year, he says, "I wasn't the only one talking about Sarah Palin." This Saturday, Palin will deliver the commencement address to Republic's 27 graduating seniors after the class of 2013 bombarded Palin and her political action committee through Facebook, Twitter and email for several months.
The idea, of course, was Tyler's.
Tyler distinctly remembers the day in August 2008 that Republican presidential nominee John McCain announced Palin as his running mate. He was watching TV at his grandparents' house when Palin addressed the country.
"I know this is common and a lot of people feel this way, but I felt she was speaking to me and to me alone," Tyler says in fourth period on Friday, the last day of classes for seniors. "I was like, 'Oh my goodness, I like her!' She has common sense. She's a very level-headed woman. I mean, obviously, you couldn't rise to that position if you weren't."
"I don't feel that she's a normal politician."
He's been following the rising Tea Party star ever since. He reads her books, knows her stance on all the issues and checks her Facebook page for regular updates. He has a framed autographed photo of Palin hanging on a wall in his bedroom. Even when he's not impersonating Palin for drama productions, he'll occasionally slip into her lexicon. His speech is peppered with the catchphrase queen's folksy sound bites: "Oh gosh!" "Oh my goodness!" and "Aw shucks!"
In the years since her VP nomination, of course, Palin has charted an unconventional course. Amid major criticism, she quit her job as governor of Alaska and was all but fired by FOX News as a right-wing pundit. She became both a Tea Party kingmaker for anti-establishment candidates and the butt of countless late-night talk show jokes. RHS Principal Shawn Anderson receives two to three emails a week from outsiders criticizing the class's decision. But Tyler dismisses his trolls. "We don't pay attention to them," he says.
And when Tyler wrote to Palin's political action committee in January, he had the full support of his class. Part of her appeal, Tyler says, is the fact that she shares their small-town roots.
Republic, a 1.6-square-mile enclave in a sea of coniferous trees, is the only incorporated town in Ferry County, with a population of roughly 1,100 people, two-thirds of whom could easily fit inside the RHS gym. There's one main street lined with all the necessities: grocer, pharmacist, post office, a couple motels and a Mexican restaurant. You'd have to drive an hour to go to the mall or see a movie.
"We're lucky and also unlucky that [our kids] are pretty sheltered," says Liz Bremner, an RHS teacher and debate coach. "But to see someone that has come from a small town, gotten an education and has gone out and become somebody who is nationally influential? I think it's really important. We don't have enough role models like that from small communities."
Palin will be the biggest public figure to pass through Republic, according to many residents.
"They did a movie up in Greenwood [British Columbia]; that's not far from here," notes Joyce Bond, a longtime resident and vice chairman of the Ferry County Republican Central Committee, referring to the 1999 Ethan Hawke drama Snow Falling on Cedars. "Some of our locals had their cars in there and drove in the movie."
Principal Anderson says he's expecting nothing short of a "circus" on graduation day. In preparation for the event, he had to contact the city mayor to talk logistics. City police is coordinating security with state and tribal police, border patrol and the sheriff's department. Anderson recently consulted the fire department about the gym's capacity.
Each senior was given 20 tickets. A general admission line will form Saturday at 7 am for those hoping to squeeze inside. Even though students aren't permitted to scalp their tickets, Bond says she would pay "$100 maybe" to see Palin address the senior class.
"Graduation anyways is packed, so with Palin coming it's gonna be unbelievable," she says. "We don't get [celebrities] — that's why it's so amazing."
In a bigger school, in a different town, Tyler might not fit in. His encyclopedic knowledge of congressional politics is kind of geeky. Few high school kids wash down their breakfast cereal with Fox & Friends or attend school board meetings voluntarily.
He regularly visits Principal Anderson's office to voice his concerns about everything from club policies to campus beautification efforts. He successfully petitioned for a clock in the hallway. Two weeks ago, he complained to the principal, front office and even the superintendent about the goldenrod color used to paint the pillars outside.
"I have never had one issue with Tyler in school about any question of his character," says Anderson. "But you know, he may drive you crazy every once in awhile."
Tyler will attend Wenatchee Valley Community College next fall before transferring to Washington State University to study political science. When asked about his own future in politics, he answered like a seasoned politician.
"That's a long time from here," he says. "If I ever had the honor to hold public office, I would consider it an amazing privilege."