Imagine walking more than 4 miles a day to haul gallons of water just so you could cook, drink, bathe and wash your clothes. In countless locales across the world, this is the stark reality that millions face every day.
For the past seven years, the locally organized Spokenya run and walk has raised funds to help ease this burden on residents of a region in western Kenya. Funds help install wells and rainwater catchment systems through its beneficiary nonprofit, Spring of Hope.
"We have made a big difference in the region where they started, but still, there are so many people in Kenya and the world who don't have access to clean water," says race director Rose Lawrence.
The 7-kilometer (4.3 miles) Spokenya race might seem like an odd distance to some runners who are familiar with 5 or 10Ks. But that number is intentional; it's the average distance that women and girls in Kenya must walk every day to get clean water, Lawrence says. Participants in the event can get a taste of what this daily chore is like by carrying a bucket of water on their heads for the final 100 meters.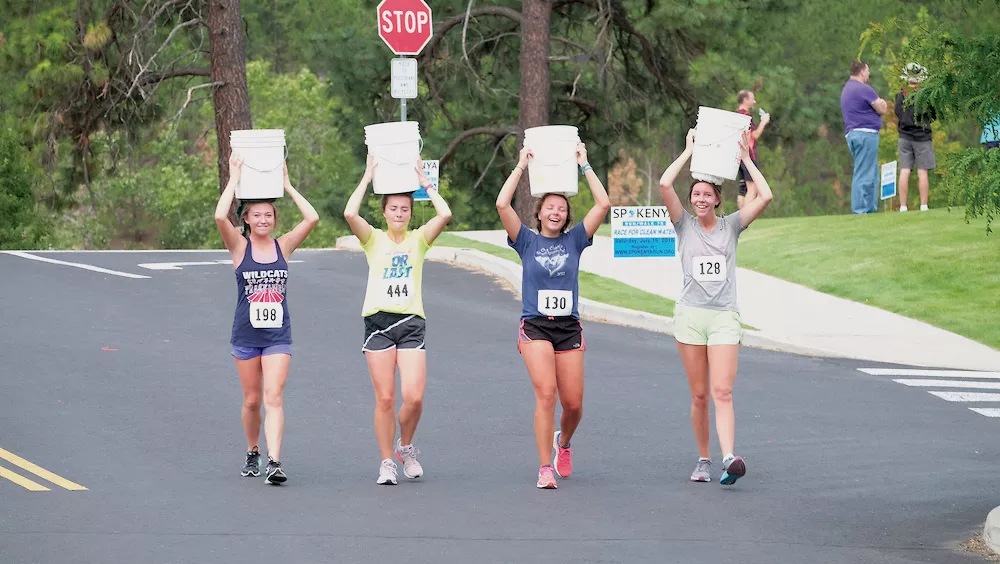 Last year, Spokenya's 560 entries raised $18,000, enough to drill one well. All of the entry fees are donated directly to Spring of Hope, since the event is run entirely by donated services and volunteers. This year's proceeds have been earmarked to install a rainwater catchment system at a Kenyan elementary school.
"Honestly, I've been there and seen the schools, and they have this green pond, and that is the water kids are supposed to drink while they're at school," Lawrence notes. "The kids are going to school and drinking dirty water, and they're sick and can't focus and can't show up for school. People are dying there every day because of that simple thing."
Spokenya Run/Walk • Sat, July 15 at 9 am • $25/advance; $35/late registration • Starts at Life Center Church • 1202 N. Government Way • spokenyarun.org