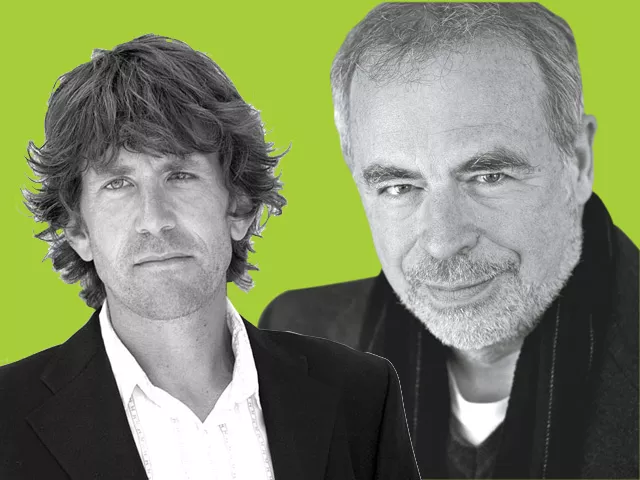 RICHARD RUSSO
Best known for: Empire Falls, about a dying mill town in Maine that's dominated by a wealthy family; the novel (Pulitzer Prize, 2002; HBO miniseries, 2005) is told from the perspective of a middle-aged disappointment named Miles Roby, who's divorced and runs the local diner, should have done better for himself, and knows it.
His latest novel: That Old Cape Magic — a return to Russo's academic satire in Straight Man (1997) — in which middle-aged Jack Griffin realizes that, by not shedding his parents' snobbery, he has distanced himself from what makes him happiest in his marriage, friendships and career.
Why goodwill trumps intellect every time: Russo's alter ego in That Old Cape Magic wonders about his in-laws, who have a shallow understanding of his Hollywood screenwriting, and about his parents, who are just academic snobs: "Why was he more resentful of Harve and Jill, who really wanted to understand how he made his living, than his own parents, who had never, to his knowledge, seen a single film he had anything to do with? Was pigheaded disinterest grounded in quasi-morality somehow more admirable than rapt thickheadedness?"
On our blindness about ourselves: "Late middle age, [Griffin] was coming to understand, was a time when everything was predictable and yet somehow you failed to see any of it coming."
JESS WALTER
Best known locally for: His Spokesman-Review reporting; his book on Ruby Ridge (1995); and his novel Citizen Vince (2005), about a wise guy in Spokane in 1980 who tangles with New York mafia, all while trying to decide whether to vote for Reagan or Carter.
Vince Camden, civic booster? Frank Sennett in Booklist called Citizen Vince "a gritty love letter to Spokane and all the other second-tier cities where residents don't realize how good they've got it." (We do have Donut Parade, that's true.)
His latest: The Financial Lives of the Poets, in which Matt Prior decides that, when faced with the ravages of the Great Recession (lost career, teetering marriage, home foreclosure) — and if his Website offering financial advice in verse hasn't succeeded — then his best option is to get involved in … selling marijuana. Yeah, that'll solve everything.
Matt worries that he really wants his wife, who once had a successful career, to stay at home: "If so, then I am an even smaller man than the out-of-work, out-of-gas loser who greets me in the mirror every day, and maybe I deserve my unraveling fate, pushed away from this beautiful beaten wife, who goes out every night on the Internet in search of her better self — pre-child, pre-forty, pre-me."
WALTER AND RUSSO: AN IMAGINARY CONVERSATION
"Hey, Jess, since you're doing haiku reviews of novels on your Website, what's your haiku for That Old Cape Magic?"
"His father's ashes/ keep him from restful beach chairs/ where he'll never sit."
"And for Financial Lives?"
"Afraid of the dark,/ my kid is a plagiarist:/ The fear he copied's mine."
"You miscounted syllables. And is 'copied's' even a word?"
"Richard, obviously you know nothing about writing haiku. It's even harder than writing financial reports that rhyme."
Russo and Walter will both appear in a panel discussion about adapting novels into screenplays on Saturday, April 17, from noon-1 pm at Hotel Lusso. Free. Walter and Russo will read from their novels and interview one another on Saturday, April 17, at 8 pm at the Bing. Tickets: $20; free, students. Visit ewu.edu/getlit.