It's natural to feel skeptical.
Even if you're the most die-hard fan of the '80s hair-metal movement, you might have looked at the lineup for this weekend's "Wreck The Halls" show with some trepidation.
Bret Michaels headlines — but without Poison, the band that made him famous. Dokken features half the original lineup, but not guitar wizard and Spokane native George Lynch, who really gave their songs serious muscle. L.A. Guns, Warrant and the clumsily named Jack Russell's Great White (not to be confused with the other touring Great White) all similarly have lineups that won't be exactly the same as their old videos.
Bobby Blotzer, the drummer for RATT and only original member of that band currently touring, makes a good case for letting any skepticism go and hitting the show delivering a festival full of favorite old tunes like "Round and Round," "Burning Like a Flame" and "Every Rose Has Its Thorn."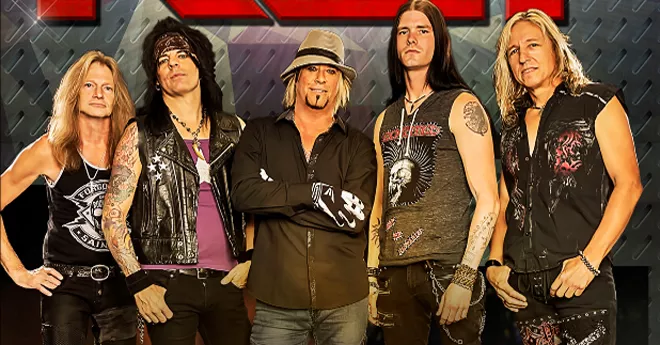 "People want to go out and catch a buzz," Blotzer says. "They've worked hard all week. They want to go hear some music, drink a beer and have a good time. And you know what? We're here to deliver it."
That's the appeal of the genre in a nutshell, and Blotzer makes a point of explaining to the audience why the guys on stage aren't the guys he's played with as RATT for 35 years. Band squabbles about who owns the name led to the schism that's kept RATT from touring for more than five years, until Blotzer put this group together this year.
"I talk to the audience at a certain point in the show. I kind of feel like I have to. And I love to, frankly," Blotzer says. "I tell them, 'Hey, there's some new faces you're seeing up here, but I want you to know something. We're here to preserve and play RATT music live, with great integrity. We love the class of '84 (the original lineup), but they've been home for six years and no one will leave their sofas. I can't do anything about it. What I can do is provide a great show.'"
Considering that most of the bands on the bill formed three or four decades ago, it's no surprise they don't have their original lineups. How many 40-year marriages do you know of — let alone "band marriages" between five hard-partying young dudes asked to weather massive early fame and stick together for years thereafter?
Blotzer and the other bands at Wreck The Halls are trying to enjoy the rock ride as long as they can.
"The years are ticking along, and I'm like, 'Hey guys, we're dead in 20 years,'" Blotzer says of his past efforts to get the original RATT moving again. "It's all of our music, and they're all welcome to go play it, too. But I have the name, and that's the way it rolls." ♦
Wreck The Halls with Bret Michaels, RATT, Dokken, L.A. Guns, Warrant and Jack Russell's Great White • Sat, Dec. 3, at 3:30 pm • All-ages • $39/$59 • Spokane Arena • 720 W. Mallon • spokanearena.com • 279-7000