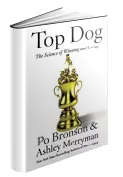 Kids have been confounding their parents since forever. What's relatively new is book after book claiming to explain it all. Recently we've had titles-turned-sensations like Outliers, Bringing Up Bébé, Quiet and anything with the words "Tiger Mother" in it. Of course all that invites an everything-you've-read-is-wrong response, and the biggest has been NutureShock by Po Bronson and Ashley Merryman.
Now they're back, this time taking on Malcolm Gladwell's Outliers — you know, the book that says your kid needs 10,000 hours of practice to become the next Bill Gates. In Top Dog: The Science of Winning and Losing, Bronson and Merryman say it's one thing to practice, but it's more important to perform — to compete under pressure.
The book studies Wall Street and NASCAR to find out why only some kids grow up to be warriors instead of worriers. Top Dog delves into other questions, too, from high-stakes testing to sibling rivalries.
In the end, Bronson and Merryman say competition is good: "Competition doesn't kill creativity," Bronson says, "it facilitates creative output by supplying motivational drive."