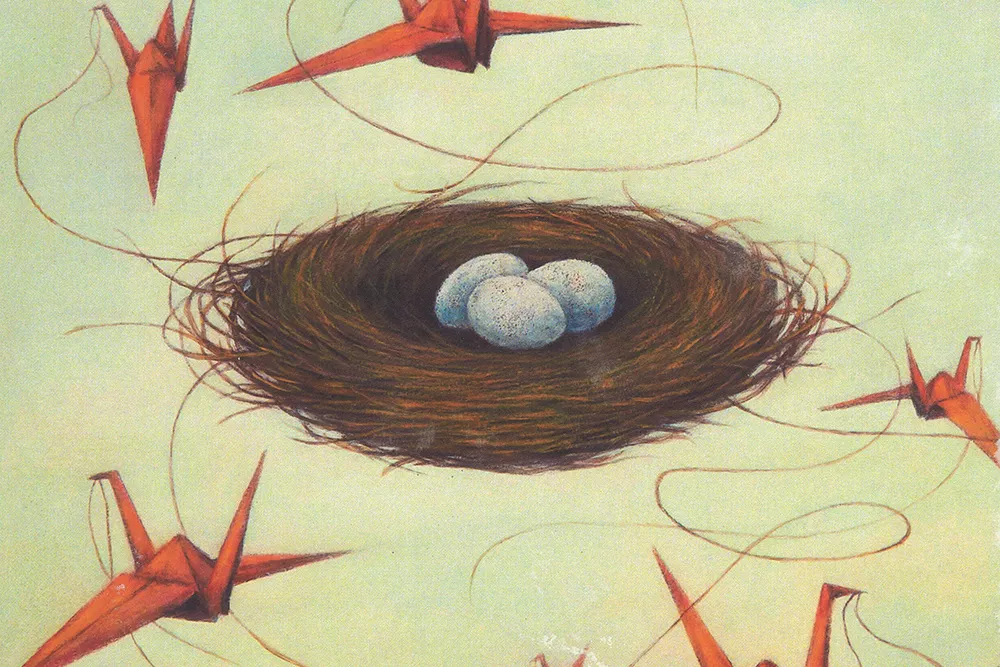 Rob Carney sounds a little skeptical about the concept of "inspiration" over the phone as he talks about his new book, Facts + Figures.
He allows that it does happen sometimes. But "inspiration" usually arrives out of frustration from sweating over a piece that just isn't working, Carney says, "and then a better idea just floats on in."
Just that scenario occurred in creating one of my favorite works in Facts + Figures.
"I was trying to write a poem about crows, and it wasn't working and I didn't like it," Carney says. "I went outside onto the porch, and a line just seemed to pop in from nowhere. It's, 'When I went to work as a snow-globe designer, I didn't do it for the usual reasons.' And I actually liked that. I thought, 'I don't know what that is, but that's cool.' And what would the usual reasons be?"
Carney's unexpected journey from crows to snow globes is akin to his own circuitous journey from wannabe linebacker to celebrated poet.
As a high school kid in Puyallup, poetry didn't really factor into his interests until an AP English class when he was given what he considered "a dumb homework assignment" of writing an original poem. By the time he turned it in, Carney says, he liked doing it, "and then I just kept doing it, even though it wasn't homework anymore." He got some positive feedback, too, and not just from his teacher, but "from somebody who was beautiful enough she wound up being a famous TV person. So that didn't hurt."
Carney went to college at Pacific Lutheran University in Tacoma, where he was a football player who was not quite big enough or fast enough to make a big impact even at a small school. Besides, Carney wanted to be an English major, and most of those courses conflicted with football practice, "so it was an easy pick. I picked books."
Carney eventually made his way to Spokane in 1990 to get an MFA at Eastern Washington University, where he was classmates with future Washington state Poet Laureate Tod Marshall, and where he found the possibilities of poetry went far beyond what he'd learned so far.
"It wasn't until Spokane and specifically classes with Nance Van Winckel that I knew there was so much more, in particular Eastern European poets in translation," Carney says. "I just thought, 'Wow, I had no idea we were allowed to do that kind of thing. It was because of Nance's class and her syllabus, it was a complete and total change for me."
That change manifests itself still in Carney's work, full of vibrant imagery, and evocations of place and myths. And in his next book, co-written by Scott Poole, he'll turn his pen to poems tied to current events in a work called The Last Tiger Is Somewhere, coming out in August.
Van Winckel still teaches poetry at EWU, and she remembers Carney making an impression 30 years ago.
"I vividly recall Rob reading aloud some of his work back in the fall of 1990," Van Winckel says via email. "It was at a class party at my house, and he stood on a stair so we could all see him, and then he blew everyone away. He has an amazing reading style: rather like jazz improvisation — quite musical — and he puts his whole body into it. I knew then that he would go far as a poet, and he certainly has."
"Rob's poems are full of surprising leaps and odd juxtapositions of images. But what most make his work stand out is the lush language full of rich cadences. It's a kind of poetry you want to read aloud. He has such a great 'ear,' as we say in the biz. I also admire his focus on landscape, small details and large peripheries."
"When I Went To Work As A Snow-Globe Designer" is one of the highlights of Facts + Figures, Carney's sixth book that was published in April, and the poem's images of a house at the bottom of the ocean with a coral reef for a yard and sharks cruising by seems to tie the book to his last collection, 2018's The Book of Sharks.
Another highlight is a 13-part poem that opens the book, a section that alludes to a massive fire north of Spokane when he lived here, while also taking readers to Crater Lake in Oregon, Detroit, Denver, Tacoma, Flathead Lake in Montana, and Utah, where Carney now lives and teaches at Utah Valley University. Packaging those prose pieces in the section he calls "Thirteen Facts" was a new way to work for Carney.
"I had originally tried to do these things as lines, but it just wasn't working," Carney says. "So I took it all apart and put it back together in a new way. That's not rare. All writers do that. But the result of a 13-part, interconnected prose poetic collage, I'd never done."
The fact Carney pulled off that prose challenge, and that the rest of Facts + Figures touches on some of Carney's recurring fascination with myths and place, won't surprise his old classmate Marshall.
"Carney has a great ear; whether crafting a sonnet or giving us a punchy free-verse monologue, Carney is always attentive to sound texture, rhythm, the play between consonants and vowels, syntax and rhythm," Marshall says in an email. "So many of his poems are a delight to hear, to chew on as we say them aloud."
Carney would love to be out reading them aloud himself, but the coronavirus had other plans for his now-delayed book tour. Instead, he's locked down in Salt Lake City, actually missing his commute when time in the car would be a perfect excuse to listen to music or NPR.
"It seems strange to be stuck in your house all the time," Carney says. "I've been making my boys throw the football with me a little in the street. We used to talk in the car. We don't have the same conversations anymore. But if you're out there throwing the football, maybe that fills that gap."
And maybe inspiration will strike with the next spiral, if you believe in that sort of thing. ♦
---
WHEN I WENT TO WORK AS A
SNOW-GLOBE DESIGNER,
I didn't do it for the usual reasons.
I did it to get some practice in
before building my house at the bottom of the ocean.
Less traffic noise, for one thing,
and I've traded crows for manta rays ...
a million fish like clouds
of colorful rain.
And my yard is a coral reef,
and I never shovel the sidewalk
since the snow just floats suspended in my dome.
You ought to come visit me. We could open some wine
and watch the sharks cruise over ...
Then sit together by the fireplace,
impossibly warm.
— ROB CARNEY