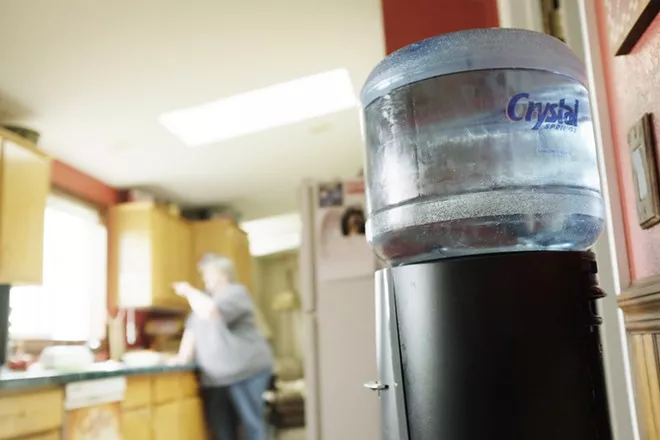 A
s part of its work to dispose of toxic chemicals around the state
, the Department of Ecology will be offering free removal and disposal of firefighting foams that contain chemicals in the PFAS family.
The perfluorinated and polyfluorinated alkyl substances are persistent, meaning they stick around in the environment for a long time, and when ingested by people, they're linked with causing hormonal issues, certain cancers and immune system problems.
When used for an emergency fuel fire, the foam is mixed with water at a ratio of about 97 percent water to 3 percent foam, spreading the material around fire sites.
To address PFAS contamination, the Washington State Legislature passed multiple bills in 2018 intended to restrict use of the chemicals in firefighting foam and a wide variety of other materials, such as food wrappers and Scotch guarding on furniture.
By July that year, fire departments (excluding those on military bases and at airports) were required to stop using PFAS-containing foams in training exercises, but were allowed to keep existing stock on hand in the event of emergencies.
Now, while departments switch to other foam options, the state is trying to
help dispose of those stockpiles
in a way that will prevent the material from leaching into groundwater and contaminating it.
Through a
new survey
, Ecology hopes to collect information from interested departments to pass onto its hazardous waste contractor, which will collect the foam and incinerate it, explains Ecology spokesman Andrew Wineke.
"A proper landfill is a safe destination for a lot of chemicals, but these are called 'forever chemicals' for a reason: They're extremely durable," Wineke says. "So incineration seemed like a better choice."
Spokane Fire Chief Brian Schaeffer says that the Spokane Fire Department stopped using PFAS-containing foams years ago.
"We stopped using that type of foam a very, very long time ago," Schaeffer says. "The writing was on the wall."
It's a different story for the Spokane International Airport and Fairchild Air Force Base.
The state rule didn't change the requirements for airports overseen by the Federal Aviation Administration, which currently requires "military specification" foams also known as AFFF.
The FAA is currently studying alternative, non-fluorinated foams at a facility on the East Coast, explains Spokane International Airport Fire Chief Bruce Millsap; under a 2018 reauthorization from Congress, the agency will either
recommend an alternative by 2021
, or remove the requirement that airports use the PFAS foams.
"Currently there are fluorine free foams being used widely in Europe that, depending on how they're applied, are supposed to be just as effective as the AFFF," Millsap says. "But I think that's probably kind of what the FAA is looking at,."
In the meantime, the airport is required to keep about 800 gallons of the foam on response trucks and a full restock supply, for a total of about 1,600 gallons, Millsap says.
Similar to what the military has done at its bases, the airport has also switched to using a type of the foam with shorter molecular connections known as C6, which is thought to be slightly easier to break down in the environment.
As for other foam options, it's a waiting game, Millsap says.
"Of course we have curtailed all training activities related to using foam," Millsap says. "Right now, the only time we would use this is if there's an actual emergency. We're being very guarded about putting this stuff out in the environment."
Ecology will fund the foam disposal with part of $1.7 million in funding it received from the Legislature this year to replace or remove various toxic materials in the state, Wineke says.