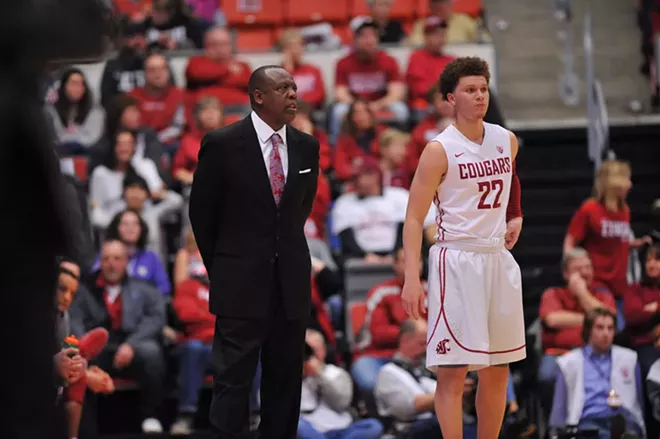 Men's Team
Head coach: Ernie Kent
Last season: 13-18 (6-12 Pac-12 Conference)
Preseason prediction: 12th place in Pac-12 media poll
First game: vs. Texas Southern, Sun, Nov. 12 at 1 pm
The big picture: Entering the fourth season under head coach Ernie Kent, there has to be some grumbling on the Palouse about the state of the hoopin' Cougs. Last year the team managed to sweep their rivals from UW and forge a 13-18 record while staying out of the Pac-12 basement, but the graduation of their best player, Josh Hawkinson (along with three fellow starters), leaves behind a largely untested crew, picked to finish last in the conference by the sportswriters who cover the Pac-12 for the third year in a row. The team will have to rely on the lone returning starter, guard Malachi Flynn, who earned conference All-Freshman honorable mention, to help lead a young team to some measure of respectability. Most likely, though, WSU fans will be looking forward for spring football practice rather than March Madness come season's end.
---
Women's Team
Head coach: June Daugherty
Last season: 16-20 (6-12 Pac-12 Conference)
Preseason prediction: 7th place in Pac-12 coaches' poll
First game: at UC Davis, Fri, Nov. 10 at 7 pm
The big picture: Washington State's women seemed to scuffle for much of last season, battling through injuries to a seventh-place finish in the Pac-12. But they made an unlikely run to the Women's NIT semifinals that should have fans on notice: June Daugherty's crew is going to be a tough matchup against anyone. Watch for sophomore Chanelle Molina to bounce back from a season-ending knee injury that didn't keep her from making the conference's All-Freshman team. If the Cougars stay healthy, they might again exceed expectations this year.