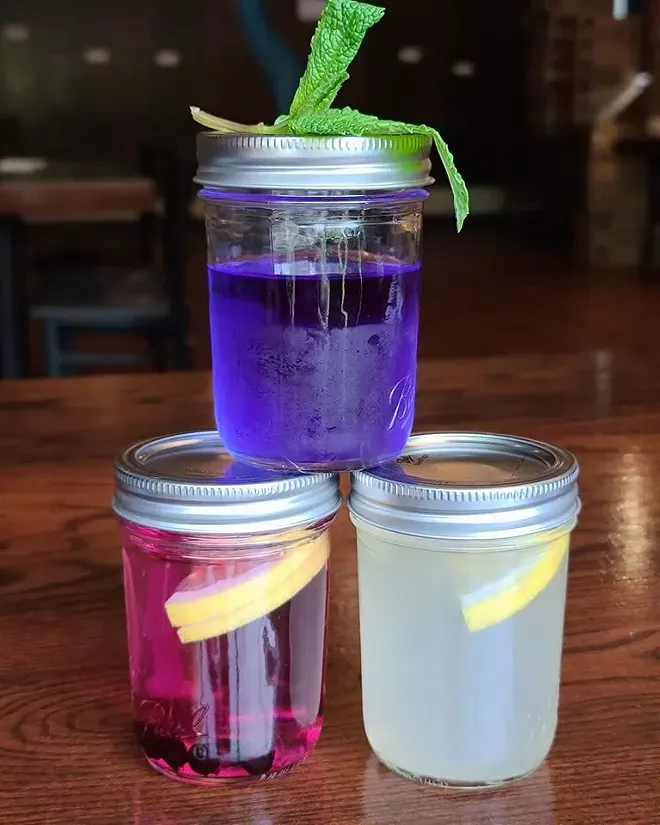 A
s of last Thursday, Washington state restaurants
were given the green light to begin selling
pre-made cocktails to-go
when ordered with food.
Previously, restaurants with a spirits, beer and wine license issued by the Washington State Liquor & Cannabis Board were allowed to sell factory-sealed bottles of spirits, beer (growlers and crowlers included) and wine to customers for the remainder of the statewide Stay Home, Stay Healthy order, but not pre-mixed cocktails.
Several Spokane-area restaurants quickly posted their new to-go friendly spirits menus, with cocktails ready to pour over ice conveniently served in reusable glass canning jars, like at
Downriver Grill
. The North Spokane
restaurant recently posted
a colorful picture of three drinks available to-go: The Snowbird, a huckleberry lemon drop and the Warrior Slingshot, each served in small jars.
Twigs Bistro & Martini Bar
also has a lineup of colorful, summertime drinks to enjoy at home. Simply pour over ice, shake, strain and enjoy. The local restaurant chain is selling two sizes of its ultimate lemon drop, huckleberry lemon drop and blood orange lemon drop in 8-ounce ($15-$19) or 16-ounce ($30-$38) jars, which equate to two or four drinks, respectively. Order with your next takeout meal at Twigs' Wandermere, South Hill or Spokane Valley locations.
The new temporary rule, set to last 30 days after Washington state enters the final phase of Gov. Jay Inslee's four-stage reopening plan, requires cocktails to be placed directly into a customer's car trunk upon pickup. The drinks must be served in a container with a "secure lid or cap and in a manner designed to prevent consumption without removal of the lid or cap." Delivery or pickup must be made by a person 21 years or over.
Cosmic Cowboy Grill
, which reopened its new River Park Square location for takeout late last month, has a variety of pre-made drinks ($7-$15) safely served in 12- or 16-ounce glass jars, such as its Mezcalita, spicy huckleberry mule and Smoky Mary.
Saranac Public House
is still offering daily happy hour
(Monday through Friday, 3-6 pm; Saturday, 11 am-5 pm; Sunday all day) featuring all beer, wine and well drinks for $1 off, including some of its signature cocktails: huckleberry and raspberry lemonade, a mule with Tito's vodka and the house Elderfashioned.
Downtown hangout
Garageland
announced its plans
to reopen this week, offering to-go slushies, beer, cocktails and a small food menu from Filipino pop-up kitchen Big Mike's Cookout. Check its Facebook page for more updates as the bar reopens.
Drinks from favorite late-night eats landmark the
Satellite Diner
can also now be enjoyed at home; ask next time you call in an order for its classic diner fare.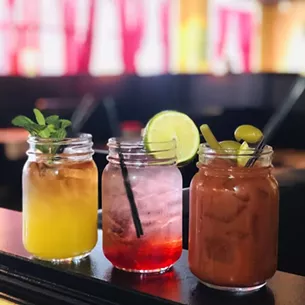 Ambrosia Bistro
in Spokane Valley also is joining in on the new to-go cocktail rule, offering house favorites in sealed jars ready to crack open as soon as you're safely home. The restaurant is also continuing to sell its to-go cocktail kits for several classic beverages.
While it'll be a bit longer before we can enjoy a drink patio-side at
Borracho Tacos & Tequileria
, in the meantime you can bring the bar home via its
full drink menu
, including house margaritas,
available to order from alongside some tasty street tacos.

The Boiler Room at Five Mile also quickly adapted its menu to include several cocktails in to-go containers that each hold two servings. Options range from a huckleberry or lemon drop to the classic old fashioned, each for $14. Find all to-go drink options on the restaurant's Facebook page and website.

For a comprehensive list of all area restaurants that have had to transition to takeout only, make sure to bookmark the Inlander's To-Go Guide, where you can search by region, cuisine, and service options, including alcohol for delivery or carry out.