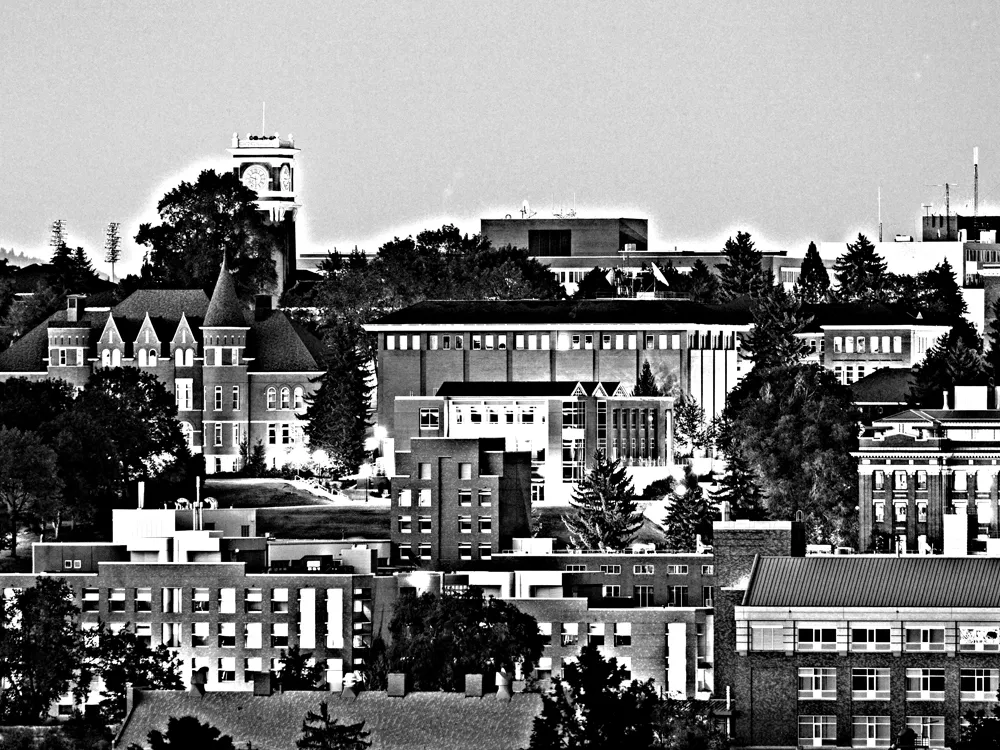 S
et atop one of the Palouse's
undulating hills is the picturesque, red-brick campus of Washington State University. In the latter half of August, returning students exhale a happy sigh as their beloved campus comes into view at the crest of the road into Pullman, recalling sleepless nights of studying and/or partying, screaming their lungs out a game and generally trying to make every single moment of their undergrad years count.
MYTH EXAMINED: "WSU Cougar fandom is unwavering." "Win or lose, we still booze!" While it's always a punch in the gut when the Cougars lose, one thing most WSU fans are pretty good at is letting go of the past. After a home game, the College Hill bars are bursting at the seams with crimson-clad fans. House parties spill out into the alleys and party rovers stumbling up and down Colorado Street shout "Go Cougs" in unison.
Located in Pullman
FULL-TIME UNDERGRAD ENROLLMENT: 19,255
RESIDENT UNDERGRAD TUITION: $11,386
NON-RESIDENT TUITION: $24,468
YEAR FOUNDED: 1890
KNOWN FOR: Consistently ranking among U.S. News and World Report's top state research universities.
Verdict: Confirmed. It gets crazy no matter how the game ends. It just gets crazier when the Cougs win.
MYTH EXAMINED: "All there is to do in Pullman is party." WSU has tried hard throughout the past decade to shake its rep as a "party school," and let it be known that yes, there really is more to do on the weekends around this small college town than just throw back some Busch Light.
For the nostalgic varsity athletes — or those who just want to have fun while also staying fit — WSU offers several intramural sports leagues. Options range from the ever-popular flag football to dodge ball, as well a host of others. Student Recreation also has a pretty impressive list of club sports teams, and WSU is home to lots of non-sports related clubs, too.
Verdict: Busted. Partying may happen more at WSU than, say, Whitworth, but you'll burn out fast if that's all you do.
Big news on campus last year: If you haven't been living under a rock, you know WSU ousted head football coach Paul Wulff and hired former Texas Tech head coach Mike Leach, who will oversee his first season with the Cougs this year. (Check out next week's Inlander cover story on Leach.)
Pullman can have really finicky weather: If you're not from Eastern Washington, brace yourself for extreme weather patterns from mid-fall to spring. Make sure to stock up on weather protective clothing before going home for winter break. We're talking the works: a waterproof jacket, gloves and scarves. For trekking around WSU's hilly campus in the snow and ice, tromp around in your sturdiest boots. In the event of a huge snowstorm, don't count on university admins calling a "snow day" unless things get really bad.
Leave that car at home: Pullman is a small town. You can walk almost anywhere within the city limits, and if that's not enough, its transit system can get you almost anywhere. As part of WSU's mandatory student fees, you already pay $52 a year to use the bus system on an unlimited basis. Take advantage of that because parking passes cost much more. On weekend nights, Pullman Transit offers a few super-late routes — dubbed the "drunk bus" — around campus and to bordering apartment complexes. If you're a lady, WSU's Women's Transit (it's free) can also get you safely home.