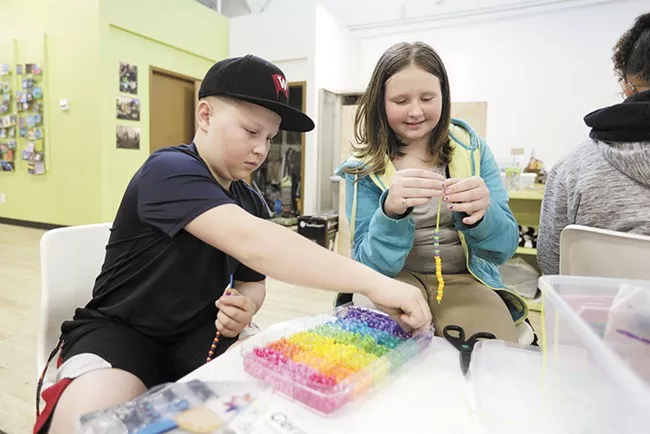 T
he Washington state Supreme Court
today ruled that the state's controversial law that allowed for charter schools is, in fact, constitutional.
The ruling is a huge relief to Washington charter schools, along with students and their parents, who for years wondered if their schools would be shuttered after voters approved the creation of charter schools in 2012.
"Today's ruling is a victory for the students of Washington state, a win for public education, and a big step forward in the fight to close the opportunity gap that persists in our state," says Patrick D'Amelio, CEO of the Washington State Charter Schools Association.
D'Amelio adds the ruling gives "3,400 students and their families from across our state new hope."
Brenda McDonald,
founder
of Spokane charter schools PRIDE Prep, says she could see a "visible sigh of relief" on the faces of ninth and 10th-grade students who have been with the school for the last few years.
"They're excited because they like their school, they love their school, and they want to know that their school can continue to exist," McDonald says.
In 2015, the state Supreme Court ruled that the state's charter school law was unconstitutional since it took money from the state's general fund. Charter schools do not have publicly elected school boards and are privately run, yet still use public money.
The state Legislature, however, quickly passed a
new law
that instead took money from the state's lottery fund account, not the general fund, hoping that would make charter schools legal again. Since then, several
new charter schools opened up
, even as opponents of charter schools
challenged
the supposed "fix" to the charter school law.
Today, the Supreme Court struck a provision that restricted charter schools from unionizing across schools. But it ruled that "the remainder of the Charter School Act is constitutional on its face."
The Washington Education Association, the state's largest teacher's union, says in a statement that it's "disappointed" with the decision.
"We still believe it is wrong to divert public funds to privately run organizations that are not accountable to local voters," the WEA says.
Spokane's two charter schools, PRIDE Prep
and
Spokane International Academy, are authorized by Spokane Public Schools. Nearly 1,000 families were
on the waitlist
to get into one of Spokane's charter schools this summer, with charter schools students showing promising results on test scores.
McDonald says she was confident the Supreme Court would uphold the charter school law, but it had been a question in the back of her mind. Now, she says parents and students don't have to wonder if the court will deem the schools unconstitutional.
"They're excited they can feel some level of permanency," McDonald says.