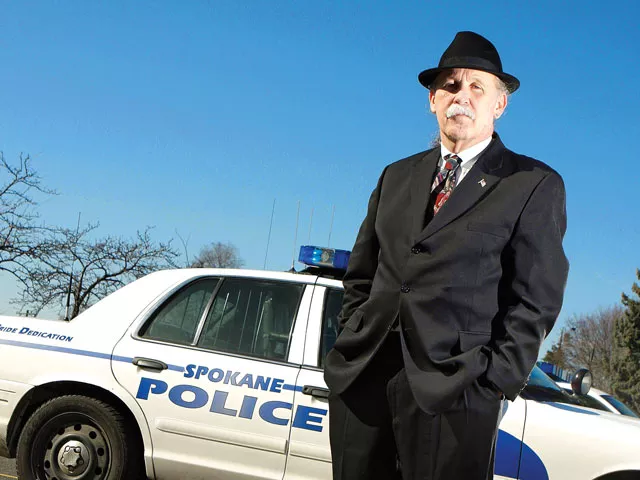 Before Spokane police pulled over his Cadillac, before the officers drew their weapons, before shouting "Don't shoot!" and fearing for his life, David Edwards had spent a beautiful day downtown attending the annual Martin Luther King Jr. unity march. The weather was mild and the turnout high.
"We had the most biggest turnout. The mayor was down there speaking about communication. I was on a natural high to see all the people come together," the 53-year-old Edwards says.
Afterwards, the single dad, who has worked 11 years running the maintenance crew at the downtown Community Building, drove to the Chief Garry neighborhood to look over a used car he was thinking about buying.
As he was examining the car parked in the seller's yard, Edwards noticed two Spokane police cruisers slowly patrolling.
They are probably checking out a drug house, Edwards remembers being told.
He ultimately passed on the used car and climbed into his 2005 Cadillac CTS for the drive back to his South Hill home. The jet-black CTS knifed down the street, sleek and shiny.
Although a drug house "has nothing to do with me," Edwards says, he was keenly aware of being a black man driving a Cadillac as he made a left turn in front of a parked police cruiser.
Edwards says he definitely used his turn signal. But police say he didn't, and officers pulled him over a block away.
The encounter quickly became tense, Edwards says, and after something fell out of his glove box when he reached for insurance papers, police drew their weapons and Edwards threw his hands in the air and began shouting, "Don't shoot me!"
"Oh! Man!" Edwards exclaims two months later. "I thought I was going to die on Martin Luther King Day."
We only know about this incident because Edwards lodged a complaint with Spokane's new police ombudsman and has been willing to talk about it. His complaint is still pending.
The Backstory
A former cop and code enforcement officer in California, Tim Burns was selected among three finalists in June. And then, last summer, he hugged goodbye his wife and sons and drove north from Visalia, Calif., with a cat, an air mattress and a desk.
Oh, there was more in his van, but these were the bare essentials he needed to settle into an apartment near Interstate 90 in downtown Spokane and set up shop as the city's first civilian overseer of police conduct.
His office — the only one of its kind in the region — has been more than three years in the making, arising out of tragedy.
In fact, just last week at a convenience store on Division Street north of downtown, people gathered to remember Otto Zehm, a 37-year-old janitor mistakenly suspected of robbery, who lost consciousness and later died after an extended brawl with several police officers. It has been four years since he died.
Zehm's grin in a well publicized snapshot, his innocence and his purported last words that he only wanted to buy a Snickers bar have haunted Spokane ever since.
After police initially said Zehm had lunged at an officer, release of the store's security tapes showed that he was backing away and that police used baton strikes, Tasers and a variety of wrestling holds to control his thrashing limbs. Once handcuffed, Zehm was placed in "hogtie" restraints and a plastic mask — not attached to its intended oxygen bag — was placed over his face as a makeshift spit shield. Both restricted his breathing.
Spokane at the time had a citizens' commission to consider complaints against police, but it was all but forgotten, cumbersome and largely ineffective.
The cry went out to create an ombudsman's office. Chief Anne Kirkpatrick, hired months after Zehm's death, spearheaded the process by hiring the Seattle ombudsman as a consultant.
Although many agreed greater and more transparent oversight was needed, there has been a huge fight over specific powers granted to the ombudsman office.
The battle over granting the ombudsman the ability to investigate complaints on his own, independent of police, is still being fought, and the years-long political infighting has polarized opposing sides.
This is the tug-of-war Tim Burns walked into.
Define Your Terms
Burns carries the job title of police ombudsman, and he's been on the job since mid-August, quietly compiling complaints against police. So far, they are fairly standard, Burns says. They fall into categories such as a citizen not liking an officer's demeanor, or that police didn't seem to do enough when responding to a call for service.
These boil down to miscommunication and misunderstanding, he says. For instance, when an officer takes what Burns calls "a bladed stance" — with one shoulder pointed toward a person —someone unfamiliar with law enforcement may see it as aggressive when in fact it is standard training to keep a weapon on the far side of their bodies.
There are many in the realm of local civil rights and social justice organizations, however, who say his title of ombudsman does not match the limited role outlined for the office.
While he can take and categorize complaints, Burns must turn them over to the police department's own Internal Affairs investigators. And while he can audit the IA investigations and withhold approval if he thinks they are not thorough or fair, Burns cannot conduct his own.
By definition an ombudsman is, "A public official appointed to investigate citizen's complaints against local or national government agencies that may be infringing on the rights of individuals," according to Webster's New World Dictionary, second edition.
Key word: Investigate.
"It's a misnomer to call him an ombudsman," says Pierce Murphy, the community ombudsman in Boise. Murphy is one of the longest-serving civilian ombudsmen in the Northwest and is past president of NACOLE, the National Association for Civilian Oversight of Law Enforcement. Murphy has frequently been consulted by city officials in the last three years and has been held up as an example for how to set up the office in Spokane.
Murphy had the rare luxury of being granted six months to organize Boise's first ombudsman office — including writing the ordinance that defines his powers.
Burns, however, came into an office not only pre-made, but also pre-stressed.
Breean Beggs of Spokane's nonprofit Center for Justice has been deeply involved in efforts to find justice for Zehm's family. Beggs has also persistently pushed for adding investigative authority to the ombudsman's office. He has helped draft a proposed ordinance that would allow this authority without having to go into collective bargaining with the police union.
Outside of this, Beggs says he sees Burns is getting off to a good start: "I believe he has made it easier for people to make complaints. He is a good communicator and has gone out into the community. Second, it is my impression that there is a process now for monitoring complaints as they go through Internal Affairs."
This window into SPD didn't exist before, Beggs says. "He is administering this process that wasn't visible at all to the City Council or to the citizens, and I give him good marks for that."
'Nobody's Pulling My Strings'
Burns, with his long, gray ponytail and single earring, his penchant for fedoras and suspenders, comes across as unflappable and patient.
But this persona cracked briefly during a recent interview. Discussing the persistent battle over independent investigative authority, he spoke sharply:
"I have told the police guild and I have told PJALS [the Peace and Justice Action League] that I am not their puppet! Nobody is pulling my strings," he says.
Burns says he saw a recent quote from Mayor Mary Verner that Burns is happy not having investigative authority. "I did not have that conversation with the mayor," he says.
Though frequently low-key, Burns appears annoyed that different parties appear to be speaking for him.
The most bizarre was an incident during an October city council meeting where Council President Joe Shogan asked Burns to stand while Shogan read verbatim an e-mail from Burns saying he didn't need investigative powers.
"Shogan totally played him," Beggs says. It was awkward and appeared to place Burns in a corner on the issue.
"I think my job has some politics in it, but I am trying to stay out of it," Burns says last week.
He tells The Inlander he does see value in having independent investigation powers and says he can see a time when the ombudsman should have that power.
If, for instance, complaints coming out if his office swamp the undermanned Internal Affairs division, Burns says it is logical for the ombudsman's office to investigate independently.
For now, he says, he is busy trying to do what's not been done previously in Spokane — have a civilian overseer build a rapport with the police department over its conduct.
It could take as many as many as five years to build the relationships and trust needed, Burns says.
"I'm not doing PR for the PD. I'm just trying to figure things out, and I believe it's important to build relationships. If people want to call that PR, so be it," he says.
Building the Office
It's hard to believe Burns spent 22 years as a police officer in California. "How long, after retiring, did you start growing your hair?" The Inlander asked him last year before he was hired. "Immediately," he answered.
Burns started a dual second career as a painting contractor and code enforcer and neighborhood preservation manager in Visalia.
How, we wondered, does he spend his day? How is he dealing with the dueling expectations of how he will run his office?
Since he began last year, The Inlander has sporadically checked in with Burns as he gets the OPO, Office of Police Ombudsman, off the ground.
We have sat with him through lonely stretches in the lobbies of various neighborhood centers where he has established regular hours and waits and waits to greet potential complainants behind a table that — as in the Peanuts comic strip — has a sign taped to the front: "The Police Ombudsman is available to greet you."
He has been tireless in outreach: going to regular meetings of all the city's neighborhood councils, making repeated visits to the Peace and Justice Action League, to service groups and ministers' associations and the NAACP. He's done ride-alongs with police, is building a working relationship with the Internal Affairs investigators and reports every second Monday of each month to the City Council's Public Safety Committee.
He has handed out more than 1,000 business cards. He is concerned that people won't come to see him if he appears too closely aligned with The Man, and so has moved out of City Hall into a quiet office on the skywalk level above the Olive Garden and Runner's Sole. He is so wary about confidentiality that he had a couple of people talk inside the new office while he went outside to check if it was soundproofed. He didn't overhear anything, Burns says.
Last week he spent several hours at the N.A.T.I.V.E. Project, a health and outreach where Burns intends to make a monthly commitment to be available to the city's Native Americans.
As he spreads the word that his office is open, Burns has made 101 contacts with people, forwarding 53 to Internal Affairs as formal complaints.
Burns spent the past weekend drafting his first annual report — a truncated one that will cover only the last three months of 2009 — which he will present to the City Council by April 12.
The Inlander has requested records of all the complaints the new ombudsman's office has handled. Given the office's stated goal of striving for transparency and accountability, we have asked that nothing be blacked out.
After a month, this request is still being processed.
A Cool Reception
On a sunny, fall day in early November, during his initial burst of outreach, Burns found himself on a Saturday morning descending the steps to the basement of St. Matthews Institutional Baptist Church for the regular meeting of the Spokane Ministerial Association — more colloquially known as the Spokane Black Pastors.
He was introduced by Pastor Eugene Singleton of St. Matthews and made his pitch, which was fairly dry and heavy on details of the process.
Then he opened for questions.
"Are you familiar with the phrase about the fox in the henhouse?" the Rev. Dr. C.W. Andrews, pastor of Calvary Baptist, immediately asked.
"I am the fox," Burns replied, acknowledging his previous police experience, noting it ended 15 years ago. He explained how he is striving to walk a line between the police union on one side and PJALs on the other.
Second question.
"To be perfectly honest, I am not getting excited about your position," said Pastor Happy Watkins of New Hope Baptist. "It seems you are like a mannequin in the window. Even now as I hear you talk I am not sure you have any teeth."
"One of the reasons I came down here today was I need to earn your trust," Burns said.
"Yeah, you right," Andrews said.
In a follow-up interview last week, Pastor Singleton of St. Matthews says not much has changed. The pastors still hold to the perception that the ombudsman is a watchdog on a leash.
DWB? On MLK Day?
One of the complainants willing to speak publicly about an encounter with police is Edwards, the 53-year-old single dad who had a run-in over a disputed left turn on Martin Luther King Day.
Edwards says he drives with extra care when police are present, citing his perception of DWB, or driving while black — a perception The Inlander has found to be common among other African-Americans in Spokane.
Police Chief Anne Kirkpatrick, and other police officials, vigorously dispute accusations of racial profiling. We target behaviors, Kirkpatrick tells us, not race. She shows us mug shots of 35 of the city's most-prolific repeat criminals, who the department is targeting for arrest in a new initiative to reduce crime. Thirty-four of the mug shots appeared to be white. Only one was black.
Still, the perception that someone can be pulled over for DWB here is firmly rooted and, Edwards says, he was well aware of the police that day. "So here is this blue and white police car sitting right there that says POLICE all over it. I put my turn signal on and turned left right in front of her," he says.
Within a block or two, the patrol car comes up behind and pulls him over, he says.
Edwards describes his initial exchange with the officer:
"I asked her, 'Ma'am why are you stopping me?'
"She said, 'You didn't use your left-turn signal.'
"I said, 'Yes, I did.'
"She said, 'You calling me a f---ing liar?' I said, 'Yes, I am.'"
The Inlander asks if the officer used the profanity.
"Yes, she did," Edwards responds.
A second officer arrived and was using a flashlight to look into the passenger-side windows of his car, Edwards says. This made him angry, he says, and the encounter became increasingly tense. When he opened his glove box for insurance documents, some sunglasses fell out and police drew their weapons, he says.
"I just started yelling, 'Don't shoot me!' I'm thinking I am going to die today. On Martin Luther King Day," Edwards says.
Efforts to corroborate his account were unsuccessful because the case is still open and police documents are not available.
Burns has recently asked Internal Affairs to produce more information about previous traffic stops the two officers have made, especially noting the race of the drivers pulled over.
It's about all he can do, Burns says.
"In most of these demeanor complaints, it is he said/he said, and there are no witnesses," he says.
Lt. Craig Meidl (MY-dle) of Internal Affairs says his small office — it is Meidl and Sgt. Dan McCabe who typically handle more than 100 allegations a year — already have seen 34 additional cases from the ombudsman's office. If, as Meidl expects, ombudsman-driven complaints increase as the office becomes better known, Internal Affairs could be overstretched.
Given the increased workload, Meidl says he sometimes questions Burns' requests for more info, such as in the Edwards case. Trying to establish a history of traffic stops for the primary officer seems OK, he says, since that officer made the stop.
Meidl says he takes these concerns to his boss, Assistant Chief Jim Nicks, and so far Nicks has ordered IA to comply with Burns.
"In defense of Tim, he may be trying to show a global perspective, and we appreciate that," Meidl says. "In my experience, he does have the best intentions of being neutral. I think this relationship has gone more smoothly than people anticipated."
Chief Kirkpatrick says of Burns: "He is truly not agendized. The No. 1 trait I think everyone was looking for in the person was independence. Are you an independent thinker? There is a human element to wanting to be accepted, and he didn't come in trying to over-ingratiate himself with the police."
The First Year
Burns acknowledges ups and downs since he opened shop half a year ago.
With all the political fist fighting over what powers his office should have — a brawl he has largely avoided — Burns says there is a day-to-day reality to being an ombudsman that is largely overlooked. It is a reality that is not sexy. It's mundane, even. Anyone who has an encounter with police may come away ruffled. Police exist in a different world where they closely watch body language, always on the ready for traps or surprises. With last year's spate of shootings of police officers, Meidl says officers' nerves are stretched.
Burns, though he is 15 years away from law enforcement — and was never a cop here — is aware of this. He sees one of his primary roles as being a bridge to communicate one reality to another when civilians and police interact.
He is doing what he can to promote transparency. A Website is nearly ready. He is crafting his first annual report, which will contain several recommendations to police, including:
That corporals receive more supervisory training; that everyone from records clerks to patrol get more cultural awareness training; that arresting officers not worry about suspects getting mouthy as long as they are complying with orders; that there be a clear policy on dealing with legal concealed weapons; that officers learn more about "excited delirium" (a controversial and non-medical term used by police); and that officers seek video evidence of citizen complaints as soon as it is known to exist.
He says he also will evaluate his own performance after a full year. "I like results. If I feel my job doesn't have some benefit, if people say that guy is a puppet — I don't want to be here," Burns says.
But, Burns and others say with degrees of sadness, it is going to take a death at the hands of police to clearly define the new office and the man who fills it.
He has two mobile phones, always on, to alert him to critical incidents. So far no one's had to make that call.
Call Tim Burns at 625-6742 or e-mail toburns@spokanecity.org.