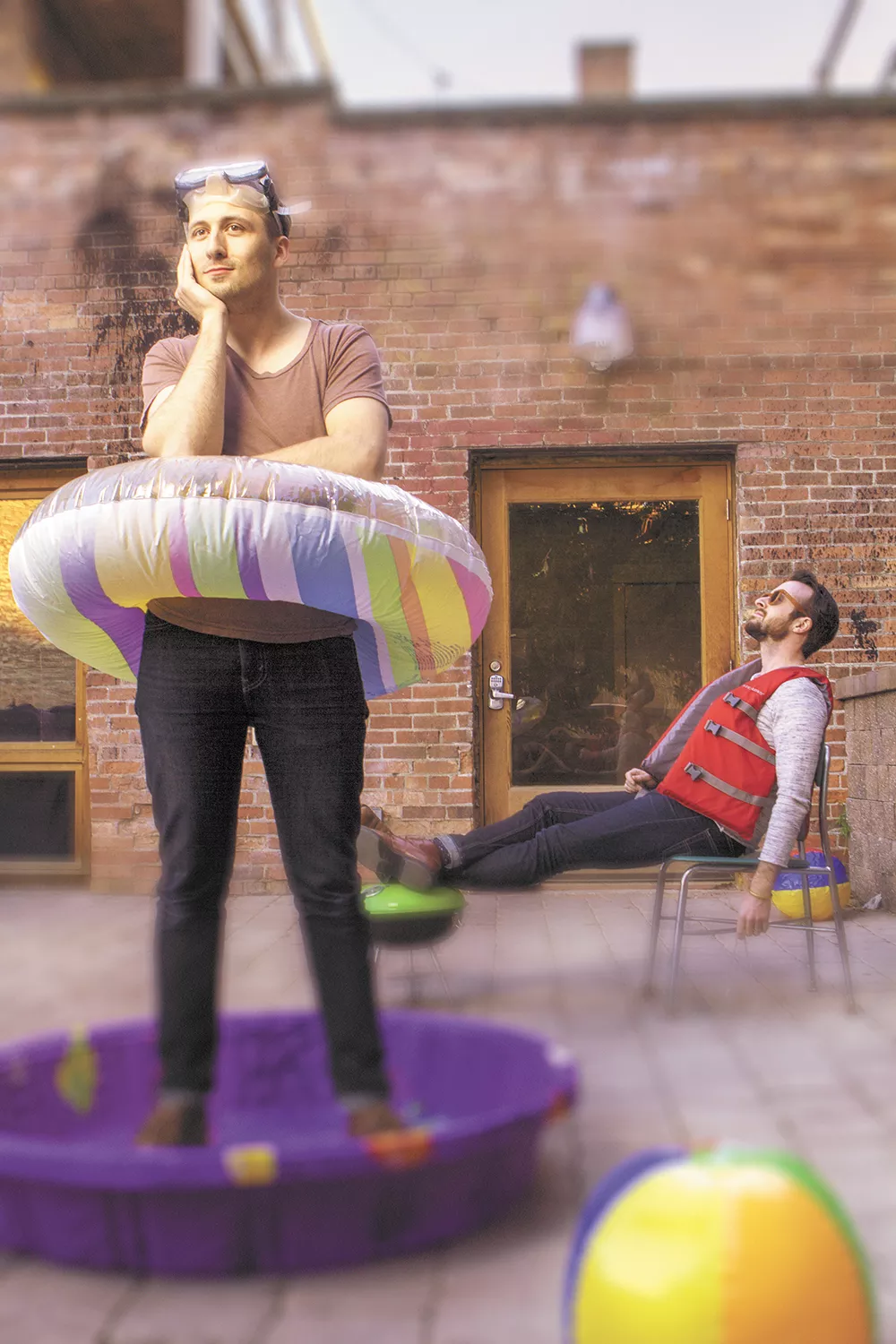 When we talked with Max Harnishfeger a little over a year ago, he had just begun to stretch his musical muscles as Water Monster.
Having contributed vocals and bass to indie-rock quartet Cathedral Pearls, he was attempting to nail down a direction for his first solo project while finalizing the songs on his debut album.
That EP, Survive the Night, was released last August and led to headlining shows and gigs opening for the likes of Barcelona (in Spokane and Seattle), along with spots at Volume 2014, Bartfest, Uncharted Territory (the Spokane Symphony and Terrain collaboration) and most recently, Everett's Fisherman's Village Music Festival.
A little more comfortable in his Water Monster skin, Harnishfeger is still the creative force behind the electronic project. But singer/guitarist Scott Ingersoll — who performs his own material as Scott Ryan, played guitar on Survive and helps Harnishfeger fill out his live show — has recently taken on a bigger role, shifting the Water Monster dynamic from a solo project to a band.
"I haven't been part of a project where I wasn't the one holding the primary creative reins, so it's nice to be a collaborator for a change," Ingersoll says.
The opposite is true for Harnishfeger.
"I've always been the support and never done a project that I was the head of," he says.
The pair met through Ingersoll's brother and sister-in-law, Caleb and Karli Ingersoll — who play in Cathedral Pearls along with Harnishfeger and his wife Carrie — after Ingersoll moved to Spokane from California.
Working together on the Bartlett before it opened, Harnishfeger asked Ingersoll if he wanted to contribute guitar or vocals to his solo project, and the foundation was established.
In the past, Harnishfeger would build the structure of a song and send Ingersoll a demo, to which the latter would add his own ideas.
"He complements melodies and adds to the groove and brings textures to it," Harnishfeger says about Ingersoll's contributions.
The pair would then practice each song until they figured out what to keep and what to change.
As they work on the follow up to Survive the Night, Harnishfeger and Ingersoll want to make the songwriting process more collaborative, which is what I find them doing during a recent rehearsal in the back room of Harnishfeger's basement.
"You have a lot of fragments of things that you've been storing up and working on, and now you shake them out and see how they fit together," Ingersoll says.
The joint writing sessions seem to be working out as Harnishfeger plays clips from two new songs. The first is darker than the tunes on the EP, and the second is, as the duo describes it, more ambitious, with multiple textures and shifting tempos.
"There's more ambition to what we're trying to do musically, a little less straightforward," Ingersoll says. "But I think the emphasis will always be on strong songwriting and hooks, and things like that that people can grab on to."
"I don't think it will ever go away from the textural exploration," Harnishfeger adds. "Sonic exploration is a big piece of what we're doing."
It's an element concertgoers have responded to well during live performances.
"I'm trying not to have expectations for what is going to happen," Ingersoll says of the band's future. "I would love to be able to get out and play more and reach a wider audience, but I'm just looking forward to being in the process of trying to uncover what the next phase sounds like, and create more music that, hopefully, people will connect to." ♦
Water Monster plays Volume on Fri, May 29, at 10 pm at The Bartlett • 228 W. Sprague • All-ages