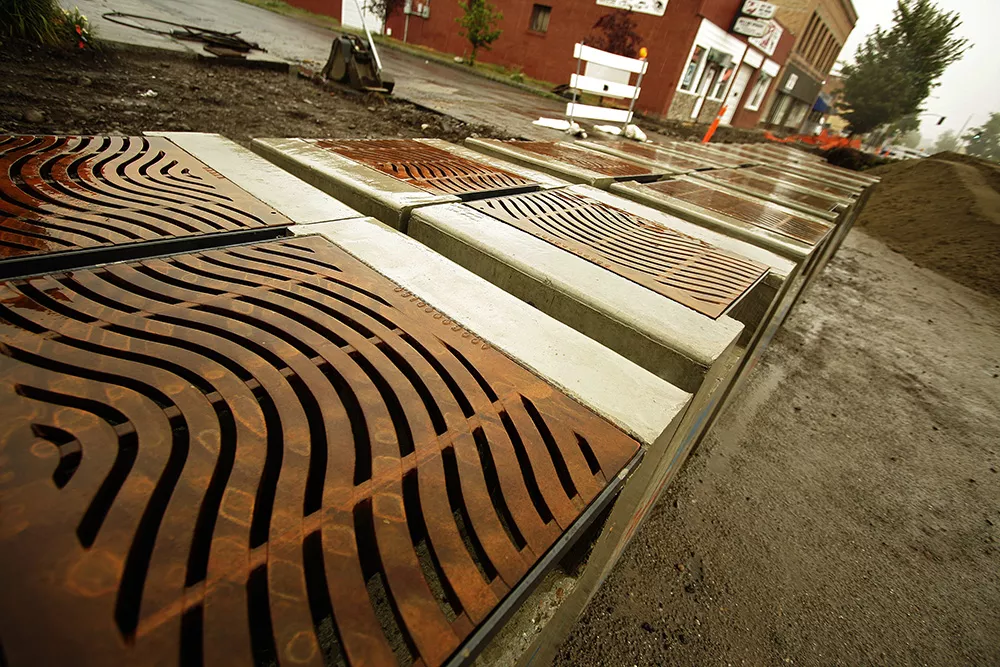 River Cleaners
The Spokane City Council voted Monday to endorse a $310 million plan to clean up the Spokane River. Now, the administration moves on to trying to finding that money. According to Utilities Director Rick Romero, the city will fund $250 million of the cleanup — ratepayer dollars will be used, though rates will not increase faster than inflation — but will need state and federal help for the remaining $60 million.
More than 1 billion gallons of stormwater and wastewater enter the river each year, releasing PCBs and other toxins into the river. The new plan proposes a combination of design features, like swales, to soak up stormwater before it gets to the river; upgrades to the city's wastewater treatment facility; and new underground tanks to hold water before treatment. The push for a cleaner river is being driven by new federal standards that will take effect in 2017. The administration and council have praised the "integrated approach" as a way to reduce toxins in the river and complete multiple types of infrastructure improvements at once. (For example, the city might replace sidewalks or streets while burying a new holding tank, saving on future construction costs.)
"I do believe this is exactly what we as a community deserve," Spokane Riverkeeper Bart Mihailovich told the council Monday. The work is expected to be completed within the next five years.
— HEIDI GROOVER
All You Need is Love?
A federal judge heard oral arguments on Monday in a lawsuit seeking to overturn Idaho's ban on same-sex marriages.
The plaintiffs, four same-sex couples who filed their suit last November, say Idaho's ban violates their rights to equal protection and due process under the U.S. Constitution. Two of the couples are suing to marry in Idaho. The other two couples, who were married in California and New York respectively, are suing to have their unions recognized by the state.
"The state can't select a preferred group of Idaho families for special preference and recognition," Deborah Ferguson, the plaintiffs' attorney, told the court. "The legal interest is for all of Idaho's families, and all of Idaho's children, whether they're raised by same-sex parents, stepparents, adoptive parents or grandparents."
Lawyers for Idaho Gov. Butch Otter and Attorney General Lawrence Wasden told the court the ban benefits "future generations" of children. They also argued the ban doesn't discriminate against same-sex couples.
In 2006, Idaho voters approved a constitutional amendment banning gay marriage. After the U.S. Supreme Court struck down the Defense of Marriage Act last summer, 10 federal district courts have since ruled that same-sex marriage bans are unconstitutional. U.S. Magistrate Judge Candy W. Dale said she will issue a ruling in the "relatively near future."
— DEANNA PAN
Violence On Campus
Last Thursday, the U.S. Department of Education took the unprecedented step of publishing a list of 55 universities with open Title IX Sexual Violence investigations.
Washington State University and the University of Idaho are among the universities being investigated over how they handled sexual assault complaints. "We hope this increased transparency will spur community dialogue about this important issue," Assistant Secretary for Civil Rights Catherine E. Lhamon announced. Being investigated doesn't mean the universities had necessarily violated the law.
In February, the Office of Civil Rights visited both University of Idaho and Washington State University to investigate. U of I Dean of Students Bruce Pittman says the investigation on their campus stemmed from a student complaint over the speed that U of I handled her case. "We met with their staff and they did a very extensive review of our practices and policies," Pittman says.
The OCR still hasn't published its review, and so they haven't made any changes directly as a result of the recent complaint.
"On the whole, I think our students feel fairly safe at WSU," says Missy Gill, program coordinator for the WSU Women's Resource Center, noting increased campus lighting and programs that help women get back safely to their dorms.
— DANIEL WALTERS