SHRED A RIVER
Spokane's Parks and Recreation department is hosting a series of kayak and canoe tours along the Spokane River over the summer. For a more laid-back trip while learning basic canoe skills, take a trip from Plese Flats to 9 Mile, or paddle down the Little Spokane River and keep your eye out for wildlife. If kayaking is your thing, there' a series of events over the summer for all levels of experience, including a Kayak and Coffee Little Spokane River event. It's just how it sounds: enjoy a cup of coffee at 8 am, and paddle on a kayak down the river while following a guide. It's only $29 and occurs June 19, July 2 and Aug. 6. Visit the city's website, spokanecity.org, or call 509-363-5418 for more details.
PADDLE A LAKE
It's not quite walking on water, but standup paddleboarding is a close second. ROW Adventure Center is holding paddleboard lessons (presumably there's more to it than standing and paddling) and then leading a tour of Lake Coeur d'Alene over the summer. Once you get your balance, you'll be guided around part of the lake and learn about the region and its history. There are moonlight tours, too. The first morning lesson is July 16, then Aug. 13. The night lessons on the lake are July 19 and Aug. 18. Visit rowadventurecenter.com.
SANDPOINT BOAT FESTIVAL
If you're interested in classic boats, you can't miss the Sandpoint Idaho Classic and Antique Boat Show this year from July 8-10. It's one of the premier boat shows in the Pacific Northwest. There will be a "Welcome Aboard" Party planned by the lake on Friday, July 8. Judging will start the next day and it will culminate in a boat parade for spectators. More details can be found at inlandempireacbs.net.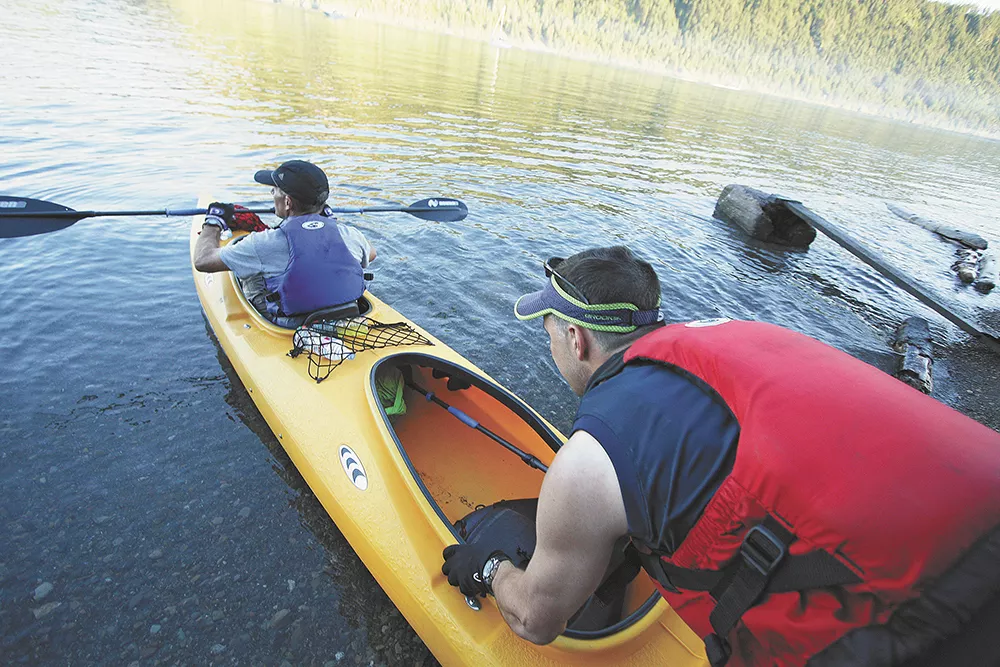 FIND YOUR BEACH
Look, everyone loves the City Beach at Lake Coeur d'Alene. The mile of shoreline in between the Coeur d'Alene Resort and North Idaho College is the go-to spot for a fun, inexpensive day at the lake in the Inland Northwest.
On a nice day, the beach is smothered with people soaking in the sun and kids splashing in the water. A plane might land in the water at any given moment. The park behind the beach has a playground for the kids, a basketball court for the bros, and some shade for that one person in your group who can't handle the sun. Good food and downtown shopping is a minute away. Or you can go for a hike to nearby Tubbs Hill and watch one of your daredevil friends jump off a cliff or something.
If you're looking for a different beach experience, there are options, with some 76 lakes in a 50-mile radius in the Inland Northwest, says Peyton Scheller, spokeswoman for Visit Spokane.
"You're not hard-pressed to find a beach," she says.
Which lake or river has the right public beach for you? Here's a few ideas.
Spokane River: When considering nearby beaches, people often overlook the body of water that moves directly through downtown Spokane. For a nice swimming beach nearby, or a spot to launch your canoe or kayak, check out Boulder Beach Park in Spokane Valley, right next to the Centennial Trail. If Boulder Beach doesn't suit you, there are dozens of other beaches on the river. Find them all at spokanewatertrail.org.
Fish Lake: If it's simplicity you want, head to Fish Lake near Cheney. There's a nice sandy beach, and motorboats are not allowed, so the water is yours. You'll have to share the water with some fish during the swim — the lake is filled with trout.
Priest Lake: For people in Spokane, Priest Lake might be a little bit out of the way. But it's worth it. Luby Bay and Reeder Bay campgrounds, on the west side of the lake, both have picnic areas, beach access and views of one of the most beautiful places in North Idaho.
Lake Pend Oreille: What makes Lake Pend Oreille so stunning — the steep, rugged mountains bordering a massive body of water — also makes for a lack of swimming beaches in the traditional sense. But there are a couple. There's Sandpoint City Beach, similar to Coeur d'Alene's beach in that it's next to a more urban park. On the other end of the lake, there's Beaver Bay, a nice, secluded swimming area in Farragut State Park.
Lake Roosevelt: With roughly 600 miles of shoreline, there are plenty of beaches to explore whether you're driving your car or arriving by boat, says Denise Bausch, chief of interpretation and education for the National Parks Service in the area. Fort Spokane, on the southern end of the lake, is one of the easiest to get to from Spokane. A former military fort (hence the name), now it's a great place to lounge on the beach, cook up some barbecue or go on a hike.
AN ANNIVERSARY
Hill's Resort on Priest Lake has cabins by the water with lakeside views, a recreational area outside and an outstanding bar and restaurant. The resort also happens to be celebrating its 70th anniversary this year. Teri Hill, special events coordinator for the resort, says every morning there will be a slideshow and memories from its 70-year history. There will be a 70th anniversary golf tournament at the Priest Lake Golf Course on June 27. Later in the summer, on Aug. 4, the resort will hold a traditional outdoor Baron of Beef buffet on the lawn, like it used to every Thursday. But with a beach, public launching ramps and boat rentals, Hill's is always a great getaway option in the summer, and everyone is welcome to stop by, Hill says.
EXPLORE LAND AND WATER
This is an adventure for people who can't relax even on a day off. Choose any day until Sept. 5, gather a group, and embark on an adventure through Farragut State Park and Lake Pend Oreille for the Farragut St. Park Pedal-and-Paddle. This is a full-day trip, lunch included, that starts at 8 am. A guide will take the group on a bike ride through the park until you reach the lake. You'll eat, then jump in a kayak and take a tour of the lake. Price is $169 for adults and $149 for youth. Visit rowadventurecenter.com for more.
SWIM ACROSS A LAKE
The Long Bridge Swim, nearly 2 miles across Lake Pend Oreille alongside the Long Bridge in Sandpoint, is for competitive swimmers or children as young as 7. The event was founded by swimming enthusiast Eric Ridgway in 1995, when around 70 people showed up. Now, hundreds of people take part in the swim, and it keeps getting bigger every year, with more than 700 expected. This year, the swim will be held on Aug. 6. Register or find more information at longbridgeswim.org.
FLOAT A RIVER
If you want to be on the water, but not in the water, here's your chance. Rent a tube from FLOW Adventures and float the Spokane River any day of the week for just $20. They will also provide the shuttle ride, running from 10:30 am to 3:30 pm. The float takes a couple of hours through west Spokane from Peaceful Valley down to a spot near Spokane Falls Community College. Go to flow-adventures.com for more. ♦