FOR STARTERS
Rhymin' Simon
Paul Simon is far from your typical "classic rock" artist, despite his longevity. The diminutive singer/songwriter boasts a wide-ranging slate of songs that delve into folk, pop and rock, but also touch on a number of world-beat influences like the African rhythms that filled his Grammy-winning Graceland album.
Last year's Stranger to Stranger was a worthy addition to a stunning catalog, encompassing his early hits with Simon & Garfunkel through his myriad solo killers like "Mother and Child Reunion," "Kodachrome" and "50 Ways to Leave Your Lover." Simon plays Spokane Arena on June 23; hit spokanearena.com for details.
Road Trip to the Gorge
The Gorge Amphitheatre along the Columbia River is one of the most stunning music venues in the country. That remains true even as the amphitheater market has gotten so glutted that the venue doesn't see nearly the high-powered summer lineups it once did. That said, there are always several shows worth the two-hour drive from Spokane.
This summer, the best of the lot are hard-rock gigs by prog-metal dudes Tool (June 17) and the reunited (sort of) Guns N' Roses (Sept. 3), but you can also catch John Mayer (July 21), Kings of Leon (Aug. 26) and more at the scenic wonder to the west. More info at gorgeamphitheatre.org.
Refresh Your MusiC Collection
I'm a pack rat when it comes to most things, and that's especially true with music and books. And while I regularly give away books once I've read them, my music collection only seems to grow. This summer, that changes, and I encourage you to join me with a purge of your collection.
If you have some vinyl, cassettes or CDs just taking up space and never being played, it's time to digitize that sucker, stash those files in the cloud for the (unlikely) chance you might want to hear, say, Bryan Adams' greatest hits or the Bootsy Collins Christmas album, and move on. Ditching the old and rarely heard just opens up space for shopping for new tunes, right? I'm dedicating the July 4 holiday to the task.
Pack a Bag
One of the best things about the annual Festival at Sandpoint music extravaganza is that you can pack in your own food and drinks. Ask anyone who goes to concerts regularly; that's a huge cost savings. Even if the Sandpoint event didn't offer such a nice way to picnic, the mellow vibe, scenic drive to the North Idaho resort town and music lineup make it a must-do each summer.
This year's shows include sunny sounds from New Wave heroes the B-52s (Aug. 4), modern folk-rockers The Head and the Heart (Aug. 10) and jazz/swing stalwarts Pink Martini (Aug. 3), among others. Hit festivalatsandpoint.com for all the details.
Spoon it Up
Austin-based Spoon remains underappreciated for what they bring to the alt-rock table. Sure, they play lots of big festivals and land the occasional tune on commercial "alternative" radio, but the band led by Britt Daniel is a brilliant live act. On stage is where the unexpected influences in Spoon's music — things like reggae or synth-pop — come through best, turning their rock tunes into inspiration for a worthwhile dance party.
Earlier this year the band released Hot Thoughts, another consistently entertaining album, and they play the Knitting Factory Aug. 28. For info on one hot Monday night show to help shut down summer, hit sp.knittingfactory.com.
Classics & Covers
Sammy Hagar has decisions to make when he decides to hit the road. He has the bagful of early solo hits, of course, tunes like "I Can't Drive 55" and "There's Only One Way to Rock." Then there are the monster tunes from his days as frontman of Van Halen. And then there's the stuff he's done post-Van Halen with Chickenfoot, or again as a solo artist, often singing the praises of the tequila-soaked beach life.
With his band the Circle this summer, expect a bit of all of that, along with a serious dose of Zeppelin covers as Jason Bonham (son of Led Zep's John) plays drums with the group that also includes Van Halen vet Michael Anthony. Hagar and the Circle play Northern Quest Resort & Casino on June 30; visit northernquest.com for details.
THE NEXT LEVEL
Multi-Culti Majesty
If you're looking for subtlety, look somewhere besides The Big Dipper on June 28. If you're looking for a mind-blowingly glorious culture clash, though, you won't want to miss out on Guitar Wolf, the long-running Japanese garage-rock crew that plays so loud you wouldn't be able to make out the vocals even if they were in English.
Thirty years after first forming in Nagasaki, the band is still cranking out distortion-laden gems like "Guitarstar," "Devilstomp" and "Shooting Star Noise" all over the world. They'll be joined by local frisky punks Itchy Kitty for this gig; visit bigdipperevents.com for details.
Ride This Wave
A few years ago I was at Bumbershoot at some unreasonably early hour, intent on catching some of the talent tasked with playing to sparse crowds hours before the headliners took the stage. La Luz rewarded the effort with an excellent set of songs that veered between surf-rock guitars, echo-chamber doo-wop vocals and sloppy (in the best way) garage rock. Naturally, I immediately bought their then-new album It's Alive and later their Ty Segall-produced follow-up Weirdo Shrine.
They've only honed their retro-tinged sound to a sharper edge since, and could deliver one of the best shows of the summer when they hit The Bartlett on July 7. Visit thebartlettspokane.com for details.
Hidden Gem
Chateau Rive is one of Spokane's best-kept secrets when it comes to concerts. You might know the subterranean spot in the Flour Mill building from a past wedding or event, and it's an ideal locale for music in the summer, when the temperatures outside are brutal.
The shows lean toward roots music and Americana, and July 13 features one killer band in Chatham County Line, a North Carolina-based bluegrass crew with spot-on harmonies, great songs and an old-school approach — four guys in suits gathered around one microphone. For more details on this and other shows at Chateau Rive, visit performanceplease.com.
Indie Darlings
In the mid-aughts, it was tough to find a better indie-rock band than Kansas City's The Life and Times. Their 2005 debut Suburban Hymns was a glorious, guitar-fueled stunner of melodic rock that avoided some of the annoying screaming of many bands of the era, instead relying on excellent songcraft and musicianship.
They have a new self-titled album that came out this spring, and The Life and Times still have the gift of crafting ideal three-minute pop-rock nuggets. They play The Observatory July 21; visit facebook.com/observatoryspokane for more.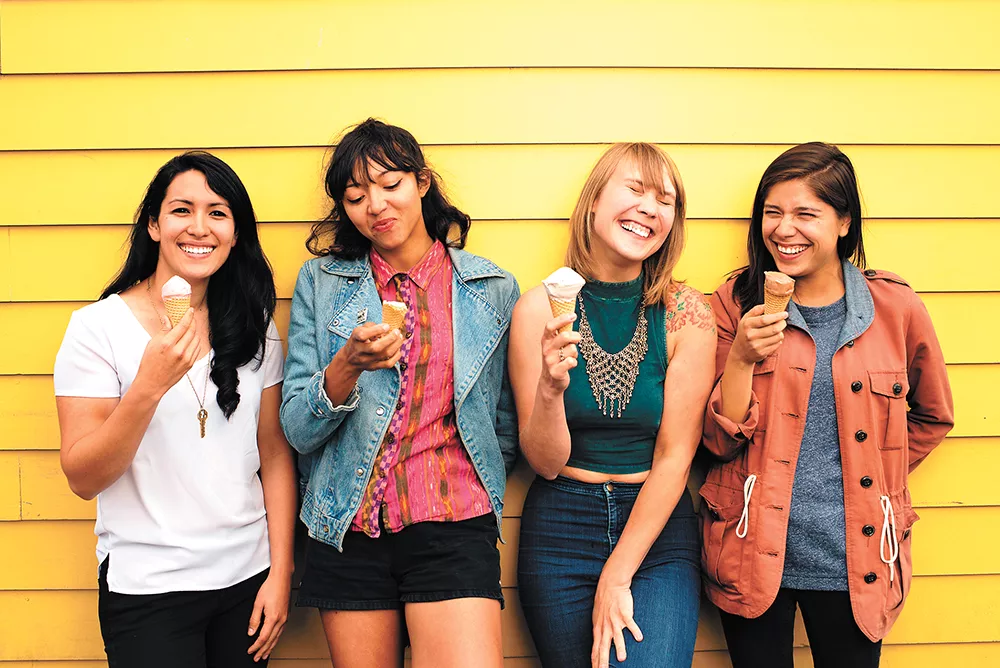 Pick a Bluegrass Fest
The bluegrass world loves throwing a good festival, where you can get a crash course in the different styles and eras of bluegrass while enjoying some fine company in a lovely park.
The Blue Waters Bluegrass Festival in Medical Lake (Aug. 11-13) is just such a party, this year offering a blend of nationally known bluegrass stars (Rob Ickes & Trey Hensley, up-and-comers Lonely Heartstring Band) and regional and local talent well worth checking out (Jackstraw, Kaia Kater, Jenny Anne and Caleb Mannan). Find out more at bluewatersbluegrass.org.
Head East
Missoula sits a mere three hours or so east of Spokane, and while the town is worth a road trip for many reasons — river running, beer sampling, etc. — this summer there's a new 4,000-capacity concert venue opening that is getting some great shows.
The KettleHouse Amphitheater, just a few miles up a canyon in East Missoula, hosts the diverse likes of Ween (July 16), Tedeschi Trucks Band (Aug. 2), Slayer (Aug. 17) and more during its inaugural season. Visit logjampresents.com. ♦