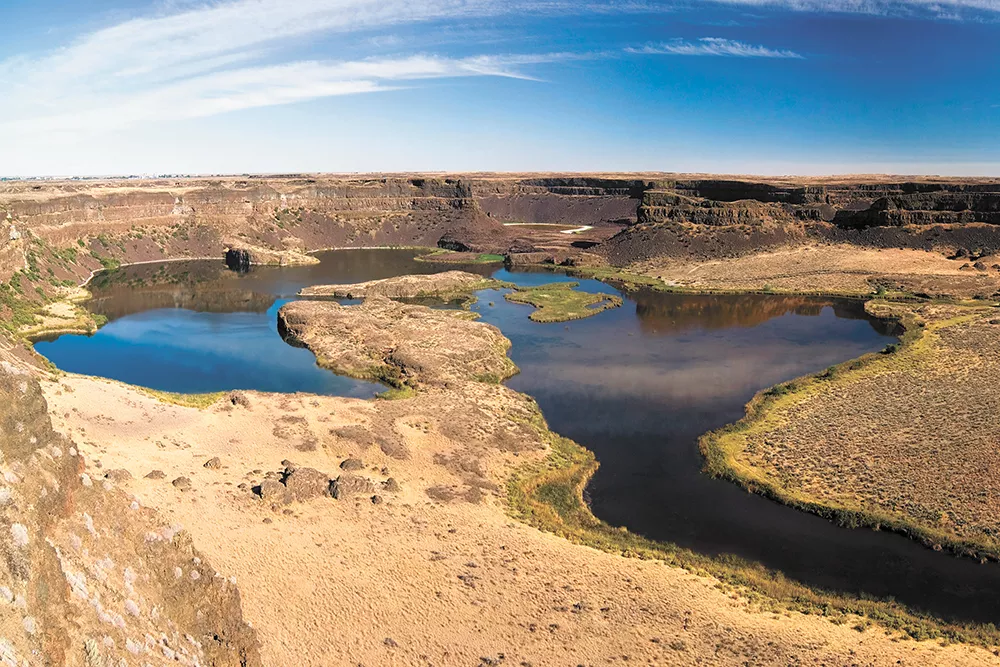 GHOST TOWNS OF IDAHO (AND ONE OF WASHINGTON)
Ghost towns "serve to humanize the landscape," says Idaho state historian HannaLore Hein. Their overgrown ruins are tangible reminders that "real people lived there, real people died there, and real people left their mark." If only briefly.
Idaho's Shoshone County harbors a cluster of ghost towns, many of which can be found along Prichard Creek Road. The most straightforward way to get there is by traveling east on I-90 from Spokane, then taking Coeur d'Alene River Road north at Kingston, Idaho.
A few inconspicuous graves are all that mark the former site of Eagle City, which materialized when A.J. Prichard discovered gold nearby in the early 1880s. When not busy jumping claims, Wyatt Earp and his brothers operated a saloon out of a circus tent there. Within a few short years, almost all life had migrated to Murray 4 miles down the road. Though it became the county seat in 1885, Murray would vanish before the turn of the century. It's now a "semi-ghost" town with several preserved buildings and extant shells.
The fleeting mining camp of Potosi Gulch forms the third point of a loose triangle with Eagle City and Murray. A crumbling cabin and tiny, two-grave cemetery are its only vestiges.
If your imagination needs a bit more to work with, venture north of Wallace, Idaho, on State Highway 4. The proximate towns of Burke and Gem, once sites of massive mining operations and civil unrest, still have standing storefronts and other industrial facilities — largely because Burke's mining operations continued up to the early 1990s.
"In so many instances, it was circumstantial as to whether a town was going to succeed and becoming something more, or if the resources were going to dry up," Hein says. That's why visiting ghost towns isn't just an exercise in nostalgia.
"It's really an opportunity to imagine what things can be like in the future. What can we learn from that failure, especially when you compare that to the mythic or romanticized understanding of what the American West was at the time when these places were boomtowns?"
Eighty miles from Spokane in the opposite direction is Govan, Washington. An abandoned schoolhouse is its most prominent and oft-photographed feature, but there are a few other disused structures that hint at the once-thriving town. Like so many other locations, its fate was sealed when it was bypassed by a major thoroughfare. Today, we make the intentional detour to linger over its remains.
SOAP LAKE
The main draw to Soap Lake is its namesake, a mineral-rich body of water purported to soothe sore muscles and smooth skin. It was once a gathering spot for Native Americans and later fueled Soap Lake's heyday as a spa and resort town in the first half of the 20th century. Despite a dusty climate and dwindling population, there are ongoing efforts to boost the town's tourist appeal — including a 60-foot novelty lava lamp that's been in the works for nearly two decades. Some itineraries suggest taking I-90 and turning north at Moses Lake, but Route 28 might make the drive a little more interesting. Distance from Spokane: 120 miles.
DRY FALLS
Just a short while ago (on the geological timescale), Dry Falls was a raging, 400-foot cascade five times as wide as Niagara Falls. Now, as its name suggests, the eroded canyon walls and cliffs are the only evidence of its glacial past. There are plenty of hiking and sightseeing opportunities nearby, and it's only 20 miles north of Soap Lake. Combine them into the same trip by taking U.S. Highway 2 out and then dropping down to Soap Lake along State Route 17, returning east on State Route 28. Distance from Spokane: 110 miles.
CLOSE TO HOME
Who says road trips have to be long? Starting in Spokane, take the 10-mile journey on Indian Trail Road to Little Spokane River Natural Area, where riparian hiking trails abound and the Indian Painted Rocks stand as a testament to the centuries of indigenous culture that existed before "manifest destiny" became a shared delusion. From there, it's just another 15 miles north to the McLellan Conservation Area, a 410-acre forest of Ponderosa pines and Douglas firs on the shore of Long Lake. It's home to moose, osprey and black bears. On a different day, head 20 miles south of Spokane to the Turnbull National Wildlife Refuge, a stunning and geographically diverse nature preserve spanning 18,000 acres on the eastern edge of the Columbia Basin.
SCENIC DRIVE: SPOKANE CITY DRIVE
If you like road trips but for the speed and distance, try the Spokane City Drive. It's a 21-stop tour of the city that includes historic landmarks like the Campbell House, The Cathedral of St. John the Evangelist and Fort George Wright along with areas of natural beauty like Manito Park, Bowl and Pitcher and Finch Arboretum. The Visit Spokane website has the full itinerary. Distance from Spokane: 0 miles.
WALLA WALLA
Walla Walla is more than a sweet onion production hub or a punchline in Three Stooges and Looney Tunes shorts. Since 2000, it's become a key marketplace for regional vineyards and likewise a top destination for wine lovers. Is it possible for a city to be quaint and hip at the same time? To find out, take the scenic route south on U.S. 195 to State Route 127 to U.S. Route 12. Distance from Spokane: 160 miles.
MOUNT SPOKANE
Thirty miles north of the city on route 206 (actual drive time is close to an hour), you'll reach Mount Spokane. Thanks to its 5,887-foot elevation and relatively accessible hiking paths, it offers gorgeous vistas of the surrounding area, making it an ideal spot to identify all the places you'd like to visit on future road trips.
COLVILLE NATIONAL FOREST
The Colville National Forest lies a little over two hours north on U.S. 395. As one of the waypoints on the famed International Selkirk Loop, it's located in an area where the mountains are craggier, the woodlands are more rugged and the wildlife is a little more dangerous. Wolves, cougars, lynxes, bears and caribou can all be spotted at various times of the year. Distance from Spokane: 100 miles.
SCENIC DRIVE: THE PALOUSE TO OAKESDALE
Bona fide road trippers know that a destination is just an excuse for the journey. So why keep up the pretense? A relaxed drive down State Route 27 runs more or less parallel to the Washington-Idaho border. You'll have ample views of the undulating Palouse fields from the car while passing through rustic agricultural towns that sprang up around the area's rich yields of wheat and lentils. If you need a fixed turnaround point, historic Oakesdale (population 422) is as good a place as any. Distance from Spokane: 60 miles.
THE PALOUSE TO PALOUSE TO PALOUSE FALLS
Should the scenic jaunt to Oakesdale leave your wanderlust unsated, keep going. Once you reach Palouse (the town, that is), head west on state routes 272 and 26 for about 90 miles. You'll pass through Dusty and Washtucna before reaching the majestic splendor of Palouse Falls State Park. Various plateau overlooks provide views of the park's nearly 200-foot waterfall from different vantages. When you're done picnicking and exploring, another 110 miles along State Route 261 and I-90 will bring you back to Spokane. All told, you're looking at 5.5 hours of driving.
WALLACE, IDAHO
Wallace has a little bit of everything: natural beauty, a colorful mining history, small-town charm and a hint of kitsch, given that a manhole cover at the intersection of Bank and Sixth streets ostensibly marks the official Center of the Universe. Instead of taking I-90 directly from Spokane, start your trip on the Route 27-to-95 loop into Coeur d'Alene past the Fightin' Creek Smoke Shop in Worley. It'll add 20 minutes or so, but you'll get to pass through both Mica, Washington, and Mica, Idaho. Distance from Spokane: 100 miles.
JOSEPH, OREGON
Joseph, Oregon is in some ways an epicenter of the resistance to the appropriation of Native American lands. Named back in 1880 in honor of Chief Joseph of the Nez Perce, the small (population 1,100) alpine town at the base of the Wallowa Mountains is close to the Nez Perce National Historical Park and Monument. The park contains the sites of the Battles of Bear Paw, Clearwater, White Bird Canyon as well as other historical events. To get there, leave Spokane on 195 and head due south for 200 picturesque miles. ♦