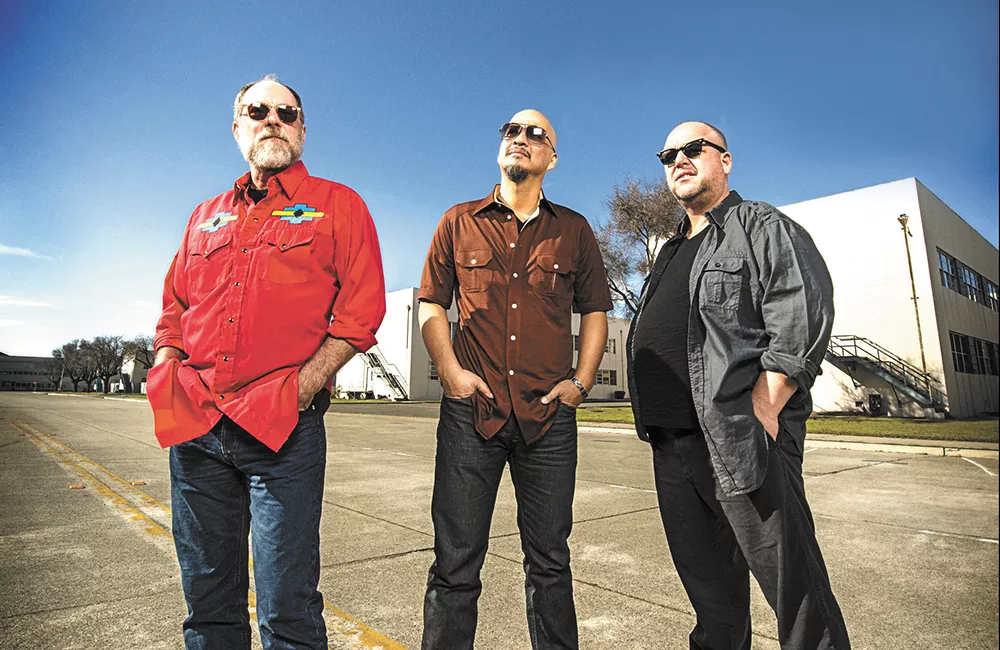 The Pixies were always more than charismatic bassist/singer Kim Deal. Frontman Charles "Black Francis" Thompson IV wrote most of the songs, and Deal wasn't even a founding member. But when she officially walked out on the alt-rock band last June, fans wondered how it would work without her.
The three remaining members — Thompson, guitarist Joey Santiago and drummer David Lovering — decided it wasn't over yet. In April they released Indie Cindy, their first full-length studio album in more than 20 years.
On a break from touring for the record, Santiago calls from the hills of Los Angeles, where he just purchased a home. There's no cell service at the new place, so he's out in his car exploring.
"Hey, I'm getting to check out a new part of my neighborhood," he says with a laugh, promising to stay safe behind the wheel.
His reasoning for the Pixies — the band that influenced rock royalty like Kurt Cobain and Thom Yorke — staying together is simple.
"It's still the Pixies," the 49-year-old explains. "Being in this band is the best job in the world and we already paid our dues. You have to think it's OK to continue ... God damn, we deserve this."
Still, Deal (who recently toured with her band the Breeders) not being part of the Pixies' INB Performing Arts Center show on Friday might deter some fans. And like their choice to continue without Deal, there were always naysayers questioning pivotal decisions band members made.
Santiago was just a teen when he met Thompson at the University of Massachusetts-Amherst in the mid-'80s. After discovering their mutual love of punk, they were soon practicing every night of the week. This eventually led to their first big leap.
"Dropping out of college, that was taboo," Santiago says. "We were told, 'You're throwing your future away.' And it was like, well, you know, if you have a Plan B, then you don't have a Plan A at all. What's the f---ing point then?"
As the legend goes, after the guys tossed college aside, Deal showed up to band practice in response to an ad for a bassist. She didn't know how to play the instrument, but they liked her anyway. Soon, Lovering would complete the sound.
Santiago has fond memories of that time, playing as many gigs in the Boston area as possible. Their diet consisted mostly of pizza, and their practice space had raw sewage flowing through it.
"Even then our solace was playing loud," he says.
Their distorted, feedback-heavy instrumentation, paired with Thompson's wailing voice and Deal's wispy one, got them signed to indie label 4AD. Their debut full-length album, 1988's Surfer Rosa, gained them new fans across the country. But tensions ran high through three more records and in 1993, they called it quits before ever really making it big.
The wilderness of solo records and other bands couldn't keep the Pixies apart forever, especially since their star rose exponentially after their breakup. On Sept. 11, 2003, Santiago was watching CNN when he read on the scrolling news ticker that the Pixies were getting back together. It was a surprise to him, but the announcement inspired the four-piece to give it one more try.
"The question was how would we sound?" Santiago recalls. "So we got together and decided if we didn't sound good we would shake hands and move on. But after all of these years, it was so natural, almost laughably so. We couldn't get rid of this."
At first it was all about the novelty of performing again as a group; writing a new album wasn't on their radar. Finally, starting in late 2012, they headed to the studio equipped with a handful of new Thompson songs, which led to the release of new recordings EP1, EP2 and EP3 over the next year and a half. The three EPs were combined to form the new album.
"We needed to make music for us," Santiago explains. "Even if wasn't popular."
These days at the shows, Santiago says the fans are really digging the new stuff.
"It's the same as when we had to prove to people that Doolittle was good, too," he says. "They just have to hear it live."
The people coming out to the shows are essentially the same they always were — people in their 20s, the ones who are more forgiving of a new album that isn't exactly like the first four. Of course, the old fans are there too. But as Santiago puts it: "It's not like Vegas is calling us."
As for Deal's replacement: after trying out multiple musicians, the group finally settled on a touring bassist.
"Paz Lenchantin is pretty awesome. She's the best replacement we've had by, like, miles," Santiago says.
Then the interview ends abruptly.
"Hey, I just found a record shop in my neighborhood," he says. "I'm going to have to go in." ♦
Pixies with Royal Blood • Fri, Oct. 3, at 8 pm • $40-$50 • All-ages • INB Performing Arts Center • 334 W. Spokane Falls Blvd. • TicketsWest.com • 747-3012