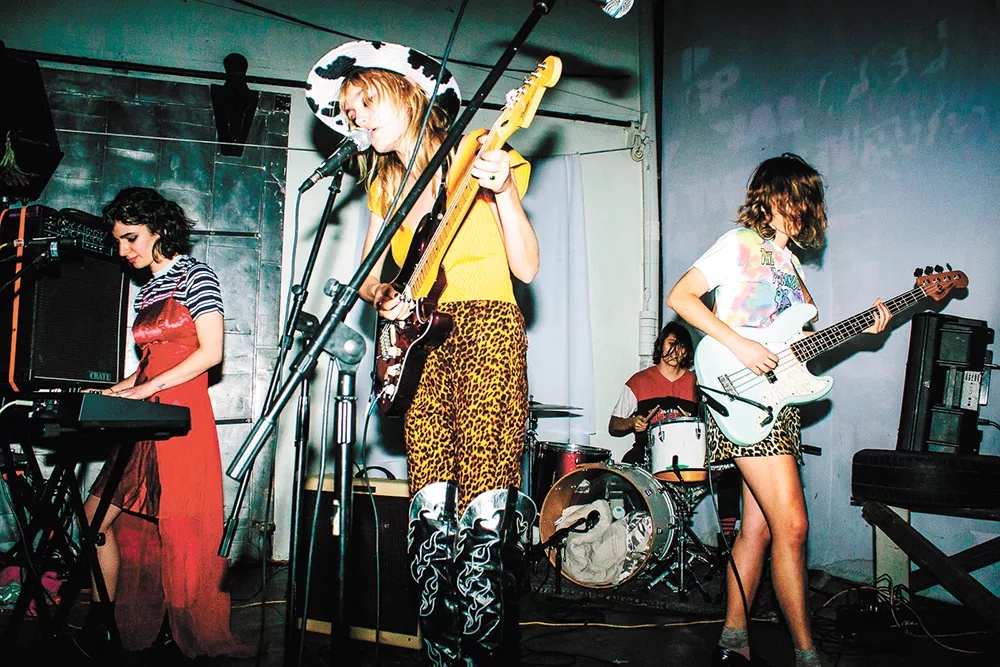 We got Dan Nailen to share his Friday night itinerary
My approach to getting the most of out Volume is always the same: Make a plan to mix up awesome local bands I already like with out-of-town bands I've never seen, and be willing to throw it all away when someone gives you a hot tip or two. This year, add in the fact I have some friends visiting who've never explored Spokane, and there's added incentive to bounce around often during Volume's two nights. Here's how it's looking so far:
7:15 pm: I'm starting with some surfy indie-rock delivered by two men and their percussion-giving tape deck when RUNAWAY OCTOPUS plays the Big Dipper.
8:15 pm: I'll be sure to get to Baby Bar a little early for THE PARANOYDS, because Baby Bar fills up quick (and I might need a quick taco to carry through the next couple hours). L.A. garage-pop with ladies on lead vox, Paranoyds are def one of my must-sees.
8:30 pm: Here's hoping Paranoyds play some fast songs, 'cause I gotta bail for killer Portland honky-tonk crew JENNY DON'T & THE SPURS at nYne. Another one of my must-sees, given their tendency to sounds like old-school country I love, a la Patsy Cline and Hank Williams.
8:50 pm: If I can tear myself away from Jenny Don't, I'm aiming to check out some of Tri-Cities rapper KARMAKNOWS at the Washington Cracker Building.
9:15 pm: The garage-blues of DONNA DONNA at Red Room Lounge should make for a nice aural-palate cleanser after some sampled beats with the hip-hop. The ferocious duo offers instant fun.
9:30 pm: Man, this is a lot of running around, but my visiting country-loving friends need an earful of Spokane's SILVER TREASON for sure, and they're just up Sprague at nYne, so we're hustling there for some of their set.
10 pm: Happily, the cool pop of WATER MONSTER is happening right next door at the Bartlett.
11 pm: We won't go quietly into the night, though, because among the rock goodies at the Observatory on Friday, I definitely want to catch Spokane's PERU RESH.
... and Nathan Weinbender did the same, but for Saturday night

The second day of any festival is tougher than the first. You're either tired (and maybe a little hungover), or you're playing catchup if you slacked the evening before. Because I want to see as many bands as possible, I am aiming for the latter, which requires a lot of running around. I'm embracing variety over convenience. It sounds exhausting, but I keep telling myself I need the exercise anyway, though I'm sure I'll eventually summon a chariot in the form of a cab or the Spokane Party Bus.

7:30 pm: I'll start off at Baby Bar, where I can nurse a beer before the crowds get too hectic. A bonus: Seattle's SUPERCRUSH will also be there. They play power-pop indebted to acts like Teenage Fanclub and Redd Kross, which is right up my alley.
8:15 pm: The very second Supercrush put down their guitars, I'm hoofing it to the Big Dipper, where the new local act BOYS NIGHT is playing. I've always liked the funny, self-deprecating pop of singer-songwriter Miles Martin, and I'm looking forward to finally catching his latest project.
9:15 pm: I'm giving myself a little more time to mosey back to the center of downtown to watch SUPER SPARKLE at the Red Room Lounge. I've seen them a couple times before, but not in awhile, and they're just too damn fun to pass up.
9:45 pm: OK, so maybe I'll have to duck out a bit early, but I really don't want to miss MAPS & ATLASES at the Washington Cracker Building. I once saw them do an acoustic set in a record store, but I've never had the chance to see them in full band mode.
10:30 pm: This is the part of the night when that Lyft app will come in handy, because I'll be bouncing around the city like a drunken pinball. I'll get to the Observatory right as GUN OUTFIT starts: I'm curious to see how their loose-limbed alt-folk translates to a live setting.
11 pm: And then back to the Washington Cracker Building I go, as I realize I'm definitely sleeping in on Sunday morning. I've been a fan of THE HELIO SEQUENCE for a while but have never caught a show, so it's time to remedy that. And with another year's Volume in the books, I order Ubereats on my Lyft ride home. ♦


Dan Nailen is the culture editor for the Inlander. He's previously written and edited for the Salt Lake Tribune, Salt Lake City Weekly, Missoula Independent, Salt Lake Magazine and The Oregonian, on topics ranging from music and film to food and hard news. He grew up across the country in an Air Force family and studied at the University of Utah and University of Montana, where he got his master's degree in journalism.
Nathan Weinbender is the Inlander's music and film editor. He comes to the paper from the Spokesman-Review, where he contributed music and culture stories to the newspaper's features section. He is also a film critic for Spokane Public Radio, where he has co-hosted the weekly film review show Movies 101 since 2011.