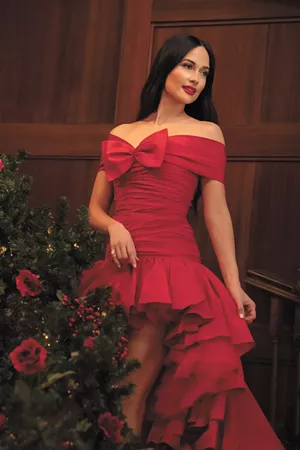 It's an inevitability: Every artist who achieves even an ounce of popularity eventually records a Christmas album, with the express purpose of producing the first new holiday classic since Mariah Carey's "All I Want for Christmas Is You." This year's batch of Yuletide jams runs the gamut from country to blues to alt-rock, and we've applied our highly scientific rating scales to judge some of the season's freshest tunes.
YOU WISH: A MERGE RECORDS HOLIDAY ALBUM
Merge Records has made artists like Arcade Fire and Neutral Milk Hotel into indie royalty, and as the label celebrates its 30th anniversary, it's dropping a Christmas present in the form of this holiday compilation featuring other stars on its roster. Of the original compositions, highlights include Mike Krol's "Won't Be Alone Tonight," as fuzzy as an old wool sweater; Telekinesis' bouncy "Christmas Time Is Here (Uh Oh)," which Cheap Trick nearly recorded; and Tracyanne & Danny's "Santa, Don't Say No," with a swinging horn line straight out of Bruce Springsteen's "Hungry Heart." As for the covers, Hiss Golden Messenger and Lucinda Williams duet on John Prine's "Christmas in Prison," and William Tyler turns in a lovely instrumental version of Big Star's "Jesus Christ."
Rating: Three and a half vintage turntables
KACEY MUSGRAVES, THE KACEY MUSGRAVES CHRISTMAS SHOW
The Kacey Musgraves Christmas Show isn't technically an album: It's the audio from her old-fashioned variety special, which is now streaming on Amazon Prime. The alt-country superstar performs alongside Zooey Deschanel, Camila Cabello, Fred Armisen, Lana Del Rey and Leon Bridges, taking on well-worn classics as well as originals — tracks like "Christmas Makes Me Cry" and "Present Without a Bow" deserve to become standards — and her crystalline voice is a perfect fit for holiday songs. The problem with this release is that it doesn't work sans visuals, particularly with the awful, way-too-loud canned audience reactions interrupting the music. Either watch the special or get Musgraves' 2016 album A Very Kacey Christmas instead.
Rating: Two red-and-green-sequined bodysuits
ANDREW BIRD, HARK!
Listening to an Andrew Bird record is akin to wandering through an old curiosity shop, finding vintage whatsits tucked away in corners and hidden under sheets. The singer-songwriter brings his distinctly quirky sound, with plucked strings and his theremin-like whistling prowess, to the six-song holiday EP Hark!, and it feels appropriately like an odds-and-ends collection. The record is bookended by the two best songs, which are not coincidentally the only originals in the set — the fireplace-lit "Alabaster" and the melancholy "Night's Falling." It's a perfectly pleasant set, designed to be background music while you open presents, but you're better off getting one of Sufjan Stevens' holiday releases, which this resembles quite a bit.
Rating: Two and a half antique glockenspiels
LAST CHRISTMAS ORIGINAL SOUNDTRACK
Since George Michael died on Christmas Day in 2016, his music will always be associated with the season. It helps, too, that he's responsible for one of the quintessential holiday pop songs, which lent its name to the recent film Last Christmas. Michael's music is a presence throughout the movie, so its soundtrack naturally features a couple Wham! hits, No. 1 solo singles like "Faith" and "One More Try," and some deeper cuts. The biggest selling point is the inclusion of a previously unreleased track called "This Is How (We Want to Get High)," which, weirdly, doesn't appear on the album's streaming tracklist (it's available on Spotify as a separate single). Sure, most of these songs have nothing to do with Christmas, but it'll put the boom-boom into your heart regardless.
Rating: Three oversized "Choose Life" T-shirts
IDINA MENZEL, A SEASON OF LOVE
The Broadway legend, Frozen star and erstwhile Adele Dazeem applies her ice-melting voice to a series of slick, serviceable '50s-style Yuletide tunes, with appearances from Ariana Grande, Billy Porter, Josh Gad and her husband (and Rent co-star) Aaron Lohr. The set includes a Mrs. Claus empowerment anthem, a Latin-flavored Hanukkah song, two showtunes (including the Rent song that supplies the album its title) and a Menzel-penned ballad about inclusion. Sweet and inoffensive.
Rating: Two and a half "Defying Gravity" solos
ANA GASTEYER, SUGAR & BOOZE
The former Saturday Night Live star has already released an album of jazz standards, and this nip of Yuletide comedy continues in that tradition. Over the course of 15 swingin' songs, Santa gets stuck in the chimney, Maya Rudolph shows up to gossip about her romantic entanglements with a secret Santa, and Gasteyer laments that nothing rhymes with "Christmas." Even if you saw those sketches she did with Will Ferrell as the high school music teachers, you'll be surprised at what a smooth voice she has.
Rating: Three fingers of bourbon
NE-YO, ANOTHER KIND OF CHRISTMAS
There haven't been this many double entendres associated with opening presents since "Dick in a Box." Ne-Yo's doing a lot more than putting gifts underneath the Christmas tree, that's for sure, but the R&B crooner's "kind of Christmas" doesn't just involve romance: In one song, he's getting over a breakup, and his mom's buzzed on eggnog and his cousins are fighting in another. In between are the straightforward covers of "Carol of the Bells" and "The Christmas Song." So yeah, this is a weird one.
Rating: Two suede fedoras
KEB' MO', MOONLIGHT, MISTLETOE & YOU
It's sort of refreshing when a Christmas album flat-out admits that "Christmas Is Annoying," which is what Keb' Mo' does smack-dab in the middle of Moonlight, Mistletoe & You. He's tired of maxed-out credit cards and the inundation of ads — "Let's apologize to Jesus for what went wrong," he says. An anti-consumerist screed probably isn't destined to be a future Christmas classic, but this is nonetheless a solid collection from the influential blues guitarist, and it's better when you're not listening to the words and just digging on the guitar licks.
Rating: Three gold-plated guitar slides ♦