It's 5 am Pacific Standard Time on a Thursday morning, and I'm Facetiming with Noah Wallace who just finished up a bowl of authentic Chinese noodles over 6,000 miles away in Beijing.
Noah grew up in Spokane just a few blocks away from Gonzaga. On most any winter weekend, you could find Noah and his buddies sessioning the jumps at Schweitzer Mountain's Stomping Grounds Terrain Park. It was there that Noah started perfecting his craft of flying and spinning through the air with skis. Each jump brought Noah one step closer to achieving his dream of being a professional skier. That was more than 10 years ago, and now, at 28, Noah is a professional slopestyle skier who has made his dream a reality.
Noah recalled, "I think it all started with ski movies when I was younger, I just had this thought of, 'That'd be really, really sweet.' I could see myself doing that. When I started out, my main goal was to be in the X Games."
Well, Noah certainly outperformed his expectations and then some with three X Games appearances, a second place podium at the European Open in Laax, Switzerland, a third place finish at the FIS World Championships in Austria, and an invite to one of the more unique FIS World Cup Big Air Events, which was held inside the legendary Fenway Park.
Noah got a big grin on his face when he recounted that event.
"I got to ski in Fenway Park, that was huge. It was a World Cup Big Air site in February that was built on scaffolding in the stadium and covered in snow," he says. "I did a double cork in Fenway, that was amazing. I have a cousin that plays baseball, so he was always joking, 'How the hell did you beat me to Fenway?'"
As a professional skier, Noah has been racking up well over 200 days a year on snow training, competing and coaching kids at summer camps like Windell's at Mount Hood. It was during these coaching periods that Noah realized he would get just as much stoke coaching the kids as doing the tricks himself.
Noah described it like this: "When we started learning how to jump, some of the best days were when your friends were landing new tricks, because it would motivate you to learn new tricks, so that energy keeps on coming through when I'm coaching kids. An example: They've been getting frustrated and beat up as they battle it out learning new tricks, and when they're finally able to land it, you get as excited as they do."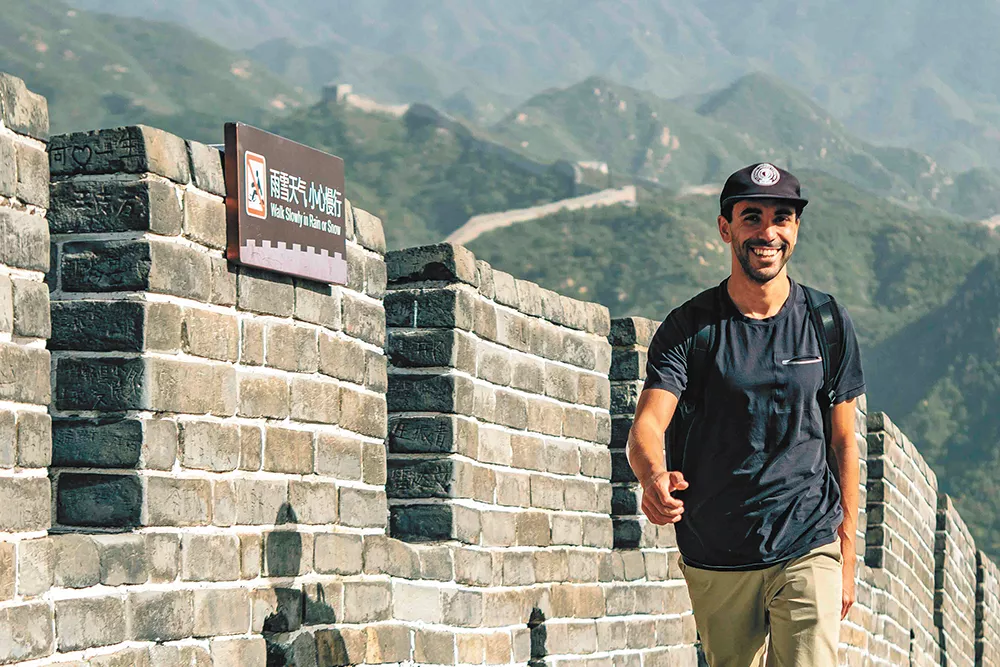 Because of Noah's incredible ski abilities, coupled with his excitement for helping and coaching kids, he was asked if he'd like to share his skiing and coaching expertise with aspiring slopestyle skiers in China.
"This past year, I started coaching with the Chinese National Team, traveling around with the World Cup Team for China, coaching the Chinese National Team athletes who were competing in the World Cups and other major events," he says. "We had three girls who finished in the top 10 last season with a couple of boys starting to crack the top 20."
This past summer, Noah's coaching kept him busy traveling with the Chinese National Team to various trampoline and ski camps throughout China, Les Deux Alpes, France, and New Zealand, where he had just previously returned from three weeks of snow training session with the team. I asked him if there were any challenges with communication.
"Gosh, I've used so much Google Translate in the last year, it's funny. I've been learning some Mandarin as well, but when I'm coaching the athletes, for example, if we're on a trampoline or something and they don't understand it fully, I'm able to actually still do a lot of the tricks so I'll show them. They're like, 'Oh, OK, that makes sense,' and then they're able to pick it up a little quicker."
Isn't there a saying, "A picture is worth a thousand words?" Speaking of pictures, photography is Noah's newest passion.
"I love doing images and I like doing videos," he says. "I'm getting way more into photography lately, so wanting to see where that path takes me. Just creating."
Noah has been doing an exceptional job writing and visually documenting his travels over the years, as you can see on his social media pages and personal website. He has a unique perspective on capturing images that pulls the viewer in or makes the viewer think, how'd he get that shot?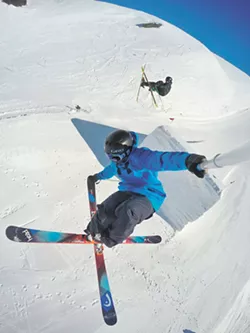 And he isn't taking his skiing career for granted.
"Honestly, there's so much. There's the friendships acquired, the travel, and now there's the chance to experience the new culture of China."
Sometimes the teacher is the one learning, like in Noah's case.
"There was a guy who was on the previous team who I was able to travel with. He was really an awesome teacher, who was able to explain to me all the questions I've had on the country as we traveled around," Noah says. "I got to learn so much more about the actual history that China's been through in the last 10, 20 years, from an actual Chinese perspective, which was pretty cool."
The travels, friendship and experiencing different cultures are all lessons learned and memories that will last a lifetime. I was curious to what has been Noah's most memorable experience in his ski career.
"Growing up, Matchstick Productions was one of those films that we all aspired to be in, and there was always an amazing, iconic Whistler segment that would happen, and in 2016, I got my very first invite to that shoot through Under Armour," he says. "We had three amazing days of weather. On the second day, the helicopter came in. And holy crap, man, I had goosebumps that entire shoot. Especially because I was the first guy to drop. I had the thought, 'Don't fall, don't fall, don't fall' the whole way down the in-run because the helicopter is following you with a really expensive camera. The whole way down you can hear the whoo, whoo, whoo. I vividly remember this one shot where the chopper is flying into the sunset, that was just mind blowing. I still get goosebumps thinking about that." ♦
Bob Legasa is an avid skier and for the past 30 years has worked as a producer, videographer and writer covering snowsports and the outdoors. Legasa, who first contributed to the Inlander in 1994, lives in North Idaho.