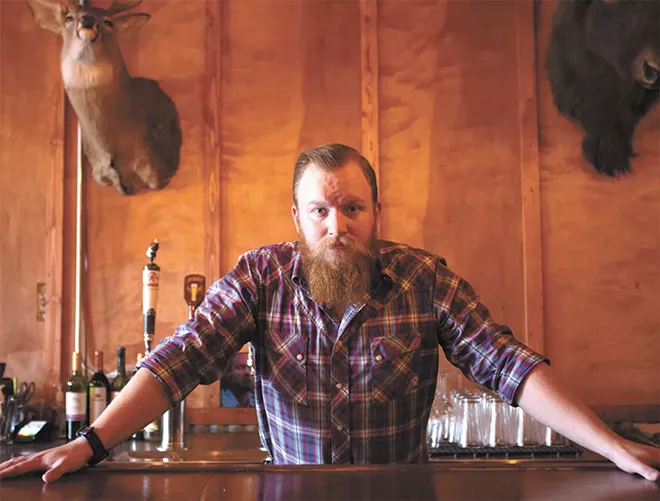 The butcher paper covering the windows was the first indication to casual observers that something dramatic was going on along Garland's growing hip strip of coffee shops, record stores and art galleries.
That something was the epic reimagining of the short-lived neighborhood bar Filt into the brand-new Beerocracy, a craft beer-centric spot opened by 27-year-old Tyler Riggs after he bought out the Filt owners' lease and went to work creating the bar he saw in his imagination.
"I've been looking for a space to do something like this for a couple of years," Riggs says, He wanted something in a walkable neighborhood on the rise like the Perry Street neighborhood he lived in years ago.
Gone are the white concrete walls, replaced with dark wood and a long-in-progress mural of the neighborhood. The fluorescent lighting is history, too, replaced by cool fixtures throwing off a subtle glow. And the ad hoc collection of art familiar to Filt customers is now down to a couple of friendly animal heads on the wall behind the bar.
"I wanted to make more of a warm, inviting space," Riggs says, and he's succeeded in that so far. There will be more art on the walls eventually, and possibly a small stage for live music, too.
The beer, though, is going to be Beerocracy's obvious calling card (although there's also wine for non-beer fans, and one handle dedicated to a rotation of ciders). Riggs says he fell in love with craft beer when he was barely 21 and discovered the Lantern Tap House when it was "just four handles and, like, 200 square feet." Despite living nearly an hour away at the time, he became a regular as he started educating himself on the wide array of great beer available in the region.
Beerocracy has 12 rotating taps, and since opening May 1, the IPAs have gone fastest. Expect some hard-to-find beers from out-of-town brewers, as well as local beers. In the first month, in addition to beers from Spokane's Iron Goat and Little Spokane, Pullman's Paradise Creek and Cheney's New Boundary, Riggs has also tapped Oakshire Overcast Espresso Stout, Dogfish Head's Kvasir and Fort George's Magnanimous IPA.
While Riggs hopes his constant influx of interesting brews will draw folks from throughout the area, he sees the Garland district as a great spot to set up shop, full of "young couples, a lot of people buying starter homes and fixing them up."
"I'm definitely going to be pulling from other neighborhoods," Riggs says. "But I want to be the neighborhood spot, too." ♦
Beerocracy • 911 W. Garland • Sun-Sat, 4 pm-midnight • facebook.com/beerocracy509