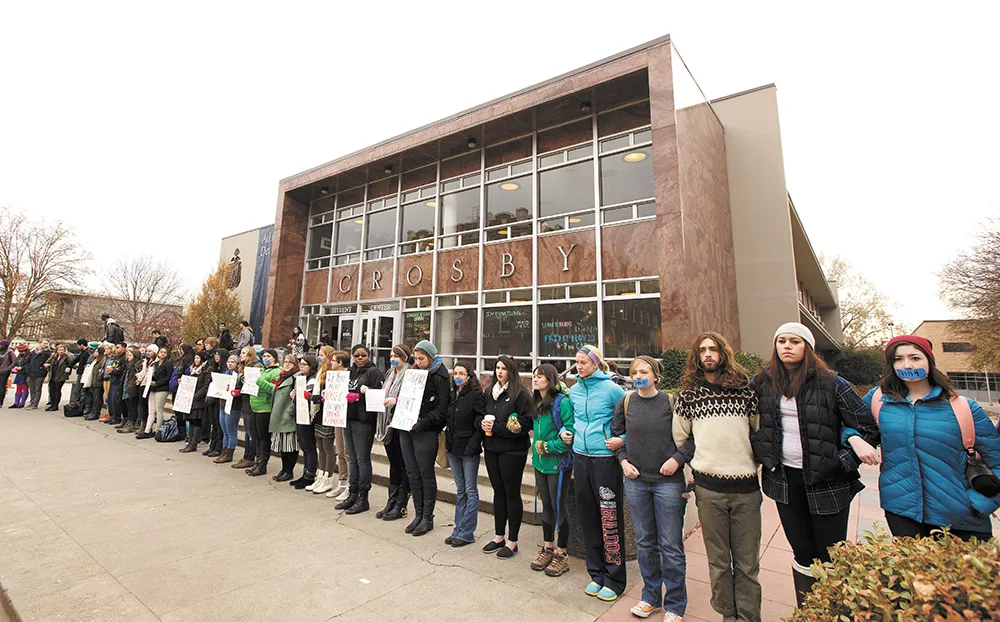 It's a Thursday night in College Hall on Gonzaga's postcard-perfect campus — the start of the weekend for plenty of college students. Instead, 40 of them sit here in hoodies and beanies, ready to talk about one of the most complex problems facing college campuses.
"We've got serious momentum here and we are very committed to change," says senior Meg Besch, looking out at the small crowd.
In about a week, the small handful of young women at the front of the room have started a conversation about sexual assault on Gonzaga's campus, calling on their fellow students to "cause a f---ing scene," scheduling protests and creating a list of specific demands: guaranteed punishments for campus rapists, better access to counseling, a support group for victims and more. After informal conversations, the group held a meeting that drew 100 students. They planned a protest that drew 145 people on Facebook (it was later rescheduled because of concerns it could be triggering for victims) and are taking survivors' stories anonymously on Tumblr.
Now, it seems the school's administration may be ready to listen. Soon after the group formed, the president of the university, Thayne McCulloh, sent out an email to every student on campus calling it "the University's responsibility to do all that can be done."
Eric Baldwin, the dean of student well-being and healthy living who oversees student counseling and other departments, says he's ready to act as a "translator" between the students and the administration.
"I've got to trust that that's being motivated from something that's real in their life," Baldwin says. "I don't think 100 students get together over a two-week period to talk about something if it's not real."
'Gonzaga takes these seriously'
A flier showed up on bathroom stall doors around campus earlier this month. "RAPIST," it shouted, above a photo of a man, stone-faced and shirtless, and a paragraph of identifying information.
Kelsey Henderson didn't post the fliers, which were quickly taken down, but she recognized the face as the man who raped her two years ago. A man whom she'd thought of as a friend and later found out had also been accused by two other women of sexual assault. Late one night in 2012 Henderson went over to the man's house, where she says she explicitly told him she didn't want to have sex. But she was afraid to walk back to her dorm alone in the middle of the night, so she stayed the night. As they laid down to fall asleep, she says he grabbed her, shoved her face into a pillow and raped her.
Like many rape survivors, Henderson didn't report it right away. She wasn't sure what to make of what had happened. She knew his friends and was afraid of what would happen if she reported him. This year, after counseling, she decided to finally tell the university what had happened and that, even though he'd since graduated, she was worried about other students' safety because he still visits campus frequently.
Henderson and another of the man's alleged victims requested he be banned ("trespassed") from the campus, but their request was denied and they were told to come back if they had more recent allegations. Throughout the process, Henderson says she and other victims she knows have been met with "cold" attitudes by administrators who could have discouraged them from reporting. Now, she says, the student movement has the chance to do what she couldn't alone.
"The university has an opportunity to show where its loyalty lies," she says, "whether it lies with the victimized or with awful, bad people who have realized that they can get away with awful, bad things because there are no repercussions."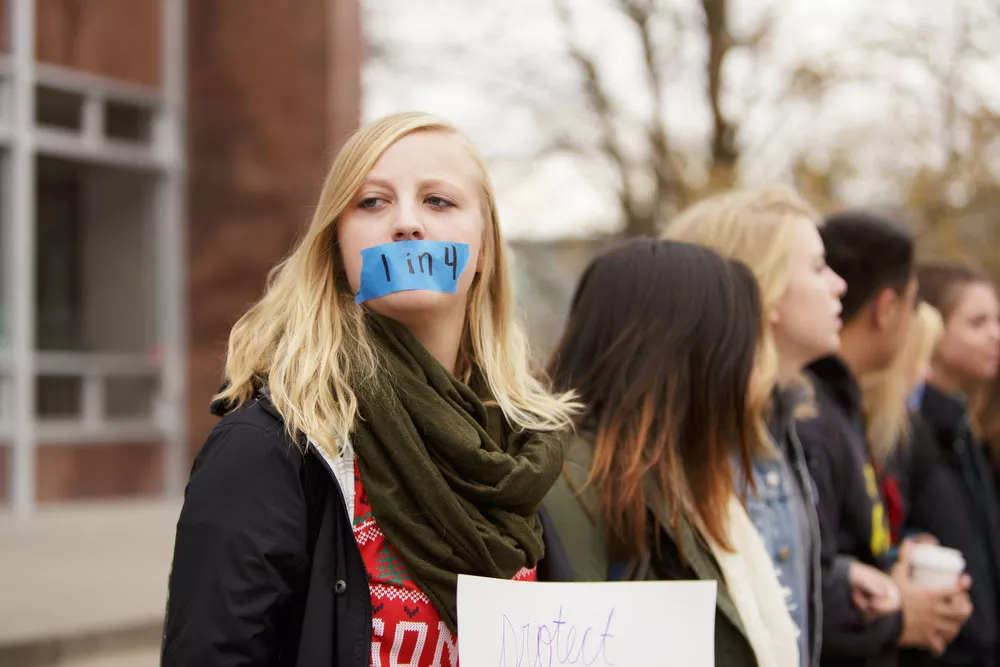 On Gonzaga's and most other college campuses across the country, the disciplinary system acts parallel to the criminal justice system. Campus employees are required by federal Title IX law to report all instances of sexual harassment and assault, but students at many schools have said their complaints resulted in little meaningful justice. Students can report sexual assault to the university without ever going to the police, but they can also pursue criminal charges if they want to. Campus systems generally have lower thresholds for proof and can consider things like hearsay, says Sarah Green, Gonzaga's Title IX coordinator, who oversees sexual assault reporting on campus. If Green's office believes it's likely an assault occurred, the case is passed on to a conduct board made of staff and faculty trained to consider sexual assault cases, which determines any punishment for the accused.
Green won't say how many reports of sexual assault her office receives each year or how many of those are resolved in any way. Nationwide, rape estimates vary widely, but according to the Centers for Disease Control about one in five women report being raped, about 40 percent of them while in college. At GU, required federal reporting — almost certainly a significant underestimate because of fear, stigma and other issues around reporting — shows nine "forcible sex offenses" happened on campus at the school in 2013. (Just under the 10 at WSU, but higher than the two at UW, one at Eastern and zero at Whitworth.)
"Gonzaga takes these seriously, and could any accusation result in expulsion? Yes," Green says.
But the student activists want any student found to have committed sexual assault immediately expelled. Green is noncommittal.
"Every case is so different and fact-specific," Green says, "there is no real matrix we can create in terms of, 'If this happens, then this is the punishment.'"
Yet both Green and Baldwin, the dean of student well-being, say they're open to the conversation. They say they're working on a sexual assault curriculum for students and have already improved counseling wait times, which students say have recently stretched to two months.
"Nobody from the administration rushed in and said, 'Let's stop this, let's tamp it down, let's kill this thing,'" Baldwin says. Instead, he says he met with students and told them, "Don't be surprised or underestimate how many faculty and staff are actually right there with you."
Let's talk about sex
While Gonzaga certainly isn't the only campus grappling with these questions, some students believe the school's Catholic affiliation makes it less willing to directly address them. At the meeting last week, senior Brittany Clark compares it to Seattle University (also a Jesuit school), where "they've had The Vagina Monologues probably since it came out." At Gonzaga, Clark says, it's taken students demanding — she raises her voice — "We want to talk about sex and consent and sexual assault!"
But that's not just Gonzaga either. "It is our conviction that the sexual relationship is best understood as an expression of oneness in marriage," reads Whitworth University's student handbook, "and that to understand it or to express it otherwise would diminish the high regard that we have for this gift from God."
That no-tolerance culture has resulted in a fundamental lack of understanding about how to be safe, according to Whitworth senior Shelby Harding, who says she was sexually assaulted at an off-campus party hosted by Whitworth students.
"There's just no talk about it because it's just not supposed to be done," she says.
After the party, Harding was found unconscious, bruised and dirty. As campus officials interviewed witnesses, she realized she'd been raped by a man whose face she doesn't remember. The friends who helped her that night say she was repeating, "He hurt me, he hurt me. Somebody call the cops." But Harding says no one called the Spokane Police Department on her behalf and she later decided not to report the assault.
This spring, Harding wrote a column for the school newspaper about the assault. Last week, she wrote again, calling on the school to emphasize supporting victims over getting them to report. Harding says she'd also like to see the school include the police in all reported sexual assaults.
"The evidence would be there if [the victim] decided the next day or whenever to press charges," she says. "That's just something the university can't do."
A national moment
In the college environment, where there's a constant cycle of students, they can sometimes organize around complicated issues only to leave campus before real change is ever instituted. Promises for action can become all an administration really needs to give. But nationally, this moment may be different. Schools from Dartmouth to WSU were under federal investigation this spring, when the White House began a campaign to push for better campus response to sexual assault. Two University of North Carolina students enlisted the support of New York Senator Kirsten Gillibrand, which led to national attention, and a Columbia University student's story went viral this fall when she started carrying her dorm mattress around campus until the school suspends her alleged rapist.
Janet Chung, a lawyer at Legal Voice, a Seattle-based women's rights advocacy group, says it's encouraging to see the issue receiving attention, but that often those looking for change are "thwarted" by administrators. Chung worked on a 2007 case in which a student sued Gonzaga over the way it handled her rape complaint.
"A huge problem was just — and GU is not alone in this — they seem to approach the whole issue from a very defensive posture and not a victim-centered approach, which is really what I think the school's role should be," Chung says.
As the Gonzaga students finish their meeting just after 10 pm, they know they're not alone. They talk about other campuses' efforts, funding challenges and how long some of their goals might take. Still, they feel momentum.
Junior Katie Schmarr promises they'll recruit new underclassmen to the effort if they don't see change by year's end: "We will keep this going as long as we need to." ♦