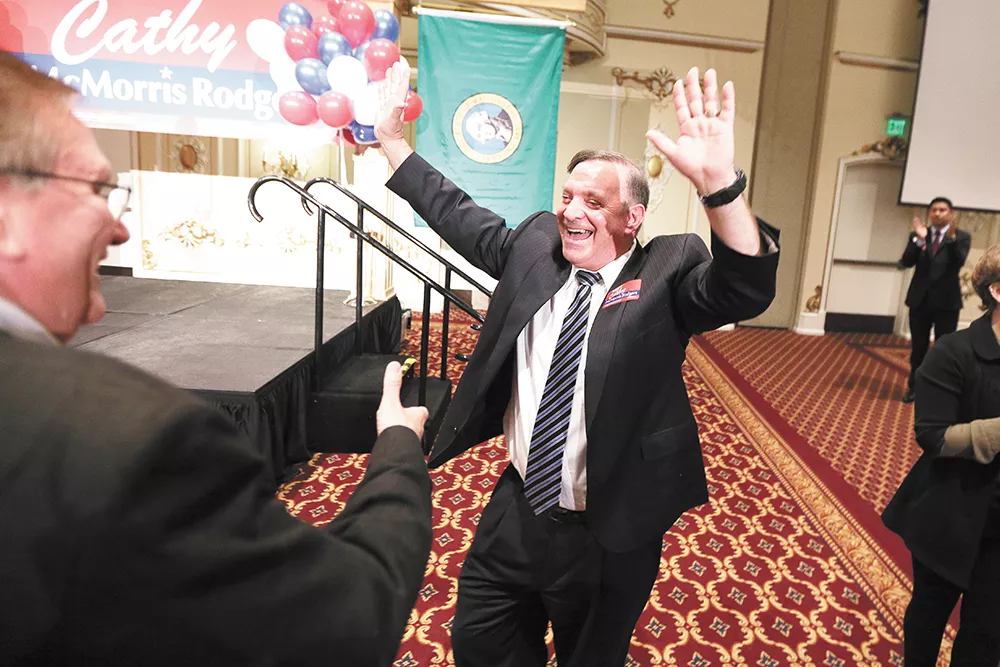 REMEMBER THIS "MUZLIM"?
Last week, the Inlander reported online comments made by Lesley Haskell, wife of Spokane County Prosecutor LARRY HASKELL, which appeared racially and religiously prejudiced. "I don't care what he said, I do not trust muzlims [sic] no matter what," reads one such comment.
Of all the people who read the article, few were more surprised than Assistant U.S. Attorney Aine Ahmed, head of all criminal federal prosecutors in Eastern Washington.
"Larry knows me personally," Ahmed says. "He never called me, never even bothered to call me that this article was coming out."
Ahmed and his wife are Muslim. They've long been a friend and supporter of Haskell. "What Mrs. Haskell fails to recall is that she was at a fundraiser for her husband last August, where the hosts were Muslim. And these 'Muzlims' spent over $1,000 to provide food for a fundraiser for her husband," Ahmed commented on Inlander.com last week. "Mrs. Haskell's comments are atrocious and her husband's response is weak-kneed. I expected more from him."
After the campaign dinner, Ahmed says, Larry Haskell offered to reimburse him for the event, but also asked him for additional donations.
"I've gotten about 20 to 25 calls from people saying, 'Hey, is this the conversation that happens in the Haskell house?'" Ahmed says. He says that Lesley Haskell has the right to believe that she wants, but he worries that her prejudicial comment could reinforce bigotry in the community.
Ahmed, a Pakistani, says he contradicts a lot of stereotypes people may have of Muslims. He drinks on occasion. Two of his best friends are Jews. But he's also seen the consequence of anti-Muslim prejudice. Three times, he says, he was prevented from flying because his Arab last name landed him on a no-fly list. He takes a handgun when he goes out with his kids because he's worried about violence from bigots.
Larry Haskell declined to comment on Ahmed's concerns, saying he directly spoke to him. In last week's article, Haskell called his wife a "strong, independent, and conservative woman," who did not represent him in online forums, either "personally or professionally."
But Ahmed says the prosecutor should go further. "As a public figure he should disassociate himself from her comments," Ahmed says. "He should apologize to the community for his wife making these comments." (DANIEL WALTERS)
MINORITY REPORT
The Board of Directors for Spokane Public Schools is concerned about a bill making its way through the Washington State Legislature that's intended to bolster the clout of MINORITY POPULATIONS in local elections.
The Washington Voting Rights Act, which passed out of a House committee, would give members of a protected class, such as racial minorities, a way to bring legal challenges against cities, counties, school districts and other local governments on grounds that they don't have an adequate opportunity to elect their own candidates or influence the election. The legislation was crafted, in part, for situations where local governments use at-large elections, which critics say dilute the influence of minority voters residing within them.
Robert Douthitt, a member of the Board of Directors for Spokane Public Schools (which is elected at-large and has had few minority members), went to Olympia to raise concerns over the bill.
He tells the Inlander that while he's supportive of getting more minorities in public office, the standards and language in the bill, as it currently stands, are too ambiguous. Specifically, Douthitt says that he's not sure what the bill could mean for very small protected classes.
The district has 70 protected classes, divided along linguistic, racial and ethnic lines, and some make up less than 1 percent of Spokane Public School's total student population, he says.
"What does equal opportunity mean in the context of a really, really small [protected] class?" he says. (JAKE THOMAS)