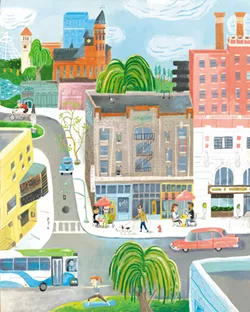 S
o often, the news is dominated by crime, tragedy and political squabbling. We need journalists to report on abuses of power, and on the preponderance of potholes multiplying on Spokane's streets. But as important as it is to investigate the culture of our police department, it's also necessary to report on the culture creators working to make our city more dynamic. That's what this annual magazine aims to do — highlight the people, places and things that make the Inland Northwest a great place to live: People like Adam Hegsted, a James Beard semifinalist expanding his local food empire with three new restaurants opening in the region. Places like Huckleberry Tent and Breakfast in Clark Fork, Idaho, that make exploring the outdoors appealing, even to finicky city dwellers. Things like KJ Pottery's stunning dishware; it's handcrafted right here in Spokane, but has grown so popular it's gracing tables across the country. While we may not solve any of the world's ills or injustices, it's nice to spend a little time focused on what's good around us. So enjoy this gripe-free, locally focused look at what's working in the Inland Northwest.
5 Things to Know About the Annual Manual
1 We love local. So don't expect to see stories about national chains in these pages. We're writing about the unique people, places and things exclusive to the Inland Northwest.
2 There's no pay-to-play. You know all those restaurants, boutiques and locally made products we write about? We're not writing about them because they pay to be listed in the Annual Manual. That wouldn't be cool (or ethical, for that matter). We write about them because we think they're awesome.
3 There are 40,000 reasons to love the Inland Northwest. We only had space to write about 1,200 or so reasons in this edition of the Annual Manual. So if we missed your favorite wine bar or boutique, or didn't touch on your favorite new trend, send an email to annualmanual@inlander.com, and we'll consider it out for next year's edition.
4 Residents rule. While we welcome the visitors and tourists who choose to explore the Inland Northwest, we have the locals in mind when we're putting together this annual magazine. From the best of fests, to wine tastings, to options for exploring the outdoors without really roughing it, our goal is to help locals to find new ways to explore this city and region we live in. That's why we call it "The Insider's Guide to the Inland Northwest."
5 It's a family affair. The Annual Manual is one of a series of publications put out by the Inlander, a local, family-owned company located in Spokane's Kendall Yards, which employs 33 full-time employees, not to mention a stable of freelance writers, photographers and artists.