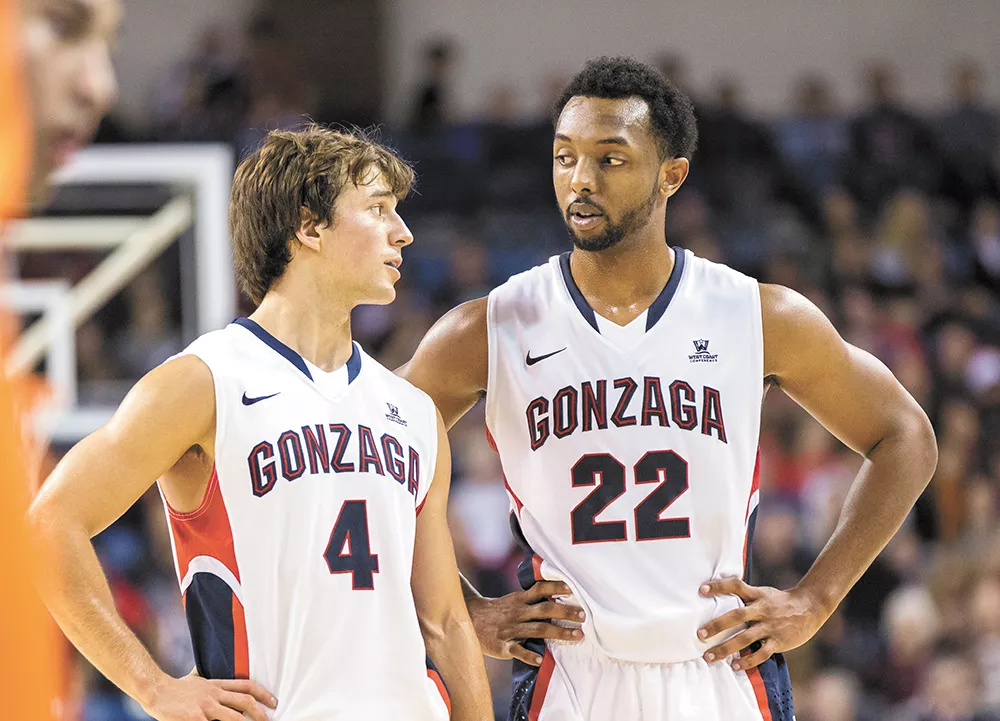 The second-ranked Gonzaga Bulldogs have proven they can hang with the big boys of college basketball on the court, but it's not always easy for the Zags to succeed off the court.
Lest we forget, Gonzaga is a smaller college with a somewhat undersized arena located in a fairly isolated city. Obviously, recruiting can be challenging.
And yet when USC's leading scorer and rebounder decided to sell his wares to the highest bidder — well, the most attractive bidder — after last season, Gonzaga trumped everyone. Essentially, the Bulldogs convinced Byron Wesley to trade near-Hollywood for near-Hillyard.
Wesley invited coaches from Gonzaga and four other schools to come to his family's Rancho Cucamonga, California, home to meet with him, his parents and Keith Howard, his former AAU coach.
"It was quite the show," Gonzaga coach Mark Few recalled. "They invited everybody in in one day. It was crazy. We each got an hour. It was a unique way to do it. You kind of had to cut through all the stuff, just get down to the nuts and bolts."
Gonzaga's competition consisted of Indiana, Oklahoma State, Baylor and Pittsburgh. Few and GU assistant coach Donny Daniels had to bring their "A" games.
"I want to say when Donny and I pulled up, (Pittsburgh's) Jamie Dixon was coming out," Few says. "When we came out, (Baylor's) Scott Drew was pulling up in a limo. After him, I think, was (Indiana's) Tom Crean."
Wesley cut the list of finalists to Oklahoma State, Pittsburgh and Gonzaga. The senior guard planned visits to all three schools, but after making his way to Oklahoma State and then Gonzaga, Wesley decided there was no need to look elsewhere.
"Gonzaga is usually one of the top basketball teams on the West Coast, one of the winningest schools [in the nation]," Wesley points out. "Coach Few is one of the best coaches in the country, if not the best.
"When I came on my visit, the guys were really welcoming, which I know can be tough for most teams — to have a guy coming up for one year."
If anyone figured to be bitter about Wesley's arrival, it was Kyle Dranginis. A redshirt junior, Dranginis' playing time figured to be — and has been — cut the most due to Wesley's presence.
"It's awesome that he can just come in here right away and be productive. I'm all for it," Dranginis says. "I've always been about winning, you know? Throughout my whole career, I've been on winning teams, so I understand what it takes. He's done a great job for us."
After averaging 17.8 points and 6.4 rebounds per game at USC last season, Wesley — who did not have to sit out a year after transferring because he graduated from USC last summer — is averaging 10.5 points and 5.0 rebounds as Gonzaga's starting "3" guard. He plays fewer minutes and shoots less than at USC due to Gonzaga's superior depth and talent, but he's not complaining.
"It's everything I wanted," Wesley says. "I think it's got to be better than I expected."
Wesley says he left USC because he grew frustrated with the losing and did not believe he received enough recognition for his strong play. Wesley says USC will "always have a special place in my heart," and the same can be said about Gonzaga.
"The people in Spokane are great," Wesley says. "The fans here are phenomenal." ♦
Gonzaga (22-1) puts its 15-game winning streak on the line Thursday, Feb. 5, at Santa Clara (8 pm, ESPN2/ESPNU) and Saturday, Feb. 7, at San Francisco (8:30 pm, ESPN2).