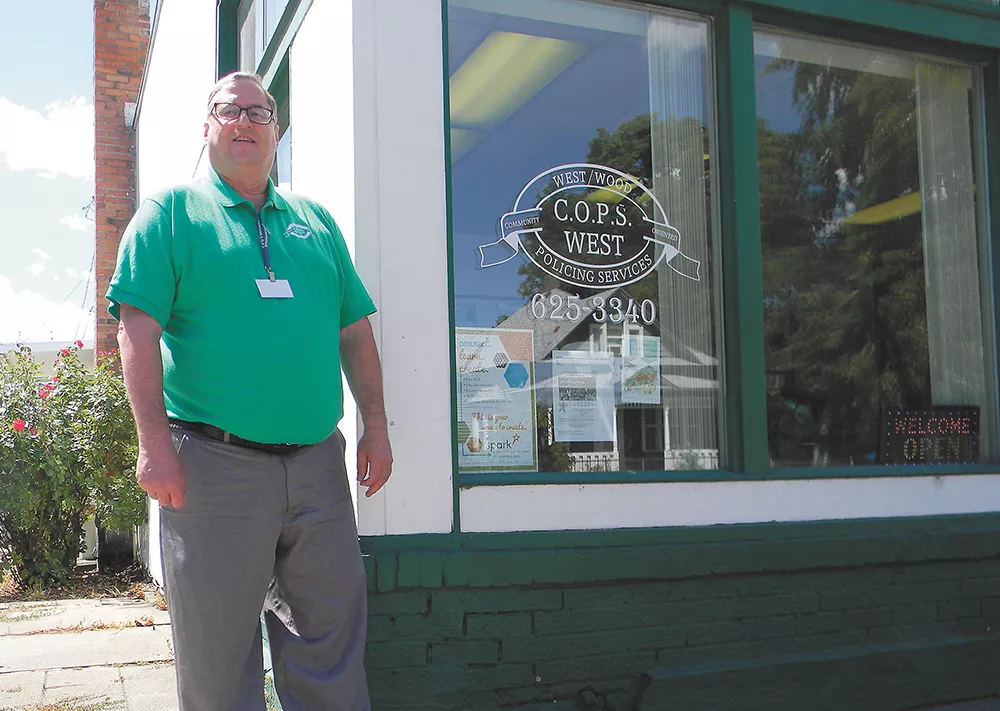 West Central began its life as a neighborhood in 1887, when it was platted for Nettleton's Addition. Since then, its growth has mirrored much of the country. It was a "streetcar suburb," swiftly growing along with the increasingly prosperous nation. It saw decline — and now renewal.
Jerry Gill, the 56-year-old owner of Doyle's Ice Cream Parlor, has lived in the same house in West Central his entire life. He describes growing up as "normal," playing with best friends, having sleepovers and eating Hawaiian Delight ice cream at the store he would later own. "Nobody was afraid to leave doors unlocked," he says. But he and others say things changed in the 1970s.
Judith Gilmore moved to the neighborhood in 1974, the same year the World's Fair was held in Spokane. She says that visitors saw how cheap the property was, and bought rental houses in West Central that fell into disrepair.
"When I was a kid, it was really nice to be in West Central," says Stephanie Swan, a longtime resident who was born in the neighborhood in 1944. "I don't know what happened." She says people became more economically stressed and struggled with crime and drugs. Now, when she meets a young family moving in, she thanks them.
Today, 88 percent of students at Holmes Elementary are on free or reduced-price lunches, and the neighborhood has no shortage of boarded-up houses with peeling paint and yards teeming with tall weeds, junked cars, rotting furniture and debris. But there's still pride.
"When people call it 'Felony Flats' I get offended," says Gill. "It's usually people who don't live in the neighborhood. I'm not afraid to walk at night."
Now, the neighborhood is changing. Kendall Yards, a tony "new urban" development, is growing in the neighborhood's south end. South of West Bridge Avenue, rows of tidy new houses have sprung up. Drawn by cheap housing prices, younger families are moving in, and nonprofits such as Project Hope are working with youth who walk through its streets wearing the organization's navy blue T-shirts.
Neighborhood activist Keith Kelley says that West Central's turn-of-the-century houses, with large stoops close to the street, have cultivated a unique "front porch culture."
"People are saying we're going to make something of this neighborhood," says City Councilwoman Karen Stratton. "And it feels really good."
LAW AND DISORDER
Six years ago, Kelly Cruz, a neighborhood activist, received a notice in the mail about a U.S. Postal Service letter carrier being punched in the face while on the job in West Central.
"When they start assaulting U.S. Postal employees, it's not much longer until they get to me," he recalls thinking.
So Cruz started volunteering at the West Central C.O.P.S. Shop, the oldest one in Spokane. Once a week, Cruz puts on a green polo shirt emblazoned with "COPS WEST" before heading to an office on Boone Street. Here, he fields about two dozen inquires a day from residents wanting to fill out a police report, complain about a nuisance property, register their bike or seek other services.
"I actually got a call from a guy who found some bones in his yard and thought they were human bones," says Cruz. The bones, he says, were from an animal.
On the wall are the portraits of 11-year-old Nicki Wood and 12-year-old Rebecca West, two girls who were abducted from West Central in 1991. Their disappearance and subsequent deaths sparked outrage and prompted the creation of the C.O.P.S., a nonprofit funded by the city.
On the front desk are a basket of Dum-Dums and a thick binder of the shop's history, including newspaper clippings documenting its past, including separate incidents during the 1990s when it was shot up and subject to arson. Cruz says that two summers ago, someone stole the shop's air conditioner; its replacement is now caged.
Patrick Striker, the program's executive director, says that for some people who've had negative experiences with police, C.O.P.S. is the only way they'd report problems to the city.
"They would never go to an officer or precinct building if they needed help," he says. Instead, they come see volunteers like Cruz, which Striker says they need more of.
NEWCOMER
Six years ago, Mika Maloney and her wife were thinking about buying a house in West Central.
"A few people, before we moved... " she says, pausing before completing her sentence, "cautioned us about the neighborhood."
While contemplating the move, she went for a jog through West Central. She saw people on their front porches; people, she says, were more likely to say "hello" than in "nice neighborhoods." With friendly residents, affordable property, construction at Kendall Yards underway and the Centennial Trail nearby, they were won over.
Two years ago, Maloney, 33, opened a storefront for her business, Batch Bakeshop, in a formerly boarded-up building on Dean Avenue. Here, she bakes wedding cakes, muffins and other pastries from scratch with seasonal ingredients. She says the building was originally constructed as butcher shop in 1905 and later housed a market before being boarded up.
Now, Maloney says that locals and people who moved away wander in, curious to see what's become of the building.
'ALWAYS BEEN AN ICE CREAM SHOP'
Jerry Gill remembers the business on Boone Avenue and Nettleton Street always being an ice cream shop, except when it closed up in the late 1970s, remaining vacant.
"I heard that someone from California was going to buy it and turn it into a coffee shop," says Gill. He scrambled to find financing to buy the property, but someone beat him to it. It turned out that the new owner just wanted the house adjacent to the retail space, which he sold to Gill.
"I didn't know one thing about making ice cream," he says. "A lot of it was trial and error, but I had original recipes and figured it out."
Twenty-five years later, he makes batches of Razzle Dazzle, Chocolate Thunder, Black Liquorice and other ice cream flavors. When he was a kid, he says the shop had bare walls. Now, it's a time capsule. The wall behind the counter is covered in old Coca-Cola signs, packaging from Bing Crosby's brand of ice cream and other relics. He placed the original fortune-telling machine from the closed Natatorium Park near the register, and the back wall is lined with shelves full of his antique toys. If they weren't in the shop, he says, "They'd just sit in a box somewhere."♦
---
Established: 1887, originally as Nettleton's Addition; became known as West Central around the turn of the century.
Boundaries: (north) Indiana Avenue; (west) Spokane River; (east) North Monroe Street; (south) Spokane River
Population: 8,765, according to most recent Neighborhood Action Plan
Landmarks: The original Nettleton's Addition, Doyle's Ice Cream Parlor, Dutch Jake's Park