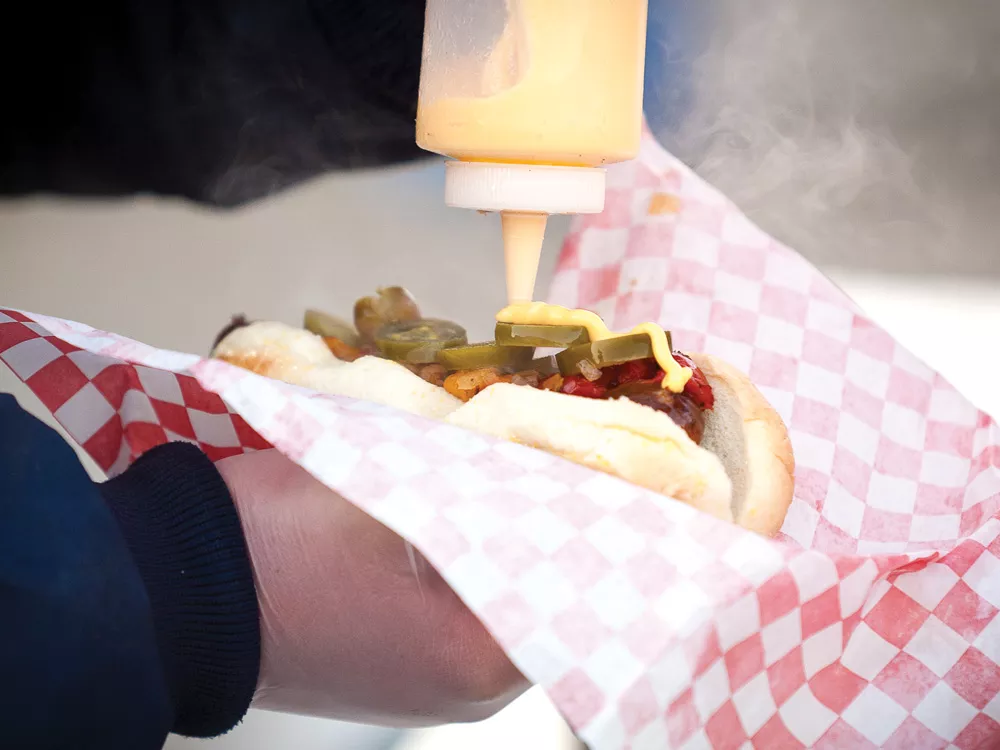 Despite the below-freezing temperatures and setting sun, Mike Grim of West Coast Weiner Company remains chipper as he tends to some sizzling onions on his propane-powered flat-top grill. Plumes of steam cascade off the chili he ladles over a Sonnenberg's Italian sausage.
As one might suspect, this is not the season for food carts, but Grim insists he's still going strong in his current location at the newly formed outdoor food court at Freya and Olive on Spokane's north side. And it's no wonder: He's only been in business for six months, but his amiable personality, generous portions and ridiculously reasonable prices have customers hooked.
After years working in the hospitality industry, Grim decided that he wanted to strike out on his own. The idea of owning a hot dog cart always appealed to him, and now it seemed to be the most realistic step toward his career goal: to be a business owner/operator. After discussing the matter with his wife, he purchased a cart and sold dogs at various locations on the north side before settling down at the food court.
"It's a neat concept. You've got a little bit of everything here, and we've got a great lunch crowd already," he says. The food court currently boasts a hot dog cart, a gyro truck and a barbecue place, and there's a heated enclosed tent area, free hot coffee, and a fire pit for the customers who need a little warmth.
Grim's menu is diverse. Hot dogs start at a buck and goes up to the $6 Italian sausage, which is grilled fresh right in front of you and is positively overflowing its paper boat.
Though there are many other hot dog joints popping up around town, Grim doesn't try to follow the trend of the East Coast-style dogs. In fact, he's looking to add an item normally served up by his taco-truck counterparts: chorizo.
"I'm not trying to be like those other guys who ship hot dogs over from Chicago or whatever. That's why I'm called 'West Coast.' I sell hot dogs with a local flair to them." (Alicia Purvis-Lariviere
West Coast Weiner Company at the Freya Outdoor Food Court • 3604 E. Olive • Open Tues-Fri 11 am- 4pm • 714-7519
Sweet Deals
It's the season for shopping and shipping, buying and baking. Add in parties, decorations, cards and donations, and we'll bet you're feeling festive — but a little tapped out. Give yourself a treat — or two — during this crazy, busy, expensive time of year. We found a bunch of food deals to help you save some dough. Indulging yourself feels even better when it's cheap, right?
FREE CANDY
At See's Candies (4302 N. Division St., 489-6837), you can get a free piece of candy every time you stop in, all year round. The staff offers a pre-selected flavor, but you're welcome to try anything in the case, from buttercreams, nuts and chews, to truffles, brittles and more.
FREE KIDS' MEAL
At San Francisco Sourdough Eatery (2913 S. Southeast Blvd., 535-3913), kids (10 and younger) eat free after 2 pm, Monday through Friday, when dining with an adult. A kid-size sandwich, applesauce and drink are free with the purchase of an adult meal.
HALF-OFF DONUTS
If you're willing to stop by Krispy Kreme (15401 E. Indiana Ave., Spokane Valley, 922-7101) late, you can nab a dozen donuts for 50 percent off. The deal is good Sunday through Thursday after 9 pm.
HALF-OFF BAKED GOODS
Every morning, those in the know root around the big basket of dayold goodies on the counter at Rockwood Bakery (315 E. 18th Ave., 747-8691). A morning glory muffin, which normally costs $2.50, is a steal at $1.25. Look for cupcakes, cookies, and lemon bars. The staff will graciously warm up your bargain treat, too.
CHEAP FRENCH BREAD
The thing that makes a Jimmy John's sandwich so tasty is that delicious French bread. You can purchase day-old 8-inch loaves of that bread at 49 cents each (normally, they're $1.50). They're still soft, and they freeze well, too. 601 W. Main Ave., 838-3278; 105 E. Mission Ave., 327-3278; 615 N. Sullivan Road, Spokane Valley, 443-5100. (Alison Highberger)