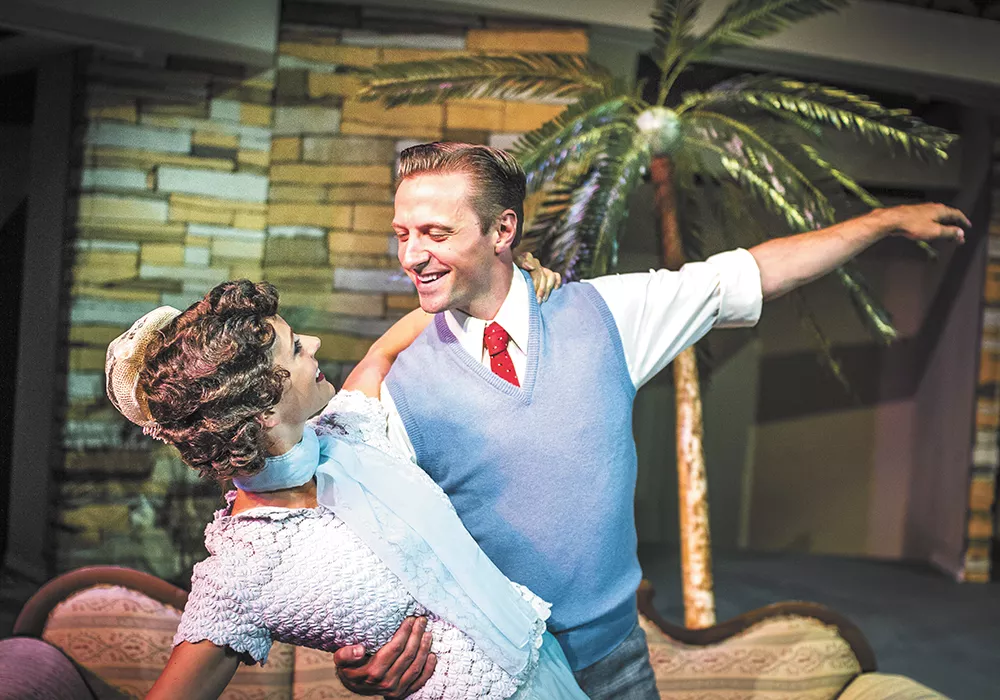 Given that some of its most resonant scenes are dominated by visions of Gene Kelly's graceful, carefree puddle jumping or the sanguine wee-hours uplift of "Good Morning" in the 1952 film, Singin' in the Rain is widely regarded as a musical that's bright and buoyant and wholly without guile.
Yet there's a distinct strain of cynicism that runs through it — enough for one to argue that its emotional leitmotif is disillusionment. Disillusionment with the vapidity of showbiz and the avaricious studio system. With the public's fickle but insatiable appetite for celebrity. With America's wealth- and fame-based hierarchy masquerading as everyman egalitarianism. Singin' in the Rain only seems otherwise because it wraps its bitter pill in humor's sweetness. As Cosmo Brown sings in "Make 'em Laugh," another one of the musical's memorable numbers, "Just slip on a banana peel / The world's at your feet."
With his talk of "a coming-of-age story," director Jadd Davis alludes to this disillusionment in his program notes to Coeur d'Alene Summer Theatre's production of Singin' in the Rain, but very little of it is evident on stage. This Singin' in the Rain is a gleeful period piece that seems delighted by the opportunity to time-travel to the Roaring, yet still remarkably quaint, Twenties, a time when "talkies" are shaking up Hollywood's silent film era.
Once Monumental studio head R.F. Simpson (Jerry Sciarrio) realizes he's dealing with more than just a temporary fad, he tasks his resident celebrity couple, debonair silent film star Don Lockwood (John David Scott) and his pampered screen partner Lina Lamont (Krista Curry), to make the transition. Unfortunately, untalented and entitled Lina has the voice of fingernails meeting blackboard — Curry pulls this squeaky shriek off with superhuman aplomb — and, thanks to an ingenious idea from Cosmo (Greg McCormick Allen), gets her voice dubbed by down-to-earth actress Kathy Selden (Mallory King, who starred here in Mary Poppins two years ago). Lina resents the arrangement and works to put a stop to it, while Don, contrary to the tabloid gossip citing him and Lina as an item, falls for Kathy.
For the iconic title sequence, which is indeed performed under copious amounts of water streaming from the flyspace overhead, Scott not only channels the spirit of Gene Kelly, he performs like a man possessed. It's slightly unnerving, as it breaks from his character in the rest of the show, whose behavioral barometer points more toward unbridled zeal than suavity. But Scott's tapping is excellent and enjoyable, especially in his wonderfully synchronized song-and-dance duos with Allen, who plays Cosmo as a rubber-faced, eminently good-natured third wheel to Don and Kathy's romantic couple. King, for her part, is absolutely mesmerizing; as an actress, she brings the quiet, confident star quality of her character to the stage.
After a series of opening scenes that aren't yet as taut as they ought to be, the ensemble starts to gel quite nicely. Tamara Schupman flits smoothly between several roles (announcer, voice coach), as does Henry McNulty, recently seen in a more high-profile part in The Modern's Boeing Boeing. The orchestra, led by Scott David Miller, is outstanding from the first note to the last.
All this makes this production of Singin' in the Rain strong in key performance areas, but disappointingly light when it comes to the real meat of the musical. So long as audiences don't mind, R.F. Simpson probably wouldn't either. ♦
Singin' in the Rain • Through July 26; Thu-Sat at 7:30 pm, Sat-Sun at 2 pm • $27-$49 • Coeur d'Alene Summer Theatre • The Kroc Center, 1765 W. Golf Course Rd., Coeur d'Alene • cdasummertheatre.com • (208) 660-2958